Continuing to go through some of the good records, I've gotten through reviewshine.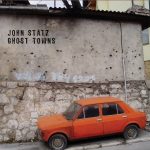 John Statz: Ghost Towns
John Statz is a folk rocker and singer-songwriter from Madison, Wisconsin and Ghost Towns is his fourth album. I've been really enjoying this one. I think it's a very fine album from the first note to the last word. Only thing that is lacking is that one killer song that would lift him up to the next league. Jackson Hole is already close. Certainly a name to keep an eye on, if you are into folk troubadours.
Listen to Jackson Hole:
[audio:http://onechord.files.wordpress.com/2011/02/04-jackson-hole.mp3]
The Famous: Come Home To Me
The Famous from San Francisco are exploring the darker side of the country field, even though the album doesn't often enter into such deep & dark waters as the video single Come Home To Me below. There's actually a lot of versatility in here. There's beautiful country songs, raw rock'n'roll entertainment and some brutal bluesy americana. I have rather mixed feelings about this one. I'm really into some of the songs like Without You or Moving On, but there's also stuff I don't like that much.
[youtube=http://www.youtube.com/watch?v=6jyfqrPi7tY]
Another Hundred Miles: Move The Fader
Another Hundred Miles is Douglas Holmes and Daniel Maynard from New Hampshire and Move The Fader is their debut album. Their folk rock has also a lot of pop sensitivity and lovely melodies, which I find thrilling. There's plenty of really good songs, but unfortunately also several "just nice" tunes. The best stuff could have formed a really good EP, but as an album it's a bit too uneven. But hey, it's a debut and a really promising one.
Listen to Go On and Wake Up
[audio:http://onechord.files.wordpress.com/2011/02/03-go-on-and-wake-up.mp3]