One Chord to Another turns 12!
17 September 2013
662 views
2 Comments
Happy birthday to One Chord to Another. This little blog is now 12 years old. That's almost as shocking to me as the fact that the Karate Kid actor is well over 50 and one of my all-time favourite albums, Frosting on the Beater by The Posies came out 20 years ago. Time sure flies and when looking back, 12 years doesn't feel that long. However, I'm still somewhat proud of the fact that I've been able to keep this going on at some level through all these years. Of course onechord.net could have been a lot better, if I was a better writer or knew more about music or have had some confidence to push it further. Overall, I'm still quite happy with what I've done over the years. This is never going to be an influential music media, but it's not supposed to be either. It's just me writing about the music that I love and sharing the songs that I've formed relationship with. That's the way it's going to be also for the next 12 years (ok, 12 might be pushing it, but maybe at least three more to get to 15).
12 years isn't a cause for a big celebration, so I thought I just do what I always do and mention albums that mean the world to me and create pointless lists. To get this even somehow loosely connected to the number 12, these are my 12 favourite releases of the year 2013 so far. There is some kind of order, but I didn't spend hours thinking about it. The order of these might be totally different when December comes and it's time to sum up the whole year. And I might have forgotten something extremely important and there's a lot I haven't even heard yet and obviously a lot hasn't been even released yet like the new The Deep Dark Woods and the new Jeremy Squires. So this is more than just a little pointless list to do at this time of the year, but that's why I buried it on this birthday post that nobody reads..
Top 8 International Albums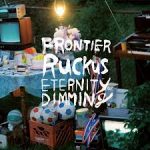 1. Frontier Ruckus – Eternity Of Dimming










2. Austin Lucas – Stay Reckless









3. The Heavy Blinkers – Health









4. Jason Isbell – Southeastern









5. Small Houses – Exactly Where You Wanted to Be









6. John Moreland – In The Throes









7. Bobby Emmett – Brighter Days (mono)









8. Marine Dreams – Corner of The Eye








Top 3 Finnish albums
1. The Lieblings – Take Us To Your Leader









2. Samae Koskinen – Hyvä päivä









3. Matti Jasu & The Close Encounters – Pin On the Map








Top 1 EP
1. Jeremy Squires – Central Nervous Station