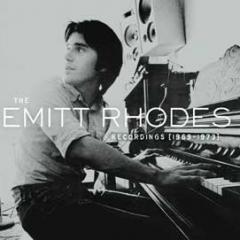 Emitt Rhodes: The Emitt Rhodes Recordings (1969 – 1973) (Hip-O-Select, 2009)
Now here is a release that deserves one of those imaginary onechord culture awards. Most of Emitt Rhodes' material has been out-of-print for years and it has been a real struggle to find his amazing pop albums. Thankfully Hip-O-Select saw the light and released his four solo albums The American Dream, Emitt Rhodes, Mirror and Farewell To Paradise on this beautiful 2-CD set.  It really is one of the most important reissues of the year. For me, it will probably be the reissue of the year.. well unless rumours about that The Left Banke anthology is true. Then we will have a tie.
Emitt Rhodes first entered into the general knowledge as the frontman of The Merry-Go-Round. A great pop group from Los Angeles that never gained a huge success but did release one album that contained  a bunch of great songs (Rev-Ola have released a great The Merry-Go-Round compilation, well worth picking up eventhough if I would have to choose I'd say that I prefer Emitt's solo albums over The Merry-Go-Round. But both are absolutely great). After The Merry-Go-Round split up Emitt Rhodes became a solo artist who recorded four fabulous albums that are now available on this wonderful release. All albums are excellent, but the biggest treasure is the somewhat legendary self-titled album Emitt Rhodes that is one of the greatest albums ever released.  To write such a stunning pop masterpiece at the age of 20 is quite an achievement. Unfortunately the critical success of the record didn't turn into money and Emitt didn't got the big break he so much deserved.  On top of that, his record contract stated that he needs to be able to write two albums every year and because he wasn't able to do it, the label  ABC-Dunhill started a law suit against him. Now there's a bloody good way to support a young pop genius who was just starting out and had the talent to become one of the best pop singer-songwriters. Despite all this  Emitt Rhodes still managed to write two excellent albums Mirror and Farewell To Paradise before vanishing from the spotlight he was never on.  It really is a huge shame that some bad contract signings and the cruelty of the music business drove such a talented songwriter away from the world of pop music at the age of 23-24.
However, now is not the time to think about what could-have-beens and just celebrate his brief but wonderful career by listening to his beautiful albums.  Emitt was a multitalented artist who wrote all the songs, played every instrument and recorded the albums in his home studio. He gave birth to a huge amount of perfect pop songs that still sound fresh and melodically rich. A lot of his music does sound very "McCartneysque" eventhough I shouldn't bring it up, because it easily gives the feeling that he was some kind of second grade Paul McCartney which was not the case. Emitt Rhodes was the real deal and made better music than any Beatle did in the seventies. The Emitt Rhodes Recordings is one of the most important releases of the year and it contains beautifully crafted melodic and sensitive pop music that still sound fresh as a daisy.
(if you want album grades separetely it would probably be five hearts for Emitt Rhodes and The American Dream, 4 1/2 hearts for Mirror and Farewell To Paradise)
P.S The great news is that Emitt Rhodes is back in the studio and making new music again. Hopefully this will lead to a brand new Emitt Rhodes album.