This is a work in progress. I will update this page during the week and the whole list should be really before the end of the week. Anyway, here we go. One Chord to Another's way too long albums of the year 2009 list.
40. The Munsons: Go With The Flow (Mufarang, 2009)
Tokela and Tommi Viksten went to Woodstock and recorded this beautiful album on Levon Helm's studio. The big highlight of the album is their gorgeous  remake of  ZZ TOP's Rough Boy. Hopefully one day they decide to make their own material, but these great versions of (mostly) old country, rockabilly, blues and 50's rock'n'roll songs will do just fine for the time being.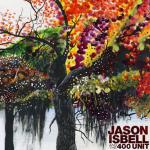 39. Jason Isbell & The 400 Unit: Jason Isbell & The 400 Unit (Lightning Rod, 2009)
I let this one pass me by when it was released, but about 3-4 weeks ago I thought I need to give it a chance. A very good decision, because I think it contains some really wonderful songs. The first half is pretty fabulous and the rockers Good and However Long stand out as my favourites. Nothing that I haven't heard before there, but damn it just sound so good and incredibly enjoyable. The latter half is a bit less inspiring to me, but altogether ex-drive-by-trucker Jason Isbell has done really well with his new band. I prefer the material that is more rock and country instead of soul, but I suppose that's just a personal preference.
Jason Isbell & The 400 Unit Website
Jason Isbell & The 400 Unit at myspace
38. Puumaja: Meriselityksiä (Quiet Life, 2009)
Maybe I haven't listen to this one quite as much as some other albums on this list due to the fact that I already knew a lot of these songs beforehand. However, years haven't made songs like Täydelliset kasvot and Ilon pilkkuja any less perfect and it's a great thing that Puumaja's debut album finally saw the light. If you enjoy things like Red House Painters and aren't afraid of the beautiful finnish language, climb to the tree house and spend some restful time under the gentle guidance of Puumaja.
Puumaja Website
Puumaja at myspace
37. Yo La Tengo: Popular Songs (Matador, 2009)
Yo La Tengo is a bit difficult band for me because in general they are a bit too experimental for my taste, but they do have a certain pop sensibility that really appeals to me. This means that most of their albums have stuff that I really love and stuff that I don't really care for at all. Popular Songs is no exception and therefore it's a bit tricky to decide the place for this one on this list. The better half of it could be in the top 10 and the weaker half shouldn't even be on the list. But as long as the albums have this much amazing material on them, I will keep on buying them.
Yo La Tengo at myspace
Yo La Tengo Website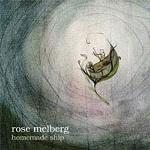 36. Rose Melberg: Homemade Ship (K records, 2009)
Rose Melberg's new solo album Homemade Ship is another lovely treasure. The song material might be slightly less marvellous than on the previous masterpiece Cast Away The Clouds, but there's so much to enjoy here as well. Moon Singer and Things That We Do are the ones that I love the most, but everything sounds again oh so adorable, warm and beautiful.
35. Tinted Windows: Tinted Windows (S-Curve, 2009)
Tinted Windows made a great pop blast. The lyrics won't win any poetry awards and Adam Schlesinger and James Iha have written better songs in the past, but the album is catchy as hell and it feels damn good to listen to it so what's there not to like. And well Nothing To Me is a pretty perfect slice of Big Star-ish power pop if you ask me.
Tinted Windows at myspace
Tinted Windows Website
34. Dave Rawlings Machine: A Friend of a Friend (Acony Records, 2009)
Dave Rawlings stepped under the spotlight and this pretty amazing album saw the light. How about that Method Acting / Cortez The Killer double? Ain't that one incredible cover song (well two cover songs glued together). Dave Rawlings Machine is so good that I almost want to complain that they are too professional. After all, I'm a bit more used to digest my country music with slightly rougher corners.
Dave Rawlings Machine at myspace
33. Kaspar: Kaspar (Inspiration Recordings, 2009)
A beautiful and moving folk album inspired by the life of Kaspar Hauser. In terms of overall quality, this probably warrants a higher place. Everything sounds pretty much perfect, but it's a little heavy as a whole. Not that everything should be easy to digest, but this does require a bit of time and effort from the listener. But I suppose it's a good thing that John McGregor and the Hakkarainen brothers forces simple pop fans like me to pay attention. A great album that isn't for everyday use in this household, but when the time is right it reaches the core of my heart.
32. Cheap Trick: The Latest (2009)
After all these years, Cheap Trick is still going strong. Rockford was a very fine album indeed and The Latest follows the same path. I know some are even more thrilled about The Latest than I am.  For me it's not album of the year caliber, but it is a great rockin' power pop album full of gorgeous songs. Oh and the verse of Everyday You Make Me Crazy sounds like Ben's Diapers…
Cheap Trick Website
Cheap Trick at myspace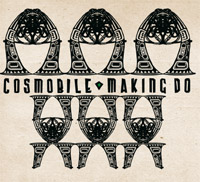 31. Cosmobile: Making Do (Fullsteam, 2009)
Cosmobile might not stylewise be totally my cup of tea, but it's still often better to taste something unique and inspiring instead of some old yellow lipton. Making Do is their second full-lenght and it does get out of my comfort zone occasionally, because it's a bit more twisted and rhythmic than what I'm used to. But it hardly matters because most of the material is extremely convincing.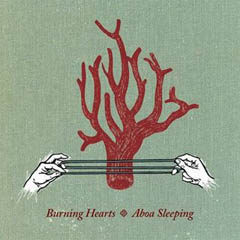 30. Burning Hearts: Aboa Sleeping (Shelflife Records, 2009)
Burning Hearts is Jessika Rapo and Henry Ojala. You might know them from great pop bands Cats On Fire and Le Futur Pompiste, but this time they wanted do something different together. They succeeded in their quest pretty well.  I Lost My Color Vision is one of the finest pop songs of the year and the rest of it is almost equally great (well apart from The Galloping Horse which is a reason why skip button was invented).
29. Pants Yell!: Received Pronunciation (Slumberland, 2009)
Pants Yell!'s latest almost flew under my radar, but in december I noticed that this great indie pop group had an album out on Slumberland Records. Received Pronunciation is again a delightful release. Just nine songs and 26 minutes, but that's a perfect one time dose of these sweet pop songs about everyday life. Especially Rue de la Paix is a really wonderful song.
28. Camera Obscura: My Maudlin Career (4AD, 2009)
I'm a long time Camera Obscura fan, but somehow it took me a while to fall for My Maudlin Career. It required a few spins on my cd player, but my patience soon paid of and in the end it proved to be another great Camera Obscura album. Not their finest hour though, but especially the opening four songs are all marvellous. The rest might not reach the same level, but there's nothing to complain about either. It's a very fine pop album.
Camera Obscura Website
Camera Obscura at myspace
27. The Shazam: Meteor (Not Lame, 2009)
Awesome rockin' power pop The Shazam returned and dropped this pop meteor into our hands. Like I said on the earlier review, Meteor does contain about 3 songs that I don't like at all. However, the rest of it is SO AWESOME that it easily qualifies to the list. Catchy hook-filled power pop that also takes the "power" part of the term seriously. A most welcome comeback.
The Shazam Website
The Shazam at myspace
26. The Higher State: Darker By The Day (13 O'Clock Records, 2009)
Let's rewind the clock back to late sixties. The Higher State is heavily influenced by 60's west coast and are able to capture that sound quite perfectly. It's almost like listening to some lost Byrds tapes. Obviously someone could argue that why don't you just listen to the real things and forget the new bands trying to find that same magic. But I personally love 60's influenced pop music. I suppose it comes down to songs and The Higher State are certainly able to write great songs.
25. Alela Diane: To Be Still (Rough Trade, 2009)
Alela Diane created an amazingly beautiful folk album To Be Still. Take Us Back and Every Path are such a magnificent songs and the whole album is full warmth. I really should dig deeper into music like this, because the last few years have shown that artists like Alela Diane can move me deeply. Perhaps a good start would be to finally buy the earlier Alela Diane album.
Alela Diane at myspace
Alela Diane Website
24. Dinosaur Jr:  Farm (Pias, 2009)
And then something completely different. Dinosaur Jr. doesn't need an introduction. They do what they do and they do it pretty damn well. Their second album after the reunion Farm doesn't bring anything new to the table, but it is another great album from the band.
Dinosaur Jr. Website
Dinosaur Jr. at myspace
23. Samae Koskinen: Elossa (KHY Suomen musiikki, 2009)
Samae Koskinen's second solo album Elossa is a great album and easily makes the cut. Sister Flo's latest didn't make it eventhough the quality was equally high (it just wasn't totally my kind of record and this list is very subjective, Tragician's Hat on the other hand would probably make the top 3 if I decide to make a list of best finnish albums of the decade). Oh and everyone should see the live performance of Samae Koskinen ja Hänen Taikabändinsä. They are so brilliant and neither of the solo albums can completely capture that same magic.
Samae Koskinen Website
Samae Koskinen at myspace
22. Chad Price: Smile Sweet Face (Suburban Home, 2009)

Chad Price is better known as the lead singer of the punk group All and alt.country outfit Drag The River, but he is certainly able to cut it as a solo artist as well. Smile Sweet Face is his solo debut and it's a very fine album. Maybe that one killer song is missing, but the quality of the songs stays high throughout the record.  His wonderful lyrics are a big part of the charm as well.
21. Magnolia Electric Co: Josephine (Secretly Canadian, 2009)

Magnolia Electric Co's latest album Josephine was a concept album that paid tribute to their bassist Evan Farrell who passed away in december 2007. It's not the easiest albums to listen to and sometimes the sadness is starting to get overwhelming. Therefore Josephine might not be an album that I listen to on a daily basis, but it sure is a beautiful and moving piece of music. In case you are wondering where is the Molina & Johnson album, I haven't bought that one yet.
Magnolia Electric Co Website
Magnolia Electric Co at myspace
Ok.. it looks like this will turn out to be extremely long entry.. So I'll make a part two for the top 20 albums. This new entry will follow soon..