A really hard week. Physical work and my non-existant muscles wasn't the best combination and I was extremely tired all the time. Therefore I failed to mention these great Finnish releases that came out midweek and I wasn't even able to drag myself to record store until saturday. At this moment in time, I'm listening to Samae Koskinen's new album Kuuluuko, Kuuntelen for the second time and I'm totally loving it. Some of these lyrics just capture my own feelings and insecurities so perfectly. I could really learn a thing or two by listening to this record. Sure it's early days, but now it really feels that Samae has created something that matches the greatness of Sister Flo's Tragician's Hat (a huge favourite of mine and definitely one of the 10 reasons). Kuuluuko, Kuuntelen was released by KHY Suomen Musiikki on 16th of march.
[youtube=http://www.youtube.com/watch?v=77lUfZ3S2Ug]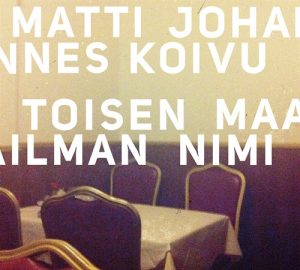 Matti Johannes Koivu released his third solo album Toisen maailman nimi. I have not listened to the full album yet, but based on the couple of songs I've heard, I have high hopes for this one. The first single 80-luvun lapset was so wonderful that maybe I need to change my semi-fan status to a huge fan when I will hear the whole album. You can listen to that great song on his website. Toisen maailman nimi was released on 16th of march by M.Dulor.