Another pointless list. This time showcasing my favourite EPs of the year. I don't buy that many EPs, but after browsing through my record collection and iTunes collection, I found six EPs that I absolutely love and adore. I don't have the heart to drop one out to make it a top 5 and adding another 4 that aren't equally important to me don't make much sense either. Therefore this is top 6 EPs of the year list.
6. Burning Hearts: Into The Wilderness
I think I've written very little about the latest Burning Hearts release Into The Wilderness EP. That's quite criminal, because I love it to bits. Especially the title track Into The Wilderness is out of this world. The new album Extinctions is out on 1st of february. More about that after I get these year end lists done & dusted. Listen to Burn, Burn, Burn from the upcoming album here. This song below is Into The Wilderness from the EP.
5. Klifton Filente: Breaking The Clouds
Eight songs and 24 minutes is maybe more like an album or a mini-album than an EP, but because of some weird unexplained reason I decided to put it on this EP list instead of the album list. Anyway, this is a wonderful release and full of heartfelt and lovely indie pop songs. Jonas Lundvall from Gothenburg, Sweden is a great songwriter and has the sweetest voice.




4. The Wonderminers: The Wonderminers EP
The Wonderminers EP is a thing of beauty. Four amazing atmospheric guitar pop songs. Everything works, but especially Stars in The Window is mindblowingly brilliant.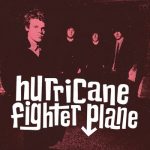 3. Hurricane Fighter Plane: Hurricane Fighter Plane EP
This young band from Australia is already incredible and they are getting better all the time. 60's pop, garage rock, mod brought to date. It's a whole lot of fun to listen to them. It Won't Last is a hit in my heart. And the new 7″ single that arrived just before Christmas is in fact even better than this fabulous EP.



2. The Genuine Fakes: Liner Notes EP
The new Genuine Fakes EP was a mixed affair with leftovers from the debut album sessions, covers and one new song. However, this mixed affair is actually damn brilliant and full of gorgeous power pop songs. I think this sounds even better to my ears than the debut. A lot said, because I loved the debut album. I'm not gonna make a concerts of the year list, but if I did, The Genuine Fakes would easily win that category with their concert at Flavour of the Month.




1. Marmalakes: Even Clothed EP
The second Marmalakes EP Even Clothed is absolutely wonderful. I'm especially addicted to the last song Balmorhea, but the whole thing is gorgeous. Their folk songs are unique and nuanced and oh how I love the vocals and the harmonies. These guys are definitely on to something. Even Clothed is my favourite EP of the year 2011 (a really close battle with The Genuine Fakes though and I kept changing the order several times).