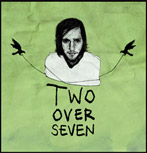 I remembered Daniel Ledwell & Jenn Grant today, because Jenn Grant's album (which was produced by his husband Daniel) was nominated for a Juno award. I have the first two Jenn Grant releases Goodbye Twentieth Century and Orchestra for The Moon and I really like them. However, I had never heard of Daniel Ledwell until I red Herohill's blog post sometime late last year. I was immediately hooked and then I kind of forgot about it because I couldn't track down a physical copy of the album. Were there even any? I think I just I need to buy the download, because this still sounds marvellous to me. Do note that this isn't actually new. It's from 2008 I think, but still worth all the praise. I'm sure Daniel is a wizard behind producer's desk, but let's hope he keeps on writing music as well, because Two Over Seven sounds like a little folk / indie treasure. Kind of something like Liam Finn's beautiful debut on Yep Roc. This one is entitled Daisy, You're a Liar.
[youtube=http://www.youtube.com/watch?v=uwamdGVY-_Q]
And this is the latest video Baby's Been Away from Jenn Grant's Juno nominated album Honeymoon Punch. Starring Jenn Grant and Daniel Ledwell.
[youtube=http://www.youtube.com/watch?v=NQZfbyqaR38]