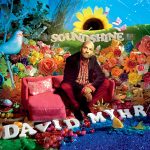 10. David Myhr: Soundshine
David Myhr created a slice of pop heaven with his album Soundshine. That title certainly fits perfectly to this album. You rarely hear so excellent melodic power pop these days. Soundshine was the perfect soundtrack for the spring, but still works just as well during these dark winter nights. If you've been in Finland in november/december, you know that it's the time you really need some soundshine and this album fully delivers it. David's visit to Flavour of the Month club was also one of the highlights of the year. This is Looking For a Life.
9. Greater Pacific: Incandescent
This one was a surprise for me. I liked Greater Pacific debut EP a lot and knew they were a good band, but I didn't expect them to be this good. I really fell in love with their laid-back americana. The album Incandescent contained plenty of beautiful melancholic folk songs. My kind of music definitely. A fair amount of pedal steel as well which is always a plus. This one is my biggest favourite, the title track Incandescent.
8. Justin Townes Earle: Nothing's Gonna Change The Way You Feel About Me Now
Well this one was not a surprise. I think the past three Justin Townes Earle albums have all reached my end of the year list. I don't think I ever wrote about this to the blog before this. Mostly because people already know the guy and my silly ramblings won't make a difference. Excellent album nevertheless. Memphis sound meets folk troubadour. So damn enjoyable. This one is Memphis in the Rain.
[soundcloud url="http://api.soundcloud.com/tracks/52735342″ params="" width=" 100%" height="100″ iframe="true" /]



7. Andrew Combs: Worried Man
This one was the latest album of the month and it's indeed worthy of that title. Andrew Combs might not invent anything new, but he sure is creating wonderful country songs. If you are into 70s country troubadours, give Andrew Combs a chance, because this man is creating something similar and he sure can sing. You could pretty much post any of the songs, because are all great. Let's go with Take it From Me this time around.
6. John K. Samson: Provincial
The only bad thing about The Weakerthans frontman John K. Samson solo full-lenght was that I already knew half of the songs from his earlier EPs. The excitement levels would have risen even higher, if there had been 12 completely new John K. Samson compositions. But obviously the songs were way too brilliant to be left on EPs that only the biggest fans had acquired and the songs were also part of the provincial concept. One of the great modern songwriters and this album is just as great as The Weakerthans albums. This one is titled When I Write My Master's Thesis.
[soundcloud url="http://api.soundcloud.com/tracks/30524442″ params="" width=" 100%" height="100″ iframe="true" /]



5. Joe Pug: The Great Despiser
Regular readers are well aware that I've become a huge Joe Pug fan during the last few years. One of the best folk singer-songwriters at the moment and the new album The Great Despiser is obviously wonderful. There's a couple of songs that doesn't seem to be anything special. Well at least on Joe's standards and that's why this is not a contender for the album of the year award. Marvellous album nevertheless. This is one of the many highlights, Hymn #76.
[youtube=http://www.youtube.com/watch?v=DFTzGEdCgTY]



4. Paul Otteson: Robin Red
This has been one of my biggest addictions this year. I've listened to Robin Red for hours in a row and enjoyed every second. Robin Red is fragile and oh so very beautiful. Paul Otteson might not be the most well-known folk troubadour out there, but he sure did create such a magical record that most household names would struggle to get even close to the same level. This one is my own favourite, One Heart To Prove.
[youtube=http://www.youtube.com/watch?v=6Y0DJwKv6R0]



3. I Was a King: You Love It Here
A stunning album. Norwegian I Was A King created a world class pop album with the help of Norman Blake and Robyn Hitchcock. Pop music just doesn't get much better than this nowadays and it just feels so good to listen to this. You Love It Here is full of amazing pop songs. Almost every song could (and should) be a hit single. This is the opener Frozen Disease.
[youtube=http://www.youtube.com/watch?v=OKH0nqQ5_rg]



2. Barna Howard: Barna Howard
Moving on to the second place and not so surprisingly, there's another folk singer-songwriter. Although Barna Howard is definitely not just another folk singer-songwriter. This man is a major talent and it's almost criminal that he is still pretty unknown. I'll try to do my small part in spreading the gospel (thanks to April/Common Folk Music, who introduced Barna to me). Such a great songwriter, such a great singer. Watch this video below and you'll understand what I mean. It contains three songs from his self-titled album Promise, I Won't Laugh, Song For Joe and Timber, Nails and Tears.
[youtube=http://www.youtube.com/watch?v=7-KWSSDGEds]



1. Ken Stringfellow: Danzig In The Moonlight
And the album of the year award goes to Danzig In The Moonlight by Ken Stringfellow. Of course that's pretty obvious choice, because Ken Stringfellow and Jon Auer are my all-time favourite songwriters/performers. Still I've tried to be objective and honest during the years and all Posies-related releases have not come on top of my year-end lists, if I didn't really think they were worthy of that spot. This time Ken Stringfellow released such a masterpiece that you didn't need to think twice which was the best album of the year. Danzig in The Moonlight is an ambitious album, but somehow Ken managed to keep it cohesive. A lot of different styles, but almost everything works perfectly. And then there's the last song You're A Sign. A future classic and easily the best song of the year 2012. This is not You're a Sign (because I couldn't find it). This is Superwise.
[soundcloud url="http://api.soundcloud.com/tracks/60998801″ params="" width=" 100%" height="100″ iframe="true" /]