I should start making those year-end lists, but I still have a few dozen 2014 releases that I haven't featured at all. Some that even might appear on those lists. So I try to shortly go through some of them before writing those lists later in December.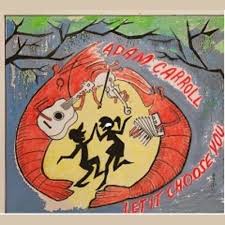 Adam Carroll is a Texas-based songwriter and definitely a mighty good one. Otis Gibbs introduced him to me years back on his guest post at ninebullets, if my memory serves me right. His new album Let It Choose You has gotten a lot of air time in this household and I should have written about it months ago. This is the awesome opening track Bernadine.
We haven't heard of Chase Fifty Six (or at least I haven't) since their really good Allatoona Rising album back in 2010. However, Chris Stalcup has a new project these days called Chris Stalcup and The Grange. Their album came out in April, 2014 and should have gotten recognition back then. But better late than never I suppose, if we start celebrating cliches. This is Eastern Stars from the album called Dixie Electric Co.
Chris Stalcup and The Grange Website
Michael Rank and Stag is also a group that should have a thing or two to say to the lazy blogger who is writing this. I've been listening to their last three albums, enjoyed each and every one of them, but have never written a single word about them. This North Carolinian is a really prolific songwriter and he has released these three albums during the past two years. His 2014 release is called Deadstock and these are Idle Hands and Little Late For Me from that album.