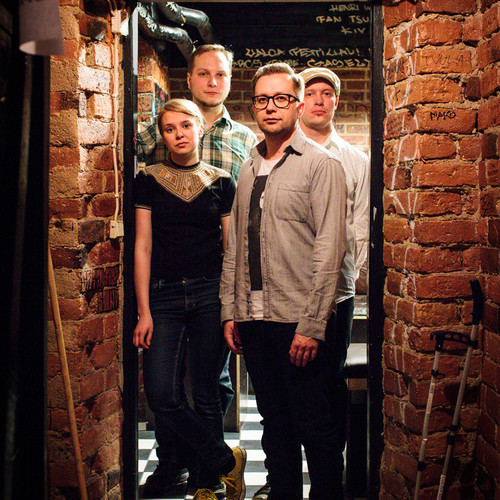 A new month and a new Flavour of the Month. The event takes place at Pikku-Torre, Turku on Friday 6th of March. We have a couple of excellent Finnish bands sharing the stage. These are Tomi Nordlund & Syvä Joki & Love Sport. Read all about it on that Finnish press release below. And here some song samples.
Tomi Nordlund & Syvä Joki – Meidän aikaa
LOVE SPORT: Well..shit
FLAVOUR OF THE MONTH esittää:
LOVE SPORT
TOMI NORDLUND & SYVÄ JOKI
+ Flavour of the Month DJ team
pe 6.3. klo 21-03
Pikku-Torre, Yliopistonkatu 30, Turku
VAPAA PÄÄSY!
Maaliskuun Flavour of the Month -klubilla perjantaina 6.3. saadaan kuulla kovia kotimaisia tulokasyhtyeitä.
Illan bändeistä Love Sport on helsinkiläinen "indie all stars"-ryhmä, jossa on soittajia sellaisista yhtyeistä kuin Hopeajärvi, Lady Escape, Black Twig ja Big Wave Riders. Niinpä ei olekaan suuri yllätys, että itse itseään simppelisti "kitararockiksi" kuvaileva nelikko on päätynyt Nick Trianin Soliti-merkille. Debyytti-EP "Gol!!" on julkaistu trendikkäästi digitaalisesti sekä c-kasettina.
Tamperelaisen Tomi Nordlund & Syvä Joki -yhtyeen tyylilajina on suomenkielinen folk rock. Bändin pomomies Nordlund on tunnettu paitsi musiikkitoimittajana myös mainiona muusikkona mm. Cry Barissa ja Suomen parhaissa Bruce Springsteen- ja REM-coverbändeissä. Syvä Joki esittää kuitenkin omaa musiikkia, josta näytteenä julkaistiin loppukesästä ensimmäinen video kappaleesta Laiturin päässä ja joulukuussa toinen kappaleesta Meidän aikaa.
Tomi Nordlund & Syvä Joki at Facebook
Love Sport at Facebook