Part One 30-21
Part Three 10-1
20. Fiver – Audible Songs From Rockwood
Canadian songwriter Simone Schmidt aka Fiver spent a few years going through the old case files (from 1854-1881) of patients at the Rockwood Asylum for the Criminally Insane and turned her findings into fictional folk songs. The end result is an extremely powerful and breathtaking traditional folk album Audible Songs From Rockwood. Maybe not something that I listen to on a daily basis, but one that I still return to quite often and find it strong and captivating each time.
19. Mo Troper – Exposure & Response
Mo Troper released the power pop album of the year or at least the best one I heard. I admit that I don't follow the genre nowhere near enough even though it's the foundation that my music taste and this website is built on. Anyway, Exposure & Response is superb, catchy, melodic and hook-filled pop blast. I'm not sure should I smile this much while listening to it, because the lyrics are often far darker than the music. But it's hard not to, because I love the music so much.
18. Jason Isbell & the 400 Unit – Nashville Sound
Eventually I will look like an idiot, because I have this masterpiece so far down. Yeah, I know I already look like an idiot, maybe just for different reasons. This just haven't been that important to me so far and I haven't listened to it that much so far. I think the reason is just that I've focused more on the unknowns and have let my trusted companion Jason Isbell wait a while on the sidelines, because I already know that someday I will fall badly for this. I don't have anything bad to say about The Nashville Sound. I think it's a damn fine album and If We Were Vampires is one of the songs of the year.
17. Jon Latham – Lifers
Nashville's Jon Latham and his wonderful new album Lifers should have gotten far more love and exposure on this blog. It's been a busy year and I'm not sure is there even a point to continue, if I can't do this properly. Anyway, I'm a big fan of his songwriting and songs like Tennessee Dime, Last In Line, Yearbook Signatures and Lifers are among the very finest songs of the year.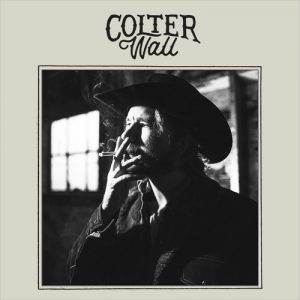 16. Colter Wall – Colter Wall
Colter Wall is a young Canadian folk/country troubadour with a deep voice and a suitcase full of captivating traditional folk tales. Dave Cobb is responsible for producing some of the best americana albums of the last few years and thankfully knows when there's no need for extra heroics from the producer. The sound is rather bare and the focus is on the voice and on the songs. In Colter Wall's case that's everything you can possibly need.
15. Hiss Golden Messenger – Hallelujah Anyhow
I was rather slow to understand the greatness of Hiss Golden Messenger, but I've been onboard for a few years and these days he is one of my biggest inspirations both as a songwriter/musician and as a human being. His songs are remarkable and I love the way he continuously spreads love and tackles everything that's wrong in the world. If only kindhearted people like him were in charge. Heart Like A Levee remains his masterwork in my books, but there's nothing to complain about this one either. A remarkable and important album.
14. Clay Parker – Queen City Blues
I'm very fond of this new Clay Parker album. It's not everyone's cup of tea (as if something is), but I think it's superb. Probably no-one should ever be compared to Townes Van Zandt, but some of these songs reminds me of him. There's nothing fancy or earthshattering. Just beautiful well-crafted songs gently delivered straight into my heart. That's all I could ever want.
13. The Deep Dark Woods – Yarrow
The Deep Dark Woods from Canada is a long time favourite of mine and I've loved everything Ryan Boldt has released over the years. Yarrow is no exception to that rule and it's filled with amazing songs. Damn it's nice to hear that spectacular deep voice again.
12. Daniel Romano – Modern Pressure
Canadian music wizard Daniel Romano is continuosly changing his colours and sure doesn't make it easy for his fans. My early thoughts with both this and Mosey were something like "well is this really that great" and a couple of spins later I'm like "oh hell it is and why I ever doubted". Impressive musician that seems to be able to master everything.
11. Anna Tivel – Small Believer
Anna Tivel is a songwriter from Portland, Oregon and she writes tremendous lyric-driven folk songs. The stories she tells may be rather dark, but I think there's also a lot of compassion and warmth in the air. It's a very moving album and somehow she is able to make you really feel for the characters of her songs. Some of the finest songwriting of the year. These Dark Chandelier and Illinois that end this second chapter of this year-end list are a perfect examples of her talent.