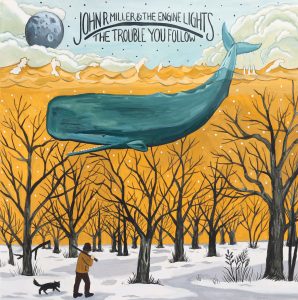 Another week, another weekly playlist.
I have the flu and therefore not a whole lot of energy or brain activity. So I apologize, if my writing makes even less sense than usually. The flu is also the reason why there hasn't been other blog posts during the past 3-4 days.
The big album releases for me were from John R. Miller & The Engine Lights, Emily Brown and Aaron Lee Tasjan. I'm also fond of the new albums by Saintseneca, Summer Magic, Courtney Hartman & Taylor Ashton, Parting Lines, Alien Boy and Donnie Fritts. Then there obviously was the big one from Big Red Machine, but I just didn't find a whole lot to hold on to with a quick listening. I know it's me and not them and I feel like I'm missing out on something great. I'll give it another go later. Oh and M G Boulter's new EP is gold.
Lots of great singles too. The big ones for me were from Becky Warren, St. Lenox, Grand Salvo, Laura Jane Grace & The Devouring Mothers and Lac Belot. Obviously I like each and every song on this list, so I could easily namecheck everything. I even expanded this thing to 30 songs and gave up on that 23 thing, because it gives some extra space to include more great new music.
Some wonderful ones from previous weeks appear again and then there's some slightly older stuff that I missed out when they came out. One even from December 2017, because I just found the Aaron Beckum record yesterday.
My absolute favorite song that surfaced this week is Carnival Barker from Vanessa Peters, but that's not yet on Spotify. A blog post about that will appear as soon as the flu fog disappears from my head and I can write something that even remotely matches the greatness of it.
OCTA Weekly Playlist Episode #7
1. Becky Warren – The Drake Motel (single, 2018)
2. John R. Miller & The Engine Lights – How It Feels In the Light (The Trouble You Follow, Emperor Records, 2018)
3. Aaron Lee Tasjan – End of the Day (Karma For Cheap, New West Records, 2018)
4. Laura Jane Grace & The Devouring Mothers – Apocalypse Now (&Later) (single, Bloodshot Records, 2018)
5. Ryan Culwell – Moon Hangs Down (The Last American, Missing Piece, 2018)
6. The Other Years – Adaline (single, No Quarter, 2018)
7. Queen of the Meadow – Withdrawn (single, 2018)
8. St. Lenox – Don't Ever Change Me New York City (single, Anyway Records, 2018)
9. Madeline Leman and the Desert Dwells – Diva With The Fever of Change (single, 2018)
10. Mitski – Nobody (Be The Cowboy, Dead Oceans, 2018)
11. Lac Belot – Friendly Beast (single, Solina Records, 2018)
12. Parting Lines – Climb (See You On The Other Side, 2018)
13. Summer Magic – Certain Little Cloud (Sharks And Other Dangers, 2018)
14. Donnie Fritts – I'd Do It Over Again (June, A Tribute to Arthur Alexander, 2018)
15. Advance Base – Your Dog (single, Run For Cover, 2018)
16. Drew Beskin – Midnight Avenue Edge (single, Laser Brains, 2018)
17. Marlon Chaplin – Drain Me (The Circle, 2018)
18. Alien Boy – Somewhere Without Me (Sleeping Lessons, Tiny Engines, 2018)
19. Courtney Hartman and Taylor Ashton – Been on Your Side (Been On Your Side, Free Dirt Records, 2018)
20. Lorain – Rose Window (single, 2018)
21. Aaron Beckum – Everlasting Love / River Of Blood (Classic Bad Times, Swamp Moth Missionary Society, 2017)
22. Joshua Hedley – Broken Man (single, Third Man Records, 2018)
23. Austin Lucas – My Mother and the Devil (Immortal Americans, Cornelius Chapel Records, 2018)
24. Saintseneca – Feverer (Pillar Of Na, Anti-, 2018)
25. Lauren Balthrop – Maple Tree (single, Tone Tree Music, 2018)
26. Matt Harlan – What We Saw (single, What We Saw Records, 2018)
27. Beth Snapp – Don't Apologize (Don't Apologize, NewSong Recordings, 2018)
28. M G Boulter – Frances Forlorn (Blood Moon EP, Hudson Records, 2018)
29. Grand Salvo – In The Water (single, Mistletone, 2018)
30. Emily Brown – Stay Lovin' (Bee Eater, Song Club Records, 2018)
Oh and if you are looking this after a week has gone, the embedded Spotify will show the latest playlist. I'll just update the same playlist because a) if someone wants to follow it, they can just follow that one list and will get a new set of songs each Sunday b) so that I don't have a trillion of different playlists on my Spotify account.
Oh and do buy the vinyl/cd/download. Spotify and other streaming services are perfect for these introductory purposes, but try to buy at least the music that matter the most to you