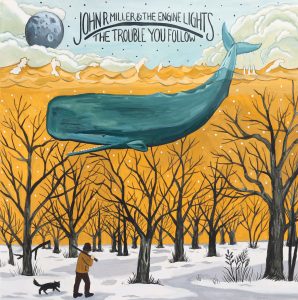 Another one of those round-up type posts, because it's a continuous struggle to find the time to feature all the great music that is being released. This time I shall begin from West Virginia where John R. Miller & The Engine Lights gave birth to one of my favorite albums of the past few months. I was a big Fox Hunt fan some years ago and have tried to follow the guys who sang their way into my heart back then. John R. Miller is one of them and his new album with The Engine Lights is equally magnificent. The Trouble You Follow came out on Emperor Records on the 31st of August and it's a first-rate country folk album about leaving and being left and the struggles that it all brings. Here's the first single Red Eyes from the album.
Next up is fellow West Virginian, friend and bandmate William Matheny who has a gorgeous new seven inch single Flashes & Cables b/w Christian Name out on Misra Records. Flashes & Cables is a loving rendition of a Centro-Matic song and Christian Name is a new William Matheny original. Max Nolte directed a music video for Christian Name. Watch that below and order a copy of the seven inch from his website.
https://www.youtube.com/watch?v=BtJg0yYzcVQ
Last stop this time around is Milwaukee, Wisconsin and the new Nickel & Rose EP Americana. Nickel & Rose is a folk/americana duo of Carl Nichols (guitar) and Johanna Rose (upright bass) and together they have created a very powerful and meaningful EP. The title track is important and awakening song about Carl's personal experience as a black artist and being an outsider within Americana. The whole thing is just as good and I have to include Hard Day's Work as well, because I love the song.