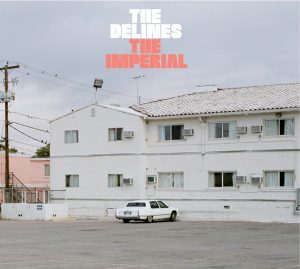 Another week, another weekly playlist. And also another year. This September this baby of mine will turn 18 and there's still no end insight. I haven't given any other promises to myself than to at least do one more year and see how things will look at the end of 2019. One new year resolution is to do this weekly playlist every week this year, because even though its value and relevance is highly questionable it felt like a fun thing to do and it felt like it really helped me keep up with the steady flow of fabulous new music. If you want to help me in the process, listen, follow or share the playlist. And always feel free to drop hints of stuff that I've missed that should be included. I know only a tiny fraction of all the great music and I'm always keen to hear what likeminded people are listening.
There's not a whole lot of new 2019 music out there yet. I expect the release schedule to pick up next week now when the holidays are over. I probably also missed way more than usual, because I took a couple of weeks off from the blog and did some netflix binge watching instead of the usual search for new music. Anyway, here are the ones that have still managed to grap my attention. Some pretty fantastic stuff I would say. Like the latest outtake from forthcoming The Delines album that I expect to set the bar pretty high for 2019. The only new album that I noticed was the album from Sore Loser. I haven't even listened to the whole thing yet, but I definitely will because I've really liked what I've heard so far. Matthew McNeal released a gorgeuos single dedicated to his father. The new single from country soul queen Yola is so great and so is the new double single from Joe Bourdet. Christopher Gold & The New Old Things seem to release a wonderful song every week. Skyway Man's cover EP is also so good. The only new Finnish song is the excellent new single from Ylva Haru. Everything else would also be worth namedropping, because I like each and every song. Many of these are from the last weeks of 2018, because I took a few weeks off from this playlist routine. Anyway, that's it for now, because I feel like I need a bit of a nap before the NFL playoffs start. Following US sports sure can make a mess of sleeping patterns.
OCTA Weekly playlist Episode #23
1. The Delines – Holly The Hustle (single, El Cortez, 2019)
2. Matthew McNeal – Michael (single, Matte Black Sound Company, 2019)
3. Yola – Faraway Look (single, Easy Eye Sound / Nonesuch, 2018)
4. Joe Bourdet – Seamist (single, 2019)
5. Christopher Gold & The New Old Things – Joni (single, 2019)
6. Skyway Man with Teddy and the Rough Riders – Richmond (Lagniappe Sessions EP, 2019)
7. Robert Ellis – Passive Aggressive (single, New West Records, 2018)
8. John Kilzer – Hello Heart (single, Archer Records, 2018)
9. Diamondtown – Forever (single, 2018)
10. Alicia Stockman – I'd Do That Too (single, 2018)
11. Abigail Lapell – Gonna Be Leaving (single, Coax Records, 2018)
12. Ylva Haru – Elämä kantaa (single, Soit se silti, 2019)
13. Martha – Heart Is Healing (single, Big Scary Monsters, 2018)
14. Sore Loser – Bravery (Hurry Up and Wait, 2019)
15. Pinto Bennett – I Like Singin' the Blues in a Honky Tonk Song (The Last Saturday Night, 2018)
16. Michael Chapman – After All This Time (single, Paradise of Bachelors, 2019)
17. M. Lockwoord Porter – Rosetta Stone (single, Black Mesa Records, 2018)
18. Laura Stevenson – The Mystic & The Master (single, 2018)
19. Goodbye Max – Low Health (Out in the Quiet split single w Half Birthday, 2019)
20. Jeffrey Silverstein – Finds You Well (single, Driftless Recordings, 2018)
21. William Tyler – Call Me When I'm Breathing Again (single, Merge Records, 2018)
Oh and do buy the vinyl/cd/download. Spotify and other streaming services are perfect for these introductory purposes, but try to buy at least the music that matter the most to you
If you are looking this after a week has gone, the embedded Spotify will show the latest playlist. I'll just update the same playlist because a) if someone wants to follow it, they can just follow that one list and will get a new set of songs each Sunday b) so that I don't have a trillion of different playlists on my Spotify account.