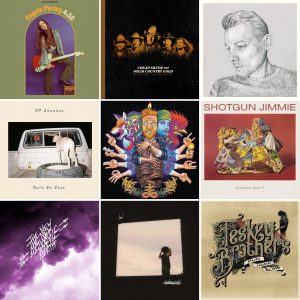 Another week, another weekly playlist.
I tried, but it was too difficult to skip this list this week, because so much good stuff came out both internationally and in Finland. I'll try again next week. On other news, I've been mostly planning that 18th anniversary festival and it's going on quite nicely. If you want to be a part of it either as an artist or as a member of the audience (in both cases this happens wherever you are), hit those links in the right column for more information.
The biggest album release of the week was the new Tyler Childers album, but there's so much more and most of them seem to be excellent based on very brief listening at this point. New albums came from Mike and the Moonpies, RF Shannon, Shotgun Jimmie, Bad Heaven Ltd, Karine Polwart, Angela Perley, Elaina Kay, The Teskey Brothers, Joseph Robert Krauss, Tenement & Temple, Native Harrow (euro-release), Jade Imagine, Jordan Jones, Taylor Hollingsworth, Matt York, Edan Archer, Deadbeat Beat and Rainy Eyes. That took a while to write let alone listen. The Paranoid Style also makes first appearance this week, I missed that a week ago. There's also a new EP from Andandending.
Three new great Finnish albums too this week from verões, The New Magnetic North and Pykäri. The new single from Tyynyt is the fourth Finnish entry to this list.
And as usual a ton of new singles. For examples new ones from the forthcoming albums from Esther Rose and Leslie Stevens. Really looking forward to those. Vincent Neil Emerson is another big favorite this week. He is a new one to me, but I will keep an eye on him after this wonderful tune. Everything else would be worthy of a name drop too, but you'll find them from the list below.
That's it for now. I'm on vacation for one more week, so I'll try to do some blog posts early in the week. Later on I need to catch the Pat Reedy concert somewhere in this country, because he is coming over to play in Finland late in the week. All the best and love.
1. Mike and the Moonpies – If You Want a Fool Around (Cheap Silver and Country Gold, Prairie Rose Records, 2019)
2. Tyler Childers – Bus Route (Country Squire, Hickman Holler Records / RCA Records, 2019)
3. RF Shannon – Ballad of a Thin Place (Rain on Dust, Keeled Scales, 2019)
4. Shotgun Jimmie – Fountain (Transistor Sister 2, You've Changed Records, 2019)
5. Bad Heaven Ltd. – Cross (Strength, 2019)
6. Karine Polwart – Whatever's Written In Your Heart (Karine Polwart's Scottish Songbook, Hegri, 2019)
7. verões – Something Precious (verões, 2019)
8. The New Magnetic North – Letters on the Floor (Letters on the Floor, 2019)
9. Angela Perley – Local Heroes (4:30, 2019)
10. Elaina Kay – Saint (Issues, Rockin' C Records, 2019)
11. The Teskey Brothers – San Francisco (Run Home Slow, Decca Records, 2019)
12. Vincent Neil Emerson – Letters on the Marquee (single, La Honda Records, 2019)
13. Esther Rose – Lower 9 Valentine (single, Father/Daughter Records, 2019)
14. Joseph Robert Krauss – Catch Myself (Do You Feel Better Now?, Tone Tree Music, 2019)
15. Leslie Stevens – Sinner (single, LyricLand, 2019)
16. Tenement & Temple – Loving Arms (Tenement & Temple, Thrum, 2019)
17. Native Harrow – How Do You Do Things (Happier Now, Loose Music, 2019)
18. Jade Imagine – Gonna Do Nothing (Basic Love, Marathon Artists, 2019)
19. Jordan Jones – How to Be (Jordan Jones, Beluga Records, 2019)
20. Pykäri feat Nick Triani – Pumped Up With Memories (O, PME Records, 2019)
21. Tyynyt – Matto alta (single, Nefer Maglev, 2019)
22. Queen of Jeans – All the Same (single, Topshelf Records, 2019)
23. Anna Ash – Apologies (single, 2019)
24. Spirit Family Reunion – Would You Would or Would you Won't (single, 2019)
25. Taylor Hollingsworth – Back of the Line (Tap Dancin' Daddy, Flower Moon Records, 2019)
26. Matt York – Bruisable Heart (Bruisable Heart, 2019)
27. Darrin Bradbury – Talking Dogs & Atom Bombs (single, Anti-, 2019)
28. Christopher Gold & The New Old Things – Wander (single, 2019)
29. The Highwomen – The Chain (single, Elektra Records, 2019)
30. Lillie Mae – A Golden Year (single, Third Man Records, 2019)
31. Edan Archer – Younger Man's Game (single, Journey Proud, 2019)
32. Bonny Light Horseman – Bonny Light Horseman (single, 2019)
33. Andandending – All Inside (Lots in Thought EP, Sound of Music, 2019)
34. Rachele Eve – Love Is a Wheel (single, 2019)
35. Molly Burch – Your Party (single, Capture Tracks, 2019)
36. Long Beard – Means to Me (single, Double Double Whammy, 2019)
37. Pretty Matty – Another Shot (single, Get Better Records, 2019)
38. Deadbeat Beat – Baphomet (How Far, Arrowhawk Records, 2019)
39. The Paradoid Style – Expecting to Fly – Economy (A Goddamn Impossible Way of Live, Bar None Records, 2019)
40. Jason McCue – Shadows (single, 2019)
41. Cataldo – Ding Dong Scrambled Eggs (single, 2019)
42. Frog – It's Something I Do (single, Audio Antihero / Tapewormies 2019)
43. Tim Bluhm – The Only Solution (single, Blue Rose Music, 2019)
44. Tanya Tucker – The House that Built Me (single, Fantasy Records, 2019)
45. Rosier – Vie penible (single, Famgroup, 2019)
46. Rainy Eyes – Moon in the Mirror (Moon in the Mirror, 2019)
47. Angel Olsen – All Mirrors (single, Jagjaguwar, 2019)
48. Florist – I Also Have Eyes (Emily Alone, Double Double Whammy, 2019)
49. Jordan Moser – Between the Stars (Long Night, Keeled Scales, 2019)
50. Philippe Bronchtein – Beneath the Bridge (Oregon Air EP, 2019)
Oh and do buy the vinyl/cd/download. Spotify and other streaming services are perfect for these introductory purposes, but try to buy at least the music that matter the most to you
If you are looking this after a week has gone, the embedded Spotify will show the latest playlist. I'll just update the same playlist because a) if someone wants to follow it, they can just follow that one list and will get a new set of songs each Sunday b) so that I don't have a trillion of different playlists on my Spotify account.