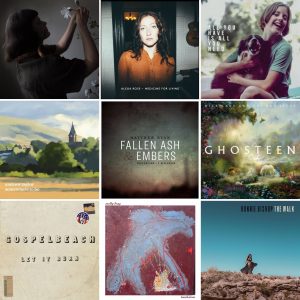 Another week, another weekly playlist.
The blog was pretty much on hold for a week, because the well-being of our cat Luna was my only concern. It was a really scary week that included a vet visit that went horribly wrong, because Luna got complications from the anesthesia. There's still some concern, but thankfully our brave girl is doing a lot better at the moment.
I started this week's playlist with a song from D.H.Scott's album that actually came out in July. I'd like to say there's some cool way I came across with it, but truth to be told, Spotify recommend it to me. Sometimes these algorithms know their stuff, because I fell instantly and this has been my favourite album during the weekend. There's a lot of brand new albums from this week too. Kelsey Waldon, Kacy & Clayton, Jason James, Daniel Martin Moore and Michael Nau were on top of my list. Some big names too like Wilco, Angel Olsen and Nick Cave & The Bad Seeds and less known but equally good Monica Rizzio, Alexa Rose, Gospelbeach, Harmony Woods, Lisa Prank, Molly Drag and Bonnie Bishop. Aksi some beauties I've missed before from Andrew Taylor, Rachele Eve, Ainslie Wills (I had the singles from the last two, but somehow managed to miss the release of the album). Also highly anticipated EPs from Logan Ledger and Matthew Ryan plus a couple of great ones from new to me artists Kiel Grove and Kelso.
The lone new Finnish entry is the single from the forthcoming Liila Jokelin debut. I missed that a week ago and a cloud of guilt has been hanging over me ever since. Iron Country Sisters also reappear with another song from their wonderful debut. I'm sure there had to more Finnish stuff too, so feel free to guide towards right direction.
Oh yeah, some singles too. No need to namedrop them all, but some personal faves were the new singles from Jason Sinkhorn, Zachary Lucky, Big Thief, Pickering Pick and Craig Finn.
And in the end a few great artists from last week reappear. That's it for this week. I hope I'll manage to do something else this week, because I don't want this to become just a playlist. All the best and love love love.
1. D.H. Scott – Banish My Soul to New Mexico (My Body Longed For The Summer, 2019)
2. Kelsey Waldon – Kentucky, 1988 (White Noise / White Lines, Oh Boy Records, 2019)
3. Kacy & Clayton – Spare Me Over One More Year (Carrying On, New West Records, 2019)
4. Jason James – Coldest Day of the Year (Seems Like Tears Ago, Melodyville Records, 2019)
5. Logan Ledger – Invisible Blue (I Don't Dream Anymore EP, Rounder Records, 2019)
6. Monica Rizzio – Hard to Love (Sunshine Is Free, 2019)
7. Daniel Martin Moore – Real Love Song (Never Look Away, Sofaburn / OK Recordings, 2019)
8. Michael Nau – Be Smiling When You Can (Less Ready to Go, 2019)
9. Matthew Ryan – Are You the Matador? (Fallen Ash & Embers EP, Hearts & Smarts, 2019)
10. Jason Sinkhorn – What the Valley Thought You (single, Knothole Records, 2019)
11. Alexa Rose – Borrow Your Heart (Medicine For Living, Big Legal Mess, 2019)
12. Angel Olsen – Spring (All Mirrors, Jagjaguwar, 2019)
13. Pickering Pick – Please, Please Please Let Me Get What I Want (single, Double J Music, 2019)
14. Big Thief – Forgotten Eyes (single, 4AD, 2019)
15. Wilco – One and a Half Stars (Ode to Joy, dBpm Records, 2019)
16. Zachary Lucky – Sometimes I Wonder (How I Got This Far) (single, Wroxton Recordings, 2019)
17. Kiel Grove – Honey-Dew (Ridin' The Pine EP, 2019)
18. Gospelbeach – Dark Angel (Let It Burn, Alive Naturalsound, 2019)
19. Nick Cave & The Bad Seeds – Bright Horses (Ghosteen, 2019)
20. Gus Seyffert – Hold On (single, Sargent Records, 2019)
21. Rachele Eve – Bella (Renunciation, 2019)
22. Phoebe Hunt – Baba Vanga (single, 2019)
23. Craig Finn – It's Never Been a Fair Fight (single, Partisan Records, 2019)
24. Andrew Taylor – Make a Difference (Somewhere to Be, 2019)
25. The Good Graces – Snow Angels (single, Pretty New Songs, 2019)
26. The Local Honeys – Everybody Wants to Go to Heaven (single, 2019)
27. Pat Reedy & The Longtime Goners – Make It Back Home (single, Country Roots Records, 2019)
28. Donna Blue – Desert Lake (single, Snowstar Records, 2019)
29. Liila Jokelin – Kuolleiden puolue (single, Helmi Levyt, Records, 2019)
30. Kelso – Oh God, There's So Much Love In Me (Always a Godmother, Never a God EP, Poison City Records, 2019)
31. Ainslie Wills – Society (All You Have Is All You Need, 2019)
32. Molly Drag – Charlotte (Touchstone, EggHunt Records, 2019)
33. BAJA – Nino (singe, 2019)
34. John Blek – Empty Pockets (single, 2019)
35. Bonnie Bishop – Love Revolution (The Walk, Plan BB / Thirty Tigers, 2019)
36. Beautiful Dudes – Peace Train (single, Mama Bird Recording Co, 2019)
37. Lisa Prank – Ignore It (Perfect Love Song, Father / Daughter Records, 2019)
38. Wojtek the Bear – Slow TV (single, 2019)
39. Harmony Woods – The City's Our Song (Make Yourself At Home, Skeletal Lightning, 2019)
40. Worry Dolls – The River (single, Bread & Butter Records, 2019)
41. Vincent Neil Emerson – 25 & Wastin' Time (Fried Chicken & Evil Women, La Honda Records, 2019)
42. Michaela Anne – Tattered, Torn and Blue (and Crazy) (Desert Dove, New West Records, 2019)
43. John Calvin Abney – Typeface in Bold (Safe Passage, Black Mesa Records, 2019)
44. Will Johnson – To the Shepard, To The Lion (Wire Mountain, Keeled Scales, 2019)
45. Sidney Lindner & The Silver Wilderness Collective – Sweet Brother (Summer Ghosts / Nightfalls, Burst & Bloom / Broken Sparrow, 2019)
46. Iron Country Sisters – Starlight (Take Me Home) (The Blue Hidden In, Soit Se Silti, 2019)
Oh and do buy the vinyl/cd/download. Spotify and other streaming services are perfect for these introductory purposes, but try to buy at least the music that matter the most to you
If you are looking this after a week has gone, the embedded Spotify will show the latest playlist. I'll just update the same playlist because a) if someone wants to follow it, they can just follow that one list and will get a new set of songs each Sunday b) so that I don't have a trillion of different playlists on my Spotify account.