Part One
Part Two
Part Three
Part Four
Part Six
Part Seven
A new day and a new chapter in this never-ending year-end story. This one is the last that is in random order. So all albums on this post and on the earlier ones are sort of on the tied 26th place on this list. Not that the numbers really matter one damn bit. Music is love and not a competion. All albums on this list are great and dear to me. And the list could have been twice as long. I'll never understand when folks say that there's no good new music. There's more than ever.
Robert Ellis – Texas Piano Man (New West Records, 2019)
This chapter starts with the Texas Piano Man aka Robert Ellis. I'm especially fond of Fucking Crazy and Father. Not that there's anything wrong with the rest of it either. I don't have any clue what to expect next from Robert Ellis, but I know it's going to be awesome.
Robert Ellis at Facebook
Robert Ellis Website
Erin Enderlin – Faulkner County (Blaster Records, 2019)
Back in Nashville for some of the finest country music of the year. Erin Enderlin first released four EPs and then put the songs out a full-length album too. A very engaging album full of wonderful classic country ballads.
Erin Enderlin at Facebook
Erin Enderlin Website
Fernando Viciconte – Traitors Table (Fluff & Gravy Records, 2019)
Next stop Portland, Oregon and the powerful new album Fernando Viciconte. He collaborated with Luther Russell and created a really strong and important album. Also reminds me a bit of Big Star in a couple of songs and that's never a bad thing. I'm loving it more with each and every listen. Instantly catchy, but forever growing too.
Fernando Viciconte at Facebook
Fernando Viciconte Website
Clara Baker – Things to Burn (independent, 2019)
Sticking in Portland for the time being (one could create a top 50 with just using Portland and Austin). I knew nothing about songwriter Clara Baker before 2019 started, but I immediately fell for the advance singles and the full record turned out to be equally strong. Fabulous songs and some additional magic from producer Shane Leonard to make them shine as brightly as possible.
Clara Baker at Facebook
Clara Baker Website
Katie Spencer – Weather Beaten (independent, 2019)
Going to Kingston upon Hull, UK for the next one. Folk musician and songwriter Katie Spencer was one of my favorite new finds of the year. Such an excellent songwriter and guitarist.
Katie Spencer at Facebook
Katie Spencer Website
M. Lockwood Porter – Communion in the Ashes (Black Mesa Records, 2019)
Heading over to Oklahoma for the new album from long time favorite M.Lockwoord Porter. Gorgeous americana and rock'n'roll and powerful social commentary about this messed up world.
M. Lockwood Porter at Facebook
M. Lockwood Porter Website
Mike and the Moonpies – Cheap Silver and Solid Country Gold (Prairie Rose Record, 2019)
I hope nobody does the math, because I think I fucked up somewhere along the way there's actually 101 albums on this. Mike and the Moonpies was always supposed to be here, but somehow I had failed to type it on my draft. Well I have to include it and it's too late and difficult to drop anything out either. Country music with London Symphony Orchestra. Everything could go wrong with that, but nothing did. Especially You Look Good In Neon and the cover If You Want a Fool Around are just fantastic and nothing wrong with rest of it either.
Mike and the Moonpies at Facebook
The Moonpies Website
Emily Scott Robinson – Traveling Mercies (2019)
Next off to Greensboro, North Carolina and an album full of excellent songwriting from Emily Scott Robinson. The Dress, Ghost in Every Town, Borrowed Rooms and Old Floors or well actually all of the songs.
Emily Scott Robinson at Facebook
Emily Scott Robinson Website
Craig Finn – I Need a New War (Partisan Records, 2019)
I still haven't spent enough time with the latest The Hold Steady album. If I had, that probably would have made the cut too. However, this solo album from steady Craig Finn is very special and on another day it could have easily ended up on my top 10. An exceptional songwriter.
Craig Finn at Facebook
Craig Finn Website
Tiny Ruins – Olympic Girls (Marathon Artists, 2019)
Finally this year-end review ends up in Auckland, New Zealand. The new Tiny Ruins album is simply amazing. There's two versions of this one. I don't really know which one is better, because I really like the solo versions too. You really can't go wrong with either.
Tiny Ruins at Facebook
Tiny Ruins Website
Charles Wesley Godwin – Seneca (independent, 2019)
The story continues in West Virginia with captivating storytelling from songwriter Charles Wesley Godwin. This one has ruled the year-end lists of americana blogs and rightfully so. A really impressive album.
Charles Wesley Godwin at Facebook
Charles Wesley Godwin Website
Florist – Emily Alone (Double Double Whammy, 2019)
Next up is the poignant but beautiful album from Florist. According to wrapped stats from the controversial app, Florist was among my top 5 listened artists. It was maybe mildly surprising to me that I had been listening to this that much, but I do think it's magnificent. So then again, maybe it was not at all suprising.
Florist at Facebook
Florist Website
China – And Then Nothing Happened (Royal Oakie, 2019)
Moving to San Francisco for the new album from China. I've been a fan of this Bay-Area folk rock band since the first EPs and they are just getting better all the time.
Steven Lambke – Dark Blue (You've Changed Records, 2019)
Back to Canada and more precisely Toronto. You may know Steven Lambke from Constantines or from the records he released undet the moniker Baby Eagle. He has released the last two under his own given name and both of these records are marvellous.
Steven Lambke at Facebook
Steven Lambke Website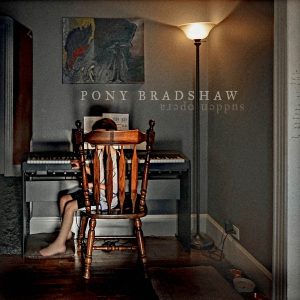 Pony Bradshaw – Sudden Opera (Rounder Records, 2019)
Over to Chatsworth, GA for an album that I had been for a few years. Absolutely fell for Pony Bradshaw a couple of years ago and bought the self-released Bad Teeth album. Then it sort of vanished, but thankfully the great reason for that was that he signed with Rounder Records and some of these same songs later appeared on his 2019 album Sudden Opera. Along with some new ones too.
Heather Valley – Desert Message (independent, 2019)
Wrapping up this fifth chapter of this story in Hamilton, Ontario with one of the late diamonds of the year. I first found songwriter Heather Valley when the first single Lovejoy of her album premiered in the early November. I instantly loved it and the album that followed in late November was as great as I had hoped.