Finally the last of these pointless year-end lists and then onwards to 2020 tunes. This world song category is kinda impossible, because there's so much great songs released within a year. This comes with a playlist that has over 350 songs. No, I do not expect anyone to listen to the whole thing. If you follow my social media pages, you may have seen and listened to this playlist that I posted before the Christmas. That was the basis for this, but I did change a few songs to different ones. Impossible to choose which one to pick from Matthew Milia, Anna Tivel and Josienne Clarke albums for example. Plus I selected these 30 songs and put them on the top of the playlist in some arbitrary order. The list might change on a daily basis, because there's a couple hundred songs that were dear to me. The playlist is in random order after these first 30. Maybe slightly top heavy, but there's very important ones in the end too. You'll find it at the bottom of the post. Anyway, here's my 30 (or well 365) favorite songs of 2019. Thank you to every one who followed the blog during 2019. It matters more than you know.
30. Erin Enderlin – Broken (Blaster Records)
29. Ian Noe – If Today Doesn't Do Me In (National Treasury Recordings)
28. Little Mazarn – Vermont (Self Sabotage Records)
27. Carla Geneve – I Hate You (For Making Me Not Want to Leave the City (Dot Dash Recordings)
26. Vagabon – Every Woman (Nonesuch Records)
25. Clara Baker – Things to Burn (independent)
24. Sidney Lindner & The Silver Wilderness Collective – You & Me Kid (Broken Sparrow / Burst & Bloom Records)
23. Erin Durant – Rising Sun (Keeled Scales)
22. Julia Jacklin – Don't Know How to Keep Loving You (Transgressive Records)
21. red steppes – Madera (Native Cat Records)
20. Caroline Spence – Sit Here and Love Me (Rounder Records)
19. Mount Eerie with Julie Doiron – Belief (P.W.Elverum & The Sun)
18. Friendship – Dusky (Orindal Records)
17. Will Johnson – Need of Trust and Thunder (Keeled Scales)
16. Andy Shauf – Try Again (ANTI-)
15. Kassi Valazza – Mama (independent)
14. Black Sea Dahu – How You Swallowed Your Anger (Mouthwatering Records)
13. Josienne Clarke – Dark Cloud (Rough Trade)
12. The Delines – Holly the Hustle (Decor / El Cortez)
11. D.H. Scott – Long Arms of Regret (independent)
10. Christian Lee Hutson – Northsiders (independent)
Starting the top 10 with the wonderful and deeply moving Christian Lee Hutson single.
Christian Lee Hutson Website
Christian Lee Hutson at Facebook
9. Matthew Ryan – On Our Death Day
One of the most moving and powerful songs of 2019. A heavy one, but there's love, gratitude and beauty shining through the darkness.
Matthew Ryan Website
Matthew Ryan at Facebook
8. Ian Daniel Kehoe – Evil People (You've Changed Records / Tin Angel Records)
My pop obsession of the year. I've been blasting this with full volume all year long. One of the most listened by my neighbours too.
7. Matthew Milia – Congratulations Honey (Sitcom Universe)
More difficult to make one song standout, if you make a perfect #1 record. Quite frankly, any of these songs could be my song of the year. I kept changing the song multiple times.
Matthew Milia at Facebook
Matthew Milia Website
6. Joanna Sternberg – This is Not Who I Want to Be (Team Love Records)
I love the last song Don't Ever just as much (and well the whole record), but this vulnerable yet powerful debut single is the reason I first became a Joanna Sternberg fan.
Joanna Sternberg at Facebook
Joanna Sternberg Website
5. Twain – Royal Road (Keeled Scales)
Call us gay, straight, bi
call us what you like
I call it all romance
and I call the man who hates romance a sad man
4. Le Ren – Love Can't Be The Only Reason to Stay (independent)
A really powerful song from Montreal-based songriter Lauren Spear aka Le Ren. Works on its own too, but makes an even deeper impact when its accompanied by this music video that was directed by Ali Vanderkruyk.
3. Matt Dorrien – Teddy Wilson (Mama Bird Recording Co)
Matt Dorrien only released one song this year, but it was more than enough to claim a spot in the top three for the second year in the row. The song is gorgeous ode to jazz pianist Teddy Wilson and gives us a beautiful warmhearted escape from this messed up the world. We all need to spend beautiful moments in the arms of the people and art we love. Such moments will give the strenght to carry on fighting for what is right.
Matt Dorrien at Facebook
Matt Dorrien Website
2. Anna Tivel – The Question (Fluff and Gravy Records)
I think almost all songs on this Anna Tivel album would be worthy of a spot on this list. The title song The Question is still the one that rises slightly above the rest, because transgender rights are an important issue and this song is so powerful and deeply moving.
Anna Tivel at Facebook
Anna Tivel Website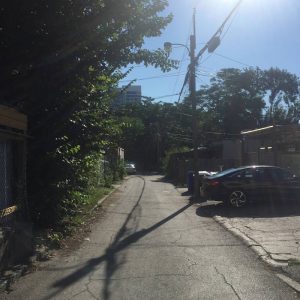 1. Steve Sloane – Let All In (independent, 2019)
My favorite song of the year is Let All In by Toronto-based songwriter Steve Sloane. It's not necessarily and objectively the best song on his wonderful 2019 album Near Death, but this fragile, humane and powerful song resonates deeply within me. Sometimes it just can be so damn hard and scary to feel something else. I love the way the song unfolds into a hopeful future. I love the way Steve sings and how Julie Arsenault's voice comes to carry it deeper into my heart. I love everything about this song. It's a shoulder and kindred understanding soul.
And here's the full playlist with 365 songs. One for each day.