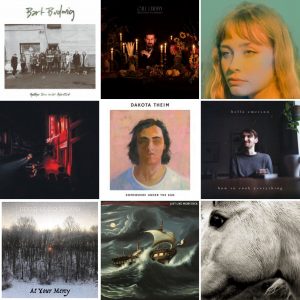 Another week, another weekly playlist.
There's a new Andy Shauf album. Where's the parade? An album that's basicly a story of one bar night set to music. Everything could go wrong with that, but nothing did because Andy is so great. Still Hello Emerson and Dakota Theim might be the biggest things for me this week, because I've loved Andy for years but only just got to know Hello Emerson and Dakota Theim. And there's not a whole lot that I enjoy more than finding new artists to love. I already had a Hello Emerson song here last week, but started to dive into his music more thoroughly during this week. It started with this Seat16b music video and after that I've been listening to both this new record and the old record. Don't know how I managed to miss his music until now. Totally my kind of stuff. As for Dakota Theim, I just found him on Friday thanks to American Standard Time. Even though this blog has drifted towards folk, country and americana, I'm pop kid at heart (or well pop middle-aged man) and this is such a perfect classic pop album. If I haven't scared away all the pop fans with the current americana emphasis, check out this awesome pop record. The album came out a couple of weeks ago, but I just found it now.
Oh but there's more. That was just a tip of record berg. There's excellent new albums from Bart Budwig, Bonny Light Horseman, Terry Allen, Gill Landry, Good Good Blood, Pia Fraus, Bindley Hardware Co EP plus an oldies cover EP from Sam Moss. And a couple of fabulous earlier 2020 releases that I hadn't listened before, Alexandra Savior album and a Brandon Wolfe Scott EP.
The Finnish section is rather small this time around. There's a new absolutely wonderful single from Arppa. All three Arppa singles have been amazing. A very impressive run and long may it continue. Hopefully it will eventually lead into a full-length debut album. Also revisiting the Joni Ekman and Pintandwefall albums plus featuring Teini-Pää EP from 2019. I only heard it now and I love it so much.
As for the international singles, the big ones were the first singles from the forthcoming Caleb Caudle, Kyle Forester, Nap Eyes and Dana Gavanski albums. Joey O'Neill is a songwriter that I didn't know before, but cdbaby recommended it if I like Jennifer Castle (and well who doesn't). So I gave it a spin and really liked it. I've also really liked both singles Little Misty has released so far. Same goes for all Cassidy Waring singles and there's a couple of new ones from The War and Treaty. Plus new cuts from the forthcoming Peter Oren and Sam Doores albums. And well a whole lot more and everything would be worthy of a namedrop on this text too. One from 2019 as well, because I stumbled upon James McCann and loved this song.
That's it for this week's new music round-up. Back again next Sunday for this unless I put it on hold until Monday due to Super Bowl. I try to do some other blog posts this week, but no definite promises. I hate if this turns into just a playlist, but I also struggle big time at the moment and just haven't had the energy to do much more. Love love love.
1. Andy Shauf – Where Are You Judy? (The Neon Skyline, ANTI, 2020)
2. Dakota Theim – She's a Mystery (Somewhere Under the Sun, 2020)
3. Hello Emerson – Am I The Midwest (How To Cook Everything, Anyway Records / K & F Records, 2020)
4. Bart Budwig – Time for Two (Another Burn on the Astroturf, Fluff & Gravy Records, 2020)
5. Bonny Light Horseman – Blackwaterside (Bonny Light Horseman, 37d03d, 2020)
6. Terry Allen – Houdini Didn't Like the Spiritualists (Just Like Moby Dick, Paradise of Bachelors, 2020)
7. Gill Landry – The Refuge of Your Arms (Skeleton at the Banquet, Rubber Tramp Records, 2020)
8. Caleb Caudle – Better Hurry Up (single, Baldwin County Public Records, 2020)
9. Dana Gavanski – Good Instead of Bad (single, Full Time Hobby, 2020)
10. Kyle Forester – Know What You're Doing (single, 2020)
11. Good Good Blood – Sanctuary Mornings (At Your Mercy, Team Love Records / Fox Food Records, 2020)
12. Arppa – Silmät (single, Arppa Music, 2020)
13. Peter Oren – John Wayne (single, Dead Oceans, 2020)
14. Little Misty – Old Ghosts (single, 2020)
15. Joey O'Neill – When I Forget (single, 2020)
16. The War and Treaty – Hustlin' (single, Rounder Records, 2020)
17. Sam Doores (feat Alynda Segarra) – Other Side of Town (single, New West Records, 2020)
18. Nap Eyes – Mark Zuckerberg (single, Jagjaguwar, 2020)
19. Lemon Pitch – Flat Black Sea (single, Repeating Cloud, 2020)
20. Swedish Polarbears – Hearts Will Never Learn (single, 2020)
21. Pia Fraus – Love Sports (Empty Parks, Seksound, 2020)
22. Darren Hayman – I Tried and I Tried and I Failed (single, Fika Recordings, 2020)
23. Henry Black – Trustfund Overalls (single, 2020)
24. Cassidy Waring – Hard Done By (single, 2020)
25. Nathaniel Rateliff – What a Drag (single, Stax, 2020)
26. Monophonics – It's Only Us (single, Colemine Records, 2020)
27. Alexandra Savior – But You (The Archer, 30th Century Records, 2020)
28. Pokey LaFarge – Fuck Me Up (single, New West Records, 2020)
29. James McCann – Every Flower (single, Partially Sealed Records, 2020)
30. The Sadies – The Most Despicable Man Alive (split single with King Khan, Ernest Jenning Record Co, 2020)
31. Sadler Vaden – Golden Child (single, Dirty Mag, 2020)
32. The Mastersons – Eyes Open Wide (single, Red House Records, 2020)
33. Squirrel Flower – Streetlight Blues (single, Full Time Hobby, 2020)
34. Dean Fields – My Dad at My Age (single, 2020)
35. Sam Moss – I Drew My Ship (Three Oldies, Lost Honey Records, 2020)
36. Bindley Hardware Co. – Future Tripping (Solitaire EP, Misra Records, 2020)
37. Clem Snide – Roger Ebert (single, Ramseur Records, 2020)
38. The Little Hands of Asphalt – Begin Again (single, Fika Recordings, 2020)
39. Goodbye Max – In My Extreme Head (single, 2020)
40. Waxahatchee – Fire (single, Merge Records, 2020)
41. Baseball Dad – Flowers + Tea (single, 2020)
42. Teini-Pää – Ambulanssi (Täynnä kysymyksiä EP, 2019)
43. Joni Ekman – Miksen saa sua jäämään? (Sinulle.. Soit Se Silti, 2020)
44. Flying Fish Cove – Magic Wand (single, 2020)
45. Pintandwefall – People Like Me (Your Stories Baby, Soliti, 2020)
46. Blonde Bones – Sunny (single, 2020)
47. Brandon Wolfe Scott – Burden on Your Shoulders (Burden On Your Shoulders EP, 2020)
48. Terry Ohms – All in the Past (single, Cornelius Chapel Records, 2020)
49. David Dondero – Laying at Your Feet (The Filter Bubble Blues, Fluff and Gravy Records, 2020)
50. The Innocence Mission – St. Francis and the Future (See You Tomorrow, Bella Union, 2020)
51. Bill Fay – I Will Remain Here (Countless Branches, Dead Oceans, 2020)
52. Payout Beast – Dittocrush (single, 2020)
Oh and do buy the vinyl/cd/download. Spotify and other streaming services are perfect for these introductory purposes, but try to buy at least the music that matter the most to you
If you are looking this after a week has gone, the embedded Spotify will show the latest playlist. I'll just update the same playlist because a) if someone wants to follow it, they can just follow that one list and will get a new set of songs each Sunday b) so that I don't have a trillion of different playlists on my Spotify account.