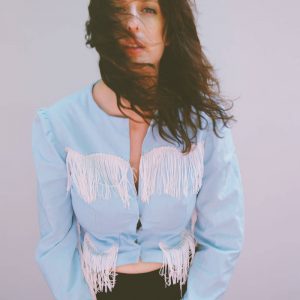 A quick run of a couple of singles that have been dear to me during the recent weeks. Starting from Austin, Texas with the new Ali Holder single Bruja. It's the first single from the forthcoming album Uncomfortable Truths. I had this powerful song on the playlist last week and kinda badly fell in love with it during the week. It was the song I kept on returning to all the time and quite frankly should have started the playlist. What a tremendous song and I can't wait to hear the album.
Ali Holder Website
Ali Holder at Facebook
Another big personal favorite has been the new single Love Her Wild from Nashville-based americana songwriter Jess Jocoy. It's an outtake from her debut album Such a Long Way that is due out on the 10th of April. Everything I've heard so far sounds absolutely gorgeous and I'm sure this is going to be a special record. Here's the single along with official acoustic video of Hope (Such a Long Way).
Jess Jocoy at Facebook
Jess Jocoy Website
Next we make a visit to Vancouver, British Columbia for a set of magnificent singles by Cassidy Waring. If you follow the weekly playlist, you have already heard these fabulous songs she has released during the last six months. Still about time to drop one hear too, because these have all been important to me. Personal favorite changes regularly, but let's go with Leaving on this little blog entry. Check out the other three by hitting the links on the Bandcamp player.
Cassidy Waring at Facebook
Cassidy Waring Website
And for this last entry we'll take a step back to Nashville and to the finest music of 2018. Kristina Murray is a great country singer-songwriter and her album Southern Ambrosia was one of the highlight of that year. Such an expectional country album is always relevant, but this time there's more reasons to mention it than just its timeless greatness. There's a brand new music video album for outtake Tell Me, a beautiful and sad country ballad that she co-wrote with Logan Ledger.