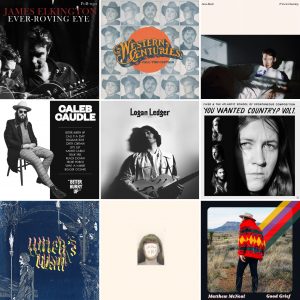 Another week, another weekly playlist.
This week's album highlights came from Logan Ledger, Caleb Caudle and Anna Burch. Other great new albums on this list are from Witch's Wall, Matthew McNeal, James Elkington, Western Centuries, M.Ward, Ashley McBryde, Ty Maxon, Jeffrey Silverstein, Ezra Bell, Surrender Hill and The Little Hands of Asphalt. A couple of wonderful EPs from Fiver & the Atlantic School of Spontaneous Compositon and Mara Connor. Plus Hiss Golden Messenger live record and a couple of new Tom Brosseau albums (rarities comp and live record) are now on these streaming platforms.
The homeland big one is the new joku iiris album. Other Finnhit on the list comes from Veli who did some cupboard cleaning and released some of his old recordings. Which is nice, because I love his music so much.
On the singles front, there's again plenty to love. Damien Jurado, Joey O'Neil, Ali Holder, Adeline Hotel, American Aquarium released new singles from their forthcoming albums. Mr. Alec Bowman released the first one from his album, A big favorite Strawberry Heritage released a new song. V.V. Lightbody and Sylvia Rose Novak also put out magnificent and so forth. Everything would be worth a namedrop, but it's easier to just look at the list or better yet even listen to it.
That's it for this week. Take care everyone. Love love love.
1. Logan Ledger – The Lights of San Francisco (Logan Ledger, Rounder Records, 2020)
2. Fiver – Why Do I Have to Choose (You Wanted Country? Vol 1, You've Changed Records, 2020)
3. Caleb Caudle – Call It a Day (Better Hurry Up, Baldwin County Public Records, 2020)
4. Anna Burch – Can't Sleep (If You're Dreaming, Heavenly Recordings, 2020)
5. Witch's Wall – Lady Love (Witch's Wall, Cornelius Chapel Records, 2020)
6. Damien Jurado – Alice Hyatt (single, Loose Music / Mama Bird Recording Co, 2020)
7. Mr. Alec Bowman – Safe Mode (single, 2020)
8. Joey O'Neil – Maybe Tomorrow (single, 2020)
9. Ali Holder – Reborn (single, 2020)
10. Adeline Hotel – Trace (single, Whatever's Clever, 2020)
11. Matthew McNeal – I Think It's Real (Good Grief, Matte Black Sound Company, 2020)
12. V.V. Lightbody – Horse on Fire (single, Acrophase Records, 2020)
13. James Elkington – Moon Tempering (Ever-Roving Eye, Paradise of Bachelors, 2020)
14. Sylvia Rose Novak – Waiting on October (single, Due South Records, 2020)
15. Western Centuries – Long Dreadful Journey (Call the Captain, Free Dirt Records, 2020)
16. Ashley McBryde – First Thing I Reach For (Never Will, Warner Music, 2020)
17. American Aquarium – Me + Mine (Lamentations) (single, New West Records, 2020)
18. M. Ward – Along the Santa Fe Trail (Migration Stories, Anti, 2020)
19. Talitha Ferri – Porcelain (single, Soulpod Collective, 2020)
20. Ty Maxon – Blackwater Wood (Rooms Within Rooms, 2020)
21. Strawberry Heritage – Sweet Marie (single, Earthwork Music, 2020)
22. Tom Brosseau – Don't Tell Me (A Lifetime Ago – Rarities 2002 – 2019, 2020)
23. Veli – Elokuussa (Kotiäänityksiä, Evil Veli Recordings, 2020)
24. joku iiris – Paha Mieli (Joku Iiris, Humu / Hillotehdas / Jukan Musiikki, 2020)
25. The Little Hands of Asphalt – Writing About Music (Half Empty, Fika Recordings, 2020)
26. Jeffrey Silverstein – Door at the Top of Your Head (You Become the Mountain, Arrowhawk Records, 2020)
27. Ezra Bell – Tanner Thorne (This Way To Oblivion, Dutch Records, 2020)
28. Joel Sarakula – Midnight Driver (single, Legere Recordings, 2020)
29. Nathaniel Rateliff & The Night Sweats – Don't Care Darlin' (single, 2020)
30. Brian Wright & The Sneakups – Poor Little Genius (single, Cafe Rooster Records, 2020)
31. Elijah Ocean – Good Clean Livin' (single, 2020)
32. Surrender Hill – Turn This Train Around (A Whole Lot of Freedom, 2020)
33. Betsy Phillips – Tell Me I'm a Tree (single, 2020)
34. Mara Connor – No Fun (No Fun EP, Side Hustle Records, 2020)
35. Juan Solorzano – Don't Know (single, 2020)
36. Dark Tea – Down for the Law (single, Fire Talk, 2020)
37. My Terrible Friend – Stand By Me (single, 2020)
38. Pokey LaFarge – Bluebird (single, New West Records, 2020)
39. Jesse Daniel – Old at Heart (Rollin On, Die True Records, 2020)
40. Chatman County Line – Free Again (single, Yep Roc, 2020)
41. Nick Lowe – Lay It On Me Baby (single, Yep Roc, 2020)
42. Brendan Benson – Richest Man (single, Third Man Records, 2020)
43. Waxahatchee – Hell (Saint Cloud, Merge Records, 2020)
44. Lilly Hiatt – Drawl (Walking Proof, New West Records, 2020)
45. Nap Eyes – When I Struck Out On My Own (Snapshot of a Beginner, Jagjaguwar, 2020)
46. Dana Gavanski – Everything that Bleeds (Yesterday Is Gone, Full Time Hobby, 2020)
47. Clem Snide – The True Shape of Your Heart (Forever Just Beyond, Ramseur Records, 2020)
48. Brian Fallon – Hard Feelings (Local Honey, Lesser Known Records, 2020)
49. Jennah Barry – Are You Dreaming? (Holiday, Forward Music Group, 2020)
50. Hiss Golden Messenger – Highland Grace Live (Forward, Children: A Fundraiser for Durham Public School Students, Merge Records, 2020)
Oh and do buy the vinyl/cd/download. Spotify and other streaming services are perfect for these introductory purposes, but try to buy at least the music that matter the most to you
If you are looking this after a week has gone, the embedded Spotify will show the latest playlist. I'll just update the same playlist because a) if someone wants to follow it, they can just follow that one list and will get a new set of songs each Sunday b) so that I don't have a trillion of different playlists on my Spotify account.