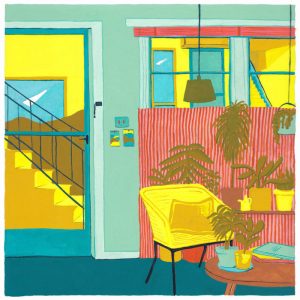 Another quick set of of albums / songs that I love. This roundabout starts in Nashville, Tennessee with a big blog favourite Charlie Whitten. His new album I'm Waiting came out on the 31st of July and it's such a beauty. Here's a couple of awesome songs to get you into the groove. The music video for album cut Save Me and my own favorite song Good Things.
Charlie Whitten at Facebook
Charlie Whitten Website
Moving on to Philadelphia, PA but staying in the groove. Eric Slick released his fabulous new album Wiseacre on the 14th of August. Here's some video magic from Demi Adejuyigbe for the song Over It and another great album cut Kind of Person. Follow the links on the Bandcamp player to hear / buy the whole lovely record.
Eric Slick at Facebook
Eric Slick Website
Back in Nashville to revisit the Mark Fredson album Go to the Movies. I've mentioned this a couple of times, but I don't think I've posted this perfect soft rock puppet show for the album cut Thoughts and Prayers. Puppets by Pete Lindberg, music video by Casey Pierce and the mighty good song (and album) by Mark Fredson.
Finally we go to London for the new Young Gun Silver Fox album Canyons. This blast of joy came out in February here in Europe and more recently also in the US thanks to Karma Chief Records. What a sweet record. A glorious blend of yacht rock, soul, soft rock, AOR and what not. It makes me smile and that's a positive push I sure needed. Here's Kids from the new album.