Part Seven
Part Six
Part Five
Part Four
Part Three
Part Two
Part One
Leah Senior – The Passing Scene (Flightless)
Year-end story continues in Australia with a fabulous new album from long time favorite Leah Senior.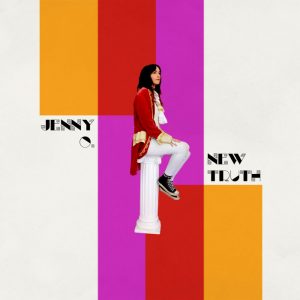 Jenny O. – New Truth (Mama Bird Recording Co)
Back state side for the new beautiful album from Jenny O. A new member of the most lovely Mama Bird family.
Jennah Barry – Holiday (Forward Music Group)
Moving on to Canada, but sticking with favorite labels in the world. New Forward Music Group treasure is this fabulous album from Jennah Barry.
Adeline Hotel – Solid Love (Whatever's Clever)
Carrying our virtual year-end travel to New York for more solid greatness from long time favorite Adeline Hotel.
Jeremy Ferrara – With Every Change
Jeremy Ferrara from Portland, Oregon was one of the big new finds of the year. If I took a better job with the inbox I would have found his music sooner. Feeling guilty about that, because I love this so much. One that was close to that top 10 too. This just hits the core of my heart. I hope I learn something from this.
Dolly Valentine – How To Be Good (Holy Golden Music)
Dolly Valentine was with me throughout the year by regularly releasing lovely singles. This eventually led to the release of this beautiful album.
McCarthy Trenching – Perfect Game
One of the late year favorites that keeps me smiling in the midst of this chaotic year. Also very relieved that Bruce is just fine.
Girlatones – Horn if You're Honky (Meritorio Records)
Back in Australia for some sweet indie pop gold.
Ariel Sharratt and Mathias Kom – Never Work (BB*Island)
A mighty good soundtrack for my food factory day job by Ariel Sharratt & Mathias Kom. The masterminds behind The Burning Hell.
Stripmall Ballads – Distant
More outsider folk treasures from Maryland by Stripmall Ballads aka songwriter Phillips Saylor Wisor.
Mr. Alec Bowman – I Used to Be Sad & Then I Forgot
A quite rare UK visit on this virtual year-end journey. Mr. Alec Bowman released a beautiful collection of captivating folk songs.
Jeremy Squires – Many Moons (Blackbird Record Label)
A new album from North Carolinian Jeremy Squires is always something to love and cherish. Many Moons is one of his finest.
Peter Oren – The Greener Pasture (Western Vinyl)
Moving on to southern Indiana in search for greener pastures with songwriter Peter Oren.
Steve Sloane – Visions of Love / Visions of Pain
Maybe not as consistently brilliant as last year's incredible Near Death, but Canadian songwriter Steve Sloane delivers a lot of great moments on this bandcamp double.
Twain – Days of Effort and Ease
Wrapping this chapter with one of my favorite songwriters. Twain aka Mat Davidson. Days of Effort and Ease is again a magical collection of songs.