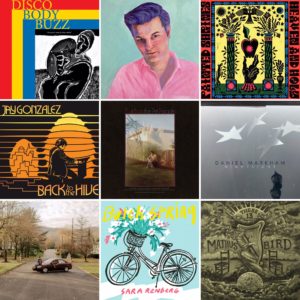 Another week, another new music weekly.
Kind of tough week at the day job, so the week kind of flew by. However, I even surprised myself by doing a one short small blog entry that was not a playlist. Nothing to celebrate, but hey at least it's more than what I've done lately and hopefully it won't be a one-off thing. At least I have another one coming next week with some recent country favorites. This weekly playlist also reached 400 followers last week (at least temporarily), which was nice. This won't ever be viral and it doesn't need to be but I still admit that it's nice when that number slowly rises. Gives some extra motivation to keep on spending hours on this every weekend. So please do hit that follow button, if you like what I do here. Anyway, enough of the mumbo jumbo and on to the new music weekly.
Fruit Bats, Jay Gonzalez and Daniel Markham led the way this week. Other big album releases came from Adult Mom, Ian Daniel Kehoe (second of his 2020 bandcamp album releases now streaming too), Sara Renberg, Painted Shrines, Jimbo Mathus and Andrew Bird, Bernice, Elizabeth & The Catapult, Megan Lacy (EP), Garrison Starr, Jackie Darlene, Carl Anderson (EP), Jason Ringenberg and Leon III. Oh yeah and that excellent Wake Up album is a few weeks old. I just found it a week ago thanks to Greg from the legendary Captains Dead blog. And as usual the playlist revisits a few albums from the past week.
The big Finnish thing is the double album release from Janne Laurila. There's both a solo album and a colloboration album with the almighty Hot Heros. Both are extremely highly recommended. Other Finnish cuts this week are the singles from Anne-Mari Kivimäki ja Palomylly and The Flaming Sideburns.
There was so much to love on the international singles front. The wonderful new Jeffrey Martin single was probably my favorite of the week, but I also really love the new singles by Damien Jurado, Tristen, Fiver, Maxwell Stern, Michael Feuerstack, Annie Oakley, John Andrews and the Yawns, Jesse Aycock, Max and the Martians, Jerry Leger, Tasha just to name a few. You'll find them all below.
That's all for this week. Love from a distance.
1. Fruit Bats – Discovering (The Pet Parade, Merge Records, 2021)
2. Jay Gonzalez – Back to the Hive (Back to the Hive, Middlebrow Records, 2021)
3. Daniel Markham – Flies Away (Night Light, 2021)
4. Jeffrey Martin – I Know What I Know (single, Fluff and Gravy Records, 2021)
5. Damien Jurado – Helena (single, Field Painting Music, 2021)
6. Fiver – Leaning Hard (On My Peripheral Vision) (single, You've Changed Records, 2021)
7. Tristen – Complex (single, Mama Bird Recording Co, 2021)
8. Adult Mom – Wisconsin (Driver, Epitaph, 2021)
9. Ian Daniel Kehoe – Can't Dance if the Whole World Ends (Disco Body Buzz, Tin Angel Records, 2021)
10. Maxwell Stern – I Reached Out to the City (single, Lauren Records, 2021)
11. Michael Feuerstack – Call of the Tired (single, Forward Music Group, 2021)
12. Elephant Micah – Eastern Callers (single, Western Vinyl, 2021)
13. Sara Renberg – I Want to Be Butch (Butch Spring, Antiquated Future, 2021)
14. Wake Up – Places (Tigers Can't Be Choosers, 2021)
15. Painted Shrines – Saturates the Eye (Heaven and Holy, Woodsist, 2021)
16. John Andrews and the Yawns – New California Blue (single, Woodsist, 2021)
17. Max and the Martians – Milky Way (single, 2021)
18. Annie Oakley – Arm's Length (single, 2021)
19. Jerry Leger – Sweep it Under the Rug (single, 2021)
20. Jesse Aycock – Under the Gun (single, Horton Records, 2021)
21. Jimbo Mathus and Andrew Bird – Bell Witch (These 13, Wegawam Music, 2021)
22. B.B. Palmer – Many Worlds Theory (single, 2021)
23. Bobby Dove – My World's Getting Smaller (Hopeless Romantic, 2021)
24. Los Yesterdays – Nobody's Clown (single, Penrose Records, 2021)
25. Janne Laurila & Hot Heros – Kaksi tietä (Nuotiosavua, Playground Music, 2021)
26. Janne Laurila – Chaplin (Janne, Tuu jo tänne, Soit Se Silti, 2021)
27. The Blips – Throw Me Around (single, Cornelius Chapel Records, 2021)
28. Tuns – We Stand United (single, Murderecords, 2021)
29. Dorothea Paas – Anything Can Happen (single, Telephone Explosion Records, 2021)
30. Bernice – It's Me, Robin (Eau De Bonjourno, Telephone Explosion Records, 2021)
31. Tasha – Would You Mind Please Pulling Me Close? (single, Father/Daughter Records, 2021)
32. Elizabeth & The Catapult – Thirsty (Sincerely, E, Compass Records, 2021)
33. Libby DeCamp – Off the Wagon (single, 2021)
34. Jake Xerxes Fussell – Hills of Mexico (single, Paradise of Bachelors, 2021)
35. The Bones of J.R. Jones – Howl (single, Tone Tree Music, 2021)
36. Vivian Leva and Riley Cargano – Hollowed Hearts (single, Free Dirt Records, 2021)
37. Katie Jo – How Soon (single, Fossil Water Records, 2021)
38. Jackie Darlene – Deadly Situation (Different Plans, 2021)
39. Garrison Starr – Dam That's Breaking (Girl I Used to Be, Soundly Music, 2021)
40. Megan Lacy – Don't Rest (Salvation, 2021)
41. Lula Wiles – Television (single, Smithsonian Folkways Recordigns, 2021)
42. Roseanne Reid – Fly High (single, Last Man Music, 2021)
43. Tomas Csorba – Dallas Girl (single, Tone Tree Music, 2021)
44. Carl Anderson – Pay Grade (Taking Off & Landing EP, Tone Tree Music, 2021)
45. Todd Snider – Sail On, My Friend (single, Aimless Records, 2021)
46. Blue Cactus – Come Clean (single, Sleepy Cat Records, 2021)
47. Dolour – The Day Tom Petty Died (single, 2021)
48. Gospelbeach – Albatross Baby (single, Curation Records, 2021)
49. Jason Ringenberg – Before Love and War (Rhinestoned, 2021)
50. The Flaming Sideburns – Silver Flame (single, Svart Records, 2021)
51. Ratboys – Go Outside (single, Topshelf Records, 2021)
52. Mukiss – Fernweh (single, Coyote Hand Puppet Records, 2021)
53. Bess Atwell – Co-op (single, Real Kind Records, 2021)
54. Clara Mann – Waiting for the Flight (Consolations EP, Sad Club Records, 2021)
55. Jess Locke – Halo (single, Dot Dash Recordings, 2021)
56. Toni Foote – Drug of Choice (single, 2021)
57. Will Graefe – Almost Morning (single, 11A Records, 2021)
58. Leon III – Skeletal Pines (Antlers in Velvet, Soundly Music, 2021)
59. Anne-Mari Kivimäki ja Palomylly – Ikirunoja (single, Kihtinäjärvi Records, 2021)
60. David Ramirez – One Man Guy (single, The Next Waltz, 2021)
61. Chris Pierce – Young, Black and Beatiful (American Silence, Pierce Records, 2021)
62. JosephM – Who Do You Serve (single, 2021)
Oh and do buy the vinyl/cd/download. Spotify and other streaming services are perfect for these introductory purposes, but try to buy at least the music that matter the most to you
If you are looking this after a week has gone, the embedded Spotify will show the latest playlist. I'll just update the same playlist because a) if someone wants to follow it, they can just follow that one list and will get a new set of songs each Sunday b) so that I don't have a trillion of different playlists on my Spotify account.