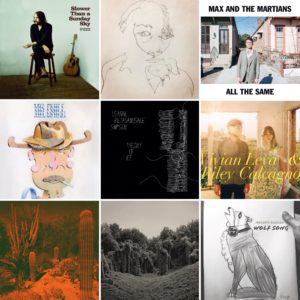 Another week, another new music weekly.
Leanne Betasamosake Simpson and Vivian Leva & Riley Calcagno albums and that Dan Wriggins EP were my most anticipated ones this week, but we also got great new releases from Melody Duncan (I wasn't familiar before but I really like this on quick listen), Max and the Martians, Cameron Knowles & Eli Winter, Rodeola, Kelly McFarling, Ty Maxon, Valerie June, Christian Lee Hutson (Version Suicides vol 2 EP streaming now), Israel Nash and David Ramirez (hymns). Also featured Mark Pickerel's cover album that I missed earlier in the year.
The big one from Finland is the wonderful single from Laura Moisio. Other gorgeous Finnish cuts this weeks are singles from Punomo, Eerie Deer, Eden Prairie, New Silver Girl and Maria Milvus. Plus a revisit to Janne Laurila's solo album from the past week.
And then there's lots of fabulous international singles. The big news for were the album announcements and first singles from Evan Cheadle and Turner Cody & The Soldiers of Love. I'm also totally in love with the Esther Rose and Johanna Samuels (Elliot Smith cover) singles. That Esther Rose song is probably one of my favorite songs of the whole year so far. Some other favorites came from Renee Reed, Hiss Golden Messenger, Greg Loiacono & Jamie Drake, Kirty, Louien and Nick Jaina. A completely new one for me was Route 500, but I'm very fond of that song. I need to investigate that further. And as usual I could namedrop of them all and the further listening will even tell which become most important to me. Oh yeah and one of my favorites of the week was this song by Keven Louis Lareau, but that is only on Bandcamp.
That's it for this week. I'll probably remember something as soon as I have posted it, so I might make some additions tomorrow. Love from a distance.
1. Leanne Betasamosake Simpson – Surface Tension (Theory Of Ice, You've Changed Records, 2021)
2. Evan Cheadle – No Love Lost (single, 2021)
3. Dan Wriggins – All Things Being Equal (Mr Chill, Orindal Records, 2021)
4. Turner Cody & The Soldiers of Love – Boozing and Losing (single, Capitane Records, 2021)
5. Vivian Leva & Riley Calcagno – Leaving on Our Minds (Vivian Leva & Riley Calcagno, Free Dirt Records, 2021)
6. Melody Duncan – Wolf Song (Wolf Song, 2021)
7. Max and the Martians – Love on Vacation (All the Same, 2021)
8. Esther Rose – Songs Remain (single, Full Time Hobby / Father/Daughter Records, 2021)
9. Johanna Samuels – Single File (single, Kill Rock Stars, 2021)
10. Laura Moisio – Kirje (single, Texicalli Records, 2021)
11. Renee Reed – Neboj (single, Keeled Scales, 2021)
12. Cameron Knowles & Eli Winter – And So I Did (Anticipation, American Dreams Records, 2021)
13. Rodeola feat Joan Shelley & Nathan Salsburg – Northern Flicker (Arlene, 2021)
14. Christian Lee Hutson feat Shamir – Just Like Heaven (The Version Suicides vol 2 EP, Anti, 2021)
15. Sunny War – Mama's Milk (single, Hen House Studios, 2021)
16. Hiss Golden Messenger – If It Comes in the Morning (single, Merge Records, 2021)
17. Kelly McFarling – Follow Me Down (Deep the Habit, 2021)
18. Greg Loiacono & Jamie Drake – Bound to Fall (single, Blue Rose Music, 2021)
19. Ty Maxon – Dagger (Slower than a Sunday Sky, 2021)
20. Valerie June – Stardust Scattering (The Moon and Stars: Prescriptions for Dreamers, Fantasy Records, 2021)
21. Nick Waterhouse – B. Santa Ana, 1986 (single, Innovative Leisure, 2021)
22. Punomo – Siskot (single, Solina Records, 2021)
23. New Silver Girl – Pale Statement Pieces (single, Soliti, 2021)
24. The Legal Matters – The World Is Mine (single, Futureman Records, 2021)
25. ROY – Where Did My Mind Go? (single, Idee Fixe Records, 2021)
26. Kirty – God Help Us (single, Postwar Records, 2021)
27. Louien – Better Woman (single, Jansen Records, 2021)
28. Lucy Dacus – Thumbs (single, Matador Records, 2021)
29. Janet Simpson – Slip (single, Cornelius Chapel Records, 2021)
30. Eden Prairie – Take The I Train (single, 2021)
31. Gary Louris – New Normal (single, SHAM, 2021)
32. Nick Jaina – Impossible (single, Fluff & Gravy Records, 2021)
33. The Pink Stones – Barroom Blues (single, Normaltown Records, 2021)
34. Shaela Miller – The Devil In You (single, Bad Ideas Records, 2021)
35. Hunter Hicks – I Though of The Devil (single, 2021)
36. Israel Nash – Down in the Country (Topaz, Loose Music, 2021)
37. Route 500 – The Slowest Sting (single, Wrong Colour, 2021)
38. Eerie Deer – See You Sea (single, 2021)
39. Anna Ash – Fire Season (single, 2021)
40. Jane Inc – Obliterated (single, Telephone Explosion, 2021)
41. Belle Tower – She Moves in Phases (single, 2021)
42. Joana Serrat – Pictures (single, Loose Music, 2021)
43. Maria Milvus – The Things That Just Are (single, 2021)
44. Aldous Harding – Revival (single, 4AD, 2021)
45. Skullcrusher – Storm in Summer (single, Secrecly Canadian, 2021)
46. Minor Moon – Hey, Dark Ones (single, 2021)
47. David Ramirez – Come Thou Font (Backslider, Sweetworld Music, 2021)
48. Elizabeth King – Living in the Last Days (single, Bible & Tire Recording Co, 2021)
49. Mark Pickerel and His Praying Hands – Tennessee River Runs Low (Rebel in the Rearview, 2021)
50. The Blips – Walking Home (single, Cornelius Chapel Records, 2021)
51. CIVIC – Tell The Papers (single, Flightless, 2021)
52. Kitty Kat Fan Club – The Abyss (single, Asian Man Records, 2021)
53. Radio Days – Lose Control (single, Ammonia Records, 2021)
54. Tim Cohen – Change My Legs (single, Bobo Integral Records, 2021)
55. Trash Man – Stronger Than I Thought (single, 2021)
56. Janne Laurila – Kohti parempaa todellisuutta (Janne, tuu jo tänne, Soit Se Silti, 2021)
Oh and do buy the vinyl/cd/download. Spotify and other streaming services are perfect for these introductory purposes, but try to buy at least the music that matter the most to you
If you are looking this after a week has gone, the embedded Spotify will show the latest playlist. I'll just update the same playlist because a) if someone wants to follow it, they can just follow that one list and will get a new set of songs each Sunday b) so that I don't have a trillion of different playlists on my Spotify account.