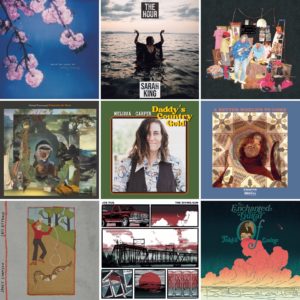 Another week, another new music weekly.
This one is a big week, because we got new albums from Melissa Carper and Michael Feuerstack. I love these records and I can guarantee you will find them from my EOTY lists if this blog and world still exists at the end of 2021. That's obviously not all and there's also great new releases from Janet Simpson, Emmett Morris (EP), Sarah King (EP), Son of the Velvet Rat, Joe Pug (Only side A on streaming services), The Bones of J.R. Jones (EP), New Bums, Loretta Lynn, Nuevo, Becca Mancari (EP), Morgan Wade and The Golden Roses.
A rather excellent release week here in Finland too, because we got new albums from Litku Klemetti, Pekka Laine, Väisänen and AK-77 plus an EP from V.Härkönen. The playlist also has the new Matti single.
And last but not least the international singles. A new favorite Chris Acker released a new single as did the all-time faves Teenage Fanclub. A new find of the week for me was Cassidy Snider & The Wranglers. I really liked that single and I'm eager to hear more. My favorite Tasmanians Quivers signed a deal with the coolest labels Bobo Integral and Ba Da Bing and announced a new album. Libby DeCamp released another magical song as did Charlie Marie. Zach Schmidt returned with a new single and so forth. If you want something a bit different, that Sweet Megg & Ricky Alexander is very charming. There's also the new Shonna Tucker song that has been on Bandcamp a while. If it has been on Spotify before, I have missed it. And of course I might as well namedrop em all, but you'll find them below.
That's all for this week. I know I forgot something. Happens every week these days. Some might take that as a hint and quit, but I suppose I'm too stubborn. Love from a distance.
1. Melissa Carper – It's Better If You Never Know (Daddy's Country Gold, Mae Music, 2021)
2. Chris Acker – Panicked and Paralyzed (single, Gar Hole Records, 2021)
3. Michael Feuerstack – Too King (Harmonize the Moon, Forward Music Group, 2021)
4. Emmett Morris – Falling Out (A Better World's to Come EP, Gunn St Music, 2021)
5. Teenage Fanclub – The Sun Won't Shine On Me (single, PeMa, 2021)
6. Quivers – Gutters of Love (single, Bobo Integral, 2021)
7. Janet Simpson – Double Lines (Safe Distance, Cornelius Chapel Records, 2021)
8. Joe Pug – Crescent Bridge (The Diving Sun, 2021)
9. Libby DeCamp – Last Stand (single, 2021)
10. Cassidy Snider & The Wranglers – Devil Tracks (single, Vocal Rest Records, 2021)
11. Sarah King – Cold Hard Ground (The Hour EP, 2021)
12. Charlie Marie – El Paso (single, Soundly, 2021)
13. John R. Miller – Lookin' Over My Shoulder (single, Rounder Records, 2021)
14. Zach Schmidt – I Can't Dance (single, Boss Dawg Records, 2021)
15. The Bones of J.R. Jones – Howl (A Celebration, Tone Tree Music, 2021)
16. Son of the Velvet Rat – Alicia (Solitary Company, Fluff and Gravy Records, 2021)
17. Rose City Band – Silver Roses (single, Thrill Jockey Records, 2021)
18. New Bums – Obliteration Time (Last Time I Saw Grace, Drag City, 2021)
19. Jeffrey Silverstein – Trip Sitter (single, 2021)
20. Nuevo – Querido (Nuevo, Nine Mile Records, 2021)
21. Pekka Laine – Lullaby (The Enchanted Guitar of Pekka Laine, Svart Records, 2021)
22. Väisänen – Huoltoasemalla (Tulis ilta tai särkyis kone, UHO Productions, 2021)
23. AK-77 – Lowdown kryptoniitti blues (Lowdown kryptoniitti blues, 2021)
24. V.Härkönen – Tiikerikakkuu (Patsaspuisto EP, Soit Se Silti, 2021)
25. Matti – Viaton (single, 2021)
26. Litku Klemetti – Google Earth Rock (Kukkia muovipussissa, Luova Records, 2021)
27. Andre Ethier – Wild Goldfish (single, Telephone Explosion Records, 2021)
28. Will Orchard – Rita (single, Better Company, 2021)
29. Dark Tea – Finally On Time (single, Fire Talk, 2021)
30. Sweet Megg & Ricky Alexander – Honey's Loving Arms (single, 2021)
31. Lambchop – A Chef's Kiss (single, Merge Records, 2021)
32. Ana Egge – The Ship (single, StorySound Records, 2021)
33. Becca Mancari – Stay With Me -acoustic (Juniata EP, Captured Tracks, 2021)
34. Ainsley Wills – This Is What Our Love Looks Like Now (single, 2021)
35. Shonna Tucker – A Brother's Love (single, 2021)
36. Laura Mae Socks – The Blue (single, Cardinal Club, 2021)
37. Morgan Wade – Mend (Reckless, Ladylike Records, 2021)
38. The Rose Petals – Military Man (single, Envoy Records, 2021)
39. Gospelbeach – Jam Jam (single, Curation Records, 2021)
40. Lucinda Williams – Save Yourself (single, Ba Da Bing! 2021)
41. Loretta Lynn – Keep on the Sunny Side (Still Woman Enough, Sony Music, 2021)
42. The Golden Roses – San Antonio by Sundown (Devil's in the Details, 2021)
43. Britton Patrick Morgan – Bad Tom Smith (single, 2021)
44. Ottoman Turks – Conspiracy Freak (single, State Fair Records, 2021)
45. Hunter Hicks – My Baby Loves Leaving Town (single, 2021)
46. Vivian Leva and Riley Calcagno – My Teardrops Say (Vivian Leva and Riley Calcagno, Free Dirt Records, 2021)
47. Melody Duncan – Cardinal (Wolf Song, 2021)
48. Lotta St Joan – Berlin (single, 2021)
49. Dan Wriggins – Season (Mr Chill, Orindal Records, 2021)
50. Leanne Betasamosake Simpson – Failure of Melting (Theory of Ice, You've Changed Records, 2021)
Oh and do buy the vinyl/cd/download. Spotify and other streaming services are perfect for these introductory purposes, but try to buy at least the music that matter the most to you
If you are looking this after a week has gone, the embedded Spotify will show the latest playlist. I'll just update the same playlist because a) if someone wants to follow it, they can just follow that one list and will get a new set of songs each Sunday b) so that I don't have a trillion of different playlists on my Spotify account.