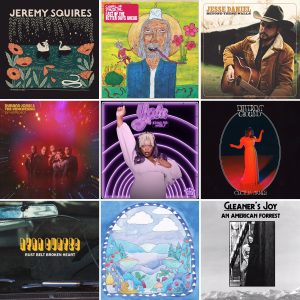 Another week, another new music weekly.
Still paid more attention to NHL and the free agency, but thankfully that stuff starts to slow down after last thursday's LeBrun goes to cottage day. Or maybe Eichel gets traded when I write this. Anyway, here's the release round up for this week.
There's not one that jumps clearly ahead of the pack for me this week, but there's definitely plenty to love and cherish. We got new albums from Durand Jones & The Indications, Yola, Jeremy Squires, Tobacco City, Cecilia James(EP), Charlie Parr, Ryan Curtis, An American Forrest (I think this has been on Bandcamp for a while, but now on Spotify too), Jesse Daniel, Langan, Frost & Wane, Bory (EP) (thanks to Mo Troper for recommending this pop beauty, check this one out pop kids), Son Volt, TORRES and Ric Robertson.
Finnish cuts this week are the single from The Lovematches and an album from Pelkkä Väliviivä (mostly spoken word in Finnish and that's why I put it as the last song).
Last but not least the international should be hits. Exciting news came from Emily Scott Robinson. She got a record deal with Oh Boy Records and released a wonderful first single from an forthcoming album. Belaver and Robert Ellis released a single together. It's a song by Belaver that also the producer of the forthcoming album Robert Ellis recorded. I probably should put Belaver's own version here, because he wrote the song. However, I love the voice of Robert Ellis, so I went with that one and will get to the Belaver album in the coming weeks when more singles and eventually the album arrives. Also in love with that Riddy Arman song and then there's much more like new treasures from MAITA, Mercy Bell, Dori Freeman, Garrett T. Capps, Grace Gillespie, BAJA, Ada Lea, Nico Hedley, William Harries Graham and so forth. Again just to name a few. These are all worth a namedrop, but you'll find them all below. Oh yeah and that soul single from Thee Illusions is from January, but I just heard it and loved it.
That's it for this week. Love from a distance.
1. Durand Jones & The Indications – Ride Or Die (Private Space, Dead Oceans, 2021)
2. Yola – Barely Alive (Stand For Myself, Easy Eye Sound, 2021)
3. Cecilia James – Headrush (Different Ground EP, Cowgirl Boot Girl Recors, 2021)
4. Tobacco City – Never On My Mind (Tobacco City, USA, Scissor Tail Records, 2021)
5. Jeremy Squires – Unravel (Unravel, Blackbird Record Label, 2021)
6. Charlie Parr – Last of the Better Days Ahead (Last of the Better Days Ahead, Smithsonian Folkways Recordings, 2021)
7. An American Forrest – Wild Summer (Gleaner's Joy, 2021)
8. Ryan Curtis – Rust Belt Broken Heart (Rust Bel Broken Heart, American Standard Time Records, 2021)
9. Jesse Daniel – Texas Summer Night (Beyond These Walls, Die True Records, 2021)
10. Riddy Arman – Too Late to Write a Love Song (single, La Honda Records, 2021)
11. Emily Scott Robinson – Old Gods (single, Oh Boy Records, 2021)
12. Robert Ellis – 70's Adventure (single, Niles City Records, 2021)
13. Langan, Frost & Wane – She Walks Alone (Langan, Frost & Wane, Goldstar Recordings, 2021)
14. Spencer Cullum – Seaside (single, Full Time Hobby, 2021)
15. Grace Gillespie – All the Yellow Flowers (single, 2021)
16. Bory – Sidelined (Sidelined EP, 2021)
17. Mercy Bell – The Hustle (single, Bell Records, 2021)
18. Dori Freeman – The Storm (single, Blue Hens Music, 2021)
19. Maita – Road Song (single, Kill Rock Stars, 2021)
20. Matthew McNeal – Texas Heat (single, Matte Black Sound Company, 2021)
21. Son Volt – Arkey Blue (Electro Melodier, Transmit Sound, 2021)
22. Garrett T. Capps – I Like Austin, But I Love San Antone (single, Vinyl Ranch, 2021)
23. Freya Josephine Hollick – Vivian, June, Dolly & Jolene (single, 2021)
24. The Rugged Nuggets – The Wait Is Over (single, Colemine Records, 2021)
25. Thee Illusions – Once in a Lifetime (single, Black Bird Records, 2021)
26. Ada Lea – Damn (single, Saddle Creek, 2021)
27. BAJA – Scenic Route (single, 2021)
28. TORRES – Don't Go Puttin Wishes In My Head (Thirstier, Merge Records, 2021)
29. Boy Scouts – That's Life Honey (single, Anti, 2021)
30. Nico Hedley – Tennessee (single, 2021)
31. William Harries Graham – Seven Lives (single, Redstart Records, 2021)
32. Ric Robertson – Harmless Feeling (Carolina Child, Free Dirt Records, 2021)
33. Adam Lee – Paint All the Roses Black (single, 2021)
34. Hayes Carll – You Get It All (single, Dualtone, 2021)
35. Elijah Ocean – Ice Machine (single, 2021)
36. The Lovematches – Time And Love (single, 2021)
37. Billy Strings – Fire Line (single, Rounder Records, 2021)
38. Christopher Paul Stelling – Wwyllyd (single, Tone Tree, 2021)
39. Kirby Brown – Spiders (single, Soundly, 20219
40. Ross Jenkins – Music is Sweet (single, 2021)
41. Yohei – American Girl (single, 2021)
42. The Wilderness of Manitoba – The Alchemist (single, 2021)
43. Matthew Milia – Keego Harbor (Keego Harbor, Sitcom Universe, 2021)
44. Pelkkä Väliviiva – Kävelen sunnuntaina ulkona (Aina jossakin välissä, If Society, 2021)
Oh and do buy the vinyl/cd/download. Spotify and other streaming services are perfect for these introductory purposes, but try to buy at least the music that matter the most to you
If you are looking this after a week has gone, the embedded Spotify will show the latest playlist. I'll just update the same playlist because a) if someone wants to follow it, they can just follow that one list and will get a new set of songs each Sunday b) so that I don't have a trillion of different playlists on my Spotify account. If you want to find the older ones I've moved them to the weekly playlist archive. So hit that link above and I'm sure you'll find this playlist too.