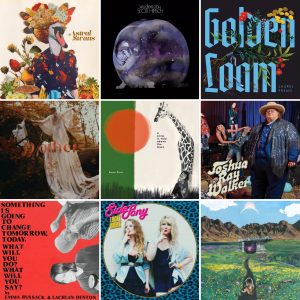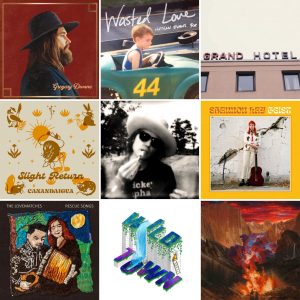 Another week, another new music weekly.
It was good to get back to watching some live music. Nathan Kalish was great at 8raita on Thursday. I highly recommend going to see him, if he has a show in your area or within reasonable distance. One show left here in Finland tonight and then he will move on to Sweden. Next up the finest new releases of the week. There was plenty and had to leave some out, because the lenght of this weekly is getting out of hand.
Joshua Ray Walker and Karen Peris are probably on the top of my list. Although I would have completely missed that Karen Peris solo unless I hadn't seen a friend of mine Mary recommending it. I don't know under what rock I've been living in, but thankfully I have friends with great taste and wide knowledge. That's not all though and we also got great new albums from Laurel Premo, Scott Hirsch, Sam Teskey, Astral Swans, Side Pony, Emma Russack & Lachlan Denton, I Was A King (this has been out elsewhere. I think it's sort of a combination of old stuff, unreleased stuff, covers etc. So maybe not a proper new album, but it is really wonderful. I love this Norwegian band), Tennessee Jet, Book Club, Sean Rowe, Canandaigua (wonderful EP, it's a month or two old. I saw it back then, but managed to forget about it. I finally did listen thanks to Finnish band Eden Prairie and their monthly playlist), Shannon Lay, Gregory Dwane, Noah Gundersen, Darryl Kissick, Nathan Evans Fox, Thomas Csorba (EP). Oh yeah and then there's a John Prine tribute album. I don't usually include them here, but I suppose one can and should make an exception whenever we are talking about John Prine.
I kinda blended the Finnish stuff in the mix this week instead of grouping them together. Not sure is that good or bad. Anyway, this week brought some amazing Finnish treasures. Astrid Swan's new album is really special and among my favorite Finnish releases of the year. On the rootsier side of things, we have an album from The Lovematches (the whole thing won't be available for streaming for a few months, so you need to do things the right way and buy a copy if you want to hear more than just the singles). There's also really impressive debut single from Joakim Daal plus new singles from Janne Tapion Sisäinen Avaruus, Astral Brain and Tuomo. And later on there's also a song from the new Make Shadows Together album. It's sort of instrumental ambient stuff and therefore only a partial match with my own subjective taste. But I love those guys and it's objectively great, so I wanted to include it here too.
And last but not least the international singles. My favorite song of the week has to be that new Margo Cilker song. That's going to be such a great album, because I've loved everything I've heard so far. Other personal favorites came from Charles Wesley Godwin, Adeline Hotel, Le Ren, Natalie Jane Hill, Dean Wareham, Paul Bond, Ryan Culwell, Andrew Gabbard just to name a few. That Olenka track is from 2020 actually, but maybe it hasn't been on Spotify before because algorithm pushed it to me. I know I searched the latest 2021 single Moose Jaw some months ago without luck, so maybe these pop up here a bit late. Which is perfectly fine if that encourages folks to buy music.
That's all for now. Like, share, listen, follow and all the annoying promotional nonsense. Back next week. Love from a distance.
1. Joshua Ray Walker – Dallas Lights (See You Next Time, State Fair Records, 2021)
2. Margo Cilker – That River (single, Fluff & Gravy Records / Loose Music, 2021)
3. Karen Peris – Sister Birds (A Song is Way Above the Lawn, Bella Union, 2021)
4. Astrid Swan – Joking After the Acopalyse (D/Other, Soliti, 2021)
5. Laurel Premo – Hop High (Golden Loam, 2021)
6. Scott Hirsch – Wolves (Windless Day, Echo Magic, 2021)
7. Sam Teskey – Let the Sun Bring the Light (Cycles, Decca, 2021)
8. Joakim Daal – Shelter (single, All That Plazz, 2021)
9. Astral Swans feat L.T.Leif – Sympathy for the Stupid (Astral Swans, 2021)
10. Emma Russack & Lachlan Denton – Authenticity (Something Is Going to Change… Bobo Integral, 2021)
11. I Was A King – E39 (Grand Hotel, Coastal Town, 2021)
12. Janne Tapion Sisäinen Avaruus – Ruosteen aika (single, Iso Pinkki, 2021)
13. Side Pony – Pressing My Luck (Lucky Break, Mule Kick Records, 2021)
14. Tennessee Jet – The Good (South Dakota, 2021)
15. The Lovematches – From Paris to Pardon (Rescue Songs, Emsölo Music, 2021)
16. Charles Wesley Godwin – Strong (single, 2021)
17. Sean Rowe – I Won't Run (The Darkness Dress in Colored Lights, Fluff & Gravy Records, 2021)
18. Canandaigua – The Margins (Slight Return EP, Baja Dracula, 2021)
19. Book Club – Wild Town (Wild Town, Pyramid Records, 2021)
20. Dean Wareham – As Much as It Was Worth (single, Double Feature Records, 2021)
21. Natalie Jane Hill – Plants and Flowers That Do Not Grow (single, Dear Life Records, 2021)
22. Adeline Hotel – Lot To Listen (single, Ruination Record Co, 2021)
23. Le Ren – May Hard Times Pass Us By (single, Secretly Canadian, 2021)
24. Shannon Lay – Shores (Geist, Sub Pop Records, 2021)
25. Harrison Whitford – Linoleum (single, Screwdriver Records, 2021)
26. Mark Fredson – Stop Me (single, Soundly, 2021)
27. Tuomo – Never Saw It Coming (single, Polygamy Records, 2021)
28. Jason Joshua – La Vida es Fria (single, Borinquen, 2021)
29. Curtis Harding – With You (single, Anti, 2021)
30. Paul Bond – Same Song, Different Groove (single, Concerto Records, 2021)
31. Andrew Gabbard – Cloud of Smoke (single, Colemine / Karma Chief, 2021)
32. M Ross Perkins – Wrong Wrong Wrong (single, Colemine / Karma Chief, 2021)
33. Louie Short – Sweeter Than Clover (single, 444%, 2021)
34. Astral Brain – A Dream (single, Shelflife Records, 2021)
35. Diners – Brain Song (single, Lauren Records, 2021)
36. Hand Habits – Clean Air (single, Saddle Creek, 2021)
37. Charlotte Cornfield – Drunk For You (single, Next Door Records, 2021)
38. Darryl Kissick – Fell (My Sunshine, 2021)
39. Chris Kasper – No Reservations (single, Tone Tree, 2021)
40. Ryan Culwell – All I Got (single, Missing Piece Records, 2021)
41. Gregory Dwane – Growing Up (Gregory Dwayne, Peacedale Records, 2021)
42. Nathan Evans Fox – Mercedes Benz (Wasted Love, 2021)
43. David James Allen – Bound to the Game (single, Garment District Records, 2021)
44. Thomas Csorba – From the Jordan (From the Jordan EP, Tone Tree, 2021)
45. Mikayla McVey – Bells (single, The Long Road Society, 2021)
46. Iris DeMent – One Red Rose (Broken Hearts and Dirty Windows Vol 2, Oh Boy Records, 2021)
47. Ismay – Bury Me Not on the Lone Prairie (single, 2021)
48. Claire Cronin – No Forcefield (single, Orindal Records, 2021)
49. Olenka and the Autumn Lovers – On the Wing (single, 2020)
50. Julia Logan & Nina Persson – One Mile From Heaven (single, Playground, 2021)
51. Megan Nash – Coffee (single, Acronym Records, 2021)
52. Mary Bragg – The Lonely Persistence of Time (single, Tone Tree Music, 2021)
53. Kristen Martell – Quiet Hearts (single, 2021)
54. Julia Shapiro – Wrong Time (single, Suicide Squeeze Records, 2021)
55. Make Shadows Together – Song For Frida (Sumu, 2021)
56. Noah Gundersen feat Phoebe Bridgers – Atlantis (A Pillar of Salt, Cooking Vinyl, 2021)
57. Phoebe Bridgers – That Funny Feeling (single, Dead Oceans, 2021)
58. Jacksonport – Scenes from Bellevue Park (single, 2021)
59. Grant-Lee Phillips – All That You Can Dream (single, Yep Roc, 2021)
60. Billy Bragg – Mid-Century Modern (single, Cooking Vinyl, 2021)
61. Luke Winslow-King – Lissa's Song (single, Ghost River Records, 2021)
62. Strand of Oaks – Under Heaven (In Heaven, Galactigana Records, 2021)
63. Hulda Huima – Unen kirjoitin muistiin (Ilma, Helmi Levyt, 2021)
64. Sylvie – Rosaline (Sylvie EP, 2021)
65. Myriam Gendron – Le tuer de femmes (Ma delire, Feeding Tube Records, 2021)
Oh and do buy the vinyl/cd/download. Spotify and other streaming services are perfect for these introductory purposes, but try to buy at least the music that matter the most to you
If you are looking this after a week has gone, the embedded Spotify will show the latest playlist. I'll just update the same playlist because a) if someone wants to follow it, they can just follow that one list and will get a new set of songs each Sunday b) so that I don't have a trillion of different playlists on my Spotify account. If you want to find the older ones I've moved them to the weekly playlist archive. So hit that link above and I'm sure you'll find this playlist too.