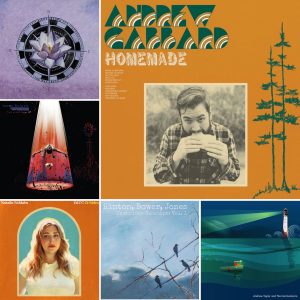 Another week, another new music weekly.
The year end madness has started on this website. I posted the EPs of the year earlier in the weekend and favorite Finnish albums will follow this weekend. Then I start working on the international albums mega lists. That should roll out during the next week or two. Focusing on these might also mean I miss some new releases. Feel free to send an angry email if I that happens. Anyway, here are the new releases of the week.
The big one here is the new Andrew Gabbard album. Karma Chief Records / Colemine Records might be better known for delivering soul treasures, but this one is a wonderful pop record. After binge watching Get Back, you should give a spin to this beauty. There's even an Emitt Rhodes cover in there. I love the whole thing. I also messed up last week and forgot to include the Hinton Bower Jones EP. It's excellent. By the way, the Jones there is mr Hezekiah Jones. Other new releases came from Andrew Taylor & The Harmonizers, Jason Boland & The Stragglers, Aisha Badru (EP), Natalie Schlabs (B-sides EP), Acid Tongue, Winter Grain (EP), Allen LeRoy Hug (EP). Plus a couple of slightly older releases I missed along the way. These are Mylee Grace and Jed Zimmerman.
Finnish section is rather short, but we do have awesome singles from A.Reikko, Tomi Nordlund & Syvä Joki and Samoaja.
And finally the international singles. There's not one that really jumps up as song of the week, but I'm very fond of the songs by Jay Gavin, Jake Xerxes Fussell, Alexis Mahler, Black Sea Dahu, Mikayla McVey and Sie Sie Benhoff. New great Micah Schnabel song that was previously on Bandcamp is also streaming now. Again just to name a few. You'll find them all below.
That's all for now. Listmania to follow before the next new music weekly. Oh yeah and there's separate playlist for the new Christmas songs, because I don't want to flood this with them. You'll find that here. That's pretty much it. Like, share, follow and all the usual promotional nonsense. Remember that this is now on Spotify, Apple Music and Tidal. Love from a distance.
1. Andrew Gabbard – Grin Song (Homemade, Karma Chief Records / Colemine Records, 2021)
2. Andrew Taylor & The Harmonizers – When I Don't Understand (Andrew Taylor & The Harmonizers, 2021)
3. Hinton Bower Jones – Hummingbird (Cambridge Sessions Vol 1, Woodfarm Records, 2021)
4. Jason Boland & The Stragglers – Restless Spirits (The Light Saw Me, Proud Souls / Thirty Tigers, 2021)
5. Jay Gavin – Some Folks (single, 2021)
6. Jake Xerxes Fussell – Breast of Glass (single, Paradise of Bachelors, 2021)
7. Leyla McCalla – Fort Dimanche (single, Anti, 2021)
8. Victoria Bailey – Rider in the Rain (single, 2021)
9. Jacksonport – California Gold (single, Tularosa Records, 2021)
10. Alexis Mahler – Saint Helens (single, 2021)
11. Sie Sie Benhoff – Encinitas (single, Texas Forever, 2021)
12. Ken Pomeroy – Flannel Cowboy (single, Horton Records, 2021)
13. Aisha Badru – Worthwhile (The Way Back Home EP, Nettwerk, 2021)
14. Natalie Schlabs – Nobody's Fault (DLTC B-Sides EP, Tone Tree Music, 2021)
15. Black Sea Dahu – Affection (single, Mouthwatering Records, 2021)
16. A. Reikko – Uni motelleista (single, Karhuvaltio Records, 2021)
17. Tomi Nordlund & Syvä Joki – Kadonnut (single, Soit Se Silti, 2021)
18. The Cactus Blossoms – Hey Baby (single, Walkie Talkie Records, 2021)
19. The Reds, Pinks and Purples – Pour the Light In (single,Tough Love, 2021)
20. The Linda Lindas – Nino (single, Epitaph, 2021)
21. Micah Schnabel – White Roses (single, 2021)
22. Acid Tongue – Facts of Life (Arboretum, Freakout Records, 2021)
23. Ben Pirani – More Than a Memory (single, Colemine Records, 2021)
24. Monophonics – Last One Standing -Radio Edit (single, Colemine Records, 2021)
25. Thee Illusions – Will You Love My Child (single, Black Bird Records, 201)
26. Mikayla McVey feat Twain – On Naming (single, The Long Road Society, 2021)
27. Fortunato Durutti Marinetti – Memory's Fool (single, Bobo Integral, 2021)
28. Simone Felice – No Tomorrows (single, Chrysalis, 2021)
29. Alan Power – Forget the Goons (single, Empower Records, 2021)
30. Ellen Froese – In the Sun (single, Victory Pool, 2021)
31. Winter Grain – Passenger Seat (Hollywood & Hard EP, 2021)
32. Allen LeRoy Hug – Little Sister (A Disaster to Avoid EP, 2021)
33. Hurray for the Riff Raff – Jupiter's Dance (single, Nonesuch Records, 2021)
34. Band of Horses – In Need of Repair (single, BMG, 2021)
35. Mylee Grace – Waste My Time (Whiplash of the Moshpit, 2021)
36. Jed Zimmerman – Northern Girl (Below the Blooms, Madjack Records, 2021)
37. Aoife O'Donovan – Age of Apathy (single, Yep Roc, 2021)
38. Samoaja – Lights in Heaven (single, Landscape Records, 2021)
39. Anais Mitchell – Brooklyn Bridge (single, BMG, 2021)
40. Mary Bragg – Please Don't Be Perfect (single, Tone Tree, 2021)
41. Robert Stillman – Cherry Ocean (single, Orindal Records, 2021)
42. Maxwell Stern & Gordon M. Phillips – Circle Like a Hawk (You Are With Me, Alchemy Hours, 2021)
43. Julie Doiron – How Can We? (I Thought Of You, You've Changed Records, 2021)
44. Cassidy Waring – Nostalgia (Lonesome Reunion, 2021)
45. Josh Moore – Everything's Gonna Be Alright (Sunrise, 2021)
Oh and do buy the vinyl/cd/download. Spotify and other streaming services are perfect for these introductory purposes, but try to buy at least the music that matter the most to you
If you are looking this after a week has gone, the embedded Spotify will show the latest playlist. I'll just update the same playlist because a) if someone wants to follow it, they can just follow that one list and will get a new set of songs each Sunday b) so that I don't have a trillion of different playlists on my Spotify account. If you want to find the older ones I've moved them to the weekly playlist archive. So hit that link above and I'm sure you'll find this playlist too.