Year end madness continues with the mega list of my favorite international albums of the year. I'll use similar kind of method as I did last year. So this list will have some kind of not-that-serious ranked top 10 and outside of that the order will be completely random. I'm fully aware that music is love and not a competition, but I also listen an insane amount of music and therefore these lists will be really long. That's why I think it might be helpful to give readers some kind of vague ranking of the releases I've loved the most. For example, everyone might not be into listening to all 100 albums that I will select.
I'm of course just one man with a subjective taste. These are my own favorite releases and I'm not even trying to make an objective best of the year list. It's just a list of albums that I love. Also my apologies for everyone who didn't make the cut. I started making this by going through year's worth of new music weekly posts and felt like was I being hard and only included albums that I really liked. The end result and the first draft had 197 albums. So even though 100 must seem likely a ridiculously large number, it was extremely difficult to cut it down to a 100. Anyway, enough of this pointless rambling and on to the list. It will all roll down during the next days or week. Hard to give exact time frame. I'll go as fast as I can and won't write much. There will be a Tidal, Spotify, Apple Music playlist after the final part, if you are into such things.
Part Seven
Part Six
Part Five
Part Four
Part Three
Part Two
Kirty – We Are All On Fire (Postwar Records)
First some car smashing together with Toronto-based songwriter Kirty. All the singles are pure gold and the full thing doesn't fall far behind that description.
Mitch Dillon's Compulsive Ramblers – Mitch Dillon's Compulsive Ramblers (Ragged Gum Records)
A giant leap to Australia for the wonderful self-titled debut from Mitch Dillon's Compulsive Ramblers. 90s alt-country vibes with early Wilco coming to mind here and there. Damn good stuff.
The Reds, Pinks and Purples – Uncommon Weather (Tough Love / Slumberland)
Next stop San Francisco and some jangly pop magic from Glenn Donaldson aka The Reds Pinks and Purples. One of the pop records that seem to be on everyone's favorite list and rightfully so.
Mt. Misery – Once Home, No Longer (Prefect Records)
Hartlepool, UK wants to join this indie pop party. I fell in love with Mt. Misery approximately a split second after I start listening to this album last summer. If you grew up listening to TFC and Sarah Records and so forth, you are going to love this one.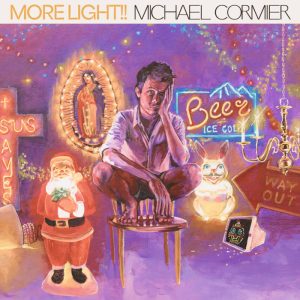 Michael Cormier – More Light!! (Dear Life Records / OOF Records)
Moving to Maine, but maybe not falling that far from the indie pop spectrum. Going more into the folk territory though with some experimental sounds too. Besides co-running one of the finest indie labels Dear Life Records, Michael Cormier is also a mighty fine solo artist. More Light!! has been a big riser for me and I love it more with each listen. A couple of months ago it probably wouldn't have made the cut, but now it would have been included even on a much shorter list.
Astral Swans – Astral Swans
Back on the Canadian soil for some experimental psych-folk brilliance from Calgary-based Matthew Swann aka Astral Swans. The hero of almost everyone, Julie Doiron lends a helping hand or well voice for several songs.
Julie Doiron – I Thought Of You (You've Changed Records)
Next almost too logical step is to go to Montreal, Quebec to meet up with Julie Doiron and her fabulous new album. A late release date, so I'm still in the process of introducing my heart to these songs. Perhaps with more time, this could have even entered into top ten discussion. Already easy to say that it has to be on this list.
Steve Sloane – Chewing the Shadow / Time is a Threat
Staying in Canada for more big personal favorites. Singer-songwriter Steve Sloane isn't that well-known though, but his poignant songs matter a great deal to me. He actually put out two records this year and these beauties can share this place together because I can't decide which one is better. Both have so many moving moments.
Jeremy Squires – Unravel (Blackbird Record Label)
Moving across the border to the US, but sticking with long time personal favorites. Prolific North Carolinian singer-songwriter Jeremy Squires releases a hauntingly beautiful albums pretty much every year and this one is not an exception.
Harrison Whitford – Afraid of Nothing (Screwdriver Records)
One more devastingly beautiful one from LA-based Harrison Whitford. Besides being a guitarist for Phoebe Bridgers, Harrison is also a mighty good songwriter. A few years back he knocked me out with a stunning debut album Afraid of Everything and now it was time for a gorgeous follow-up. This one's a bit more evolved and rich, but thankfully without losing that fragile down-to-earth beauty of the debut.
Tim Easton – You Don't Really Know Me (Black Mesa Records)
Time to chance the pace a little and go to more roots, blues, soul journey for the last few entries in this part of the year end saga. Kicking things off in the usual place Nashville with a great new Tim Easton album.
Queen Esther – Gild the Black Lily
Traveling on to New York for this next one. And what a special country blues treasure this album from singer-songwriter Queen Esther really is. I'm especially fond of her own original songs like The Whiskey Wouldn't Let Me Pray
Kashena Sampson – Time Machine (New Moon Records
A few years ago, Nashville-based roots songwriter Kashena Sampson stormed into my world with a phenomenal debut single Wild Heart. I've been a fan ever since and this second full-length is again mighty good.
Yola – Stand For Myself (Easy Eye Sound)
This new Yola album maybe isn't stylewise totally my cup of tea, but I'm not gonna let such a minor detail stop me from loving this wholeheartedly. She is still amazing.
Durand Jones & The Indications – Private Space (Dead Oceans)
And last but not least some soulful brilliance from the fabulous Durand Jones & The Indications. This entry and the forthcoming playlist will have a lot sad stuff, so I wanted to end this with something hopeful. Don't you ever doubt that Love Will Work It Out.