Part Seven
Part Five
Part Four
Part Three
Part Two
Part One
Dana Sipos – The Astral Plane (Roaring Girl Records)
We'll start chapter six with a big new favorite and album that has been a real grower for me. I didn't know Dana Sipos from Victoria, British Columbia before this album came out and it was actually Rachel Cholst's No Depression review on the release week that first caught my eye. This is a personal, unique and deeply moving folk album filled with amazing songs.
Michael Feuerstack – Harmonize the Moon (Forward Music Group)
A very loosely astral transition to Michael Feuerstack's lovely new album Harmonize the Moon. This Montreal-based songwriter has again created great songs are that all sound so warm, beautiful and kindhearted.
The Weather Station – Ignorance (Fat Possum)
Staying in Canada, but moving to Toronto. It's been wonderful to see the new The Weather Station album ruling the aoty lists even on big music publications. Kind of rare thing to happen to my favorite albums. Thankfully it seems that it can happen. I don't love this new one as much the self-titled album, but frankly I don't love anything as much because it's probably my favorite album of the 20 onechordnet years. So can't really hold it against her, if she doesn't reach that high with every album. And yeah Ignorance is a magnificent album and fully worth all the praise its getting.
Quivers – Golden Doubt (Bobo Integral / Ba Da Bing / Spunk)
Next over to Tasmania or maybe it's Melbourne, Australia these days. Quivers has been a big favorite since I heard the Pigeons few years back and the new album Golden Doubt is one of the best pop records of 2021. This song below for example is such a perfect pop song. "I want to hold you / but I don't want to hold you back" so simple yet so perfect.
Vanessa Peters – Modern Age (Idol Records)
Our next station is either Italy or Texas depending where Vanessa Peters is located at the moment. What I do know is that she released tremendous new album Modern Age in April and I've carried it with me all through this weird year. The Try might not be objectively the best song on the album, but somehow it has been my go to anthem.
Golden and Rust – Golden and Rust
Back in Nashville for one of the loveliest surprises of the year. I'm big fan of Glossary and Joey Kneiser solo stuff, so I was thrilled to find out that he has teamed up with another great songwriter Lew Card and together they will release an album as Golden and Rust. Of course the album turned out to be awesome.
Tre Burt – You, Yeah, You (Oh Boy Records)
Moving on to Sacramento, CA for more folk blues gems from Tre Burt. He has quickly become one of my favorite songwriters and this one is just as great as the first Oh Boy Records album.
Mercy Bell – Golden Child (Bell Records)
And again back in Nashville. I wasn't really sure will I put this new Mercy Bell in the top 3 of the EP list or in this album list. Even press releases seem to use both EP and album. All that don't really matter though. What matters is that it's great 90s country-influenced release full of wonderful songs. Codeine is my big own favorite, but I do love the whole thing.
Riddy Arman – Riddy Arman (La Honda Records)
I was probably first introduced to the music of Riddy Arman by the Western AF youtube channel. Probably the best place on this internet thing. Ever since I've wanted to hear her music on a record too and now that is possible thanks to the great La Honda Records. And what a great country record this self-titled debut turned out to be.
Vincent Neil Emerson – Vincent Neil Emerson (La Honda Records)
Another country gem from the La Honda vaults. Texas-based country singer-songwriter Vincent Neil Emerson was already on the list couple of years ago with his debut album, but this new Rodney Crowell-produced album is even better than that gorgeous debut.
Bobby Dove – Hopeless Romantic
More classic country gold from Canada. This time from Montreal, Quebec by Bobby Dove. Chance in Hell is my big favorite, but the whole record is awesome and it has stayed with me throughout the year.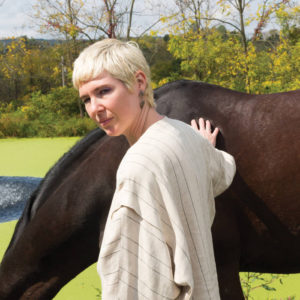 Rosali – No Medium (Spinster)
Moving to Philadelphia, Pennsylvania and bit more towards folk rock territory. It's been great to see this Rosali album hitting so many year end lists. Rightfully so, because it's a wonderful album. She has been looking at you from that right column on this website for months and months. Partly because I'm too lazy to change them, but also partly because I really love this album.
Will Stratton – The Changing Wilderness (Bella Union)
Next Beacon, New York and the remarkable new Will Stratton album The Changing Wilderness. What a beautiful and moving album as a whole and then there's Infertile Air. There's a song you won't easily forget. One of my absolute favorite songs of the year.
Le Ren – Leftovers (Secretly Canadian)
This is a very Montreal heavy chapter, because here we are again and will stay for the remainding two. First the debut full-length from folk songwriter Le Ren. She don't have that long career, but is already a mainstay on my year end lists. Love Can't Be The Only Reason To Stay was in my favorite songs list in 2019 and Morning & Melancholia was in my top EPs list in 2020. I'm obviously not going to make this album an exception, because it's everything I hoped it would be. Le Ren is such a special talent.
Myriam Gendron – Ma délire – Songs of love, lost & found
Wrapping this second to last chapter with the exceptional new Myriam Gendron album Ma délire – Songs of love, lost & found. I definitely would like to squeeze this one into the top 10, but even with my lousy math skills I'm not able to put eleven into ten slots. So even though this is the end of the unranked part, this beauty probably would be the 11 and on another day even further up. This one has both beautiful renditions of traditional songs and wonderful originals. My personal favorite is actually Myriam's own song called Farewell. Oh and extremely high recommedation for this SuoniTV live performance at youtube. Not sure will it stay there forever so I recommend watching while you still can. The magic starts around 15 minutes of the video.