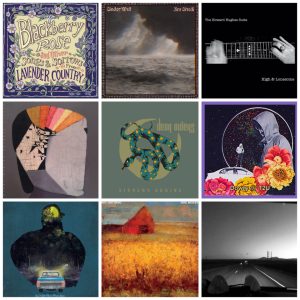 Another week, another new music weekly.
The trouble with this new music weekly thing is that the longer I do this, the more artists I know. Therefore keeping the length of this even somewhat reasonable becomes more and more difficult as time goes by. I know I probably should start cutting this weekly monster back to 40-50 songs, because it has become longer than anyone will listen. But I guess lenght is not that big of a deal, because anybody can listen as much or as little they want.
Let's get right into the great new music, because there's plenty of it. MAITA, Sarah Shook & The Disarmers and Hurray for the Riff Raff were the big three for me this week when it comes to international album releases. They can share the imaginary album of the week title. Always cool to see new music from Dylan Rodrigue too. This week also got new ones from Kendra Morris, Khruangbin & Leon Bridges (EP), Big Nothing, Cinder Well & Jim Ghedi, (two song single/EP), Dean Owens, Eric Bolander, Lavender Country, The Jazz Butcher (well this was a week ago), Straight White Teeth, Ryan Dugre (EP), TW Walsh (EP), Modern Studies, Shovels & Rope, Steve Poltz, Kate Ellis, Jon Danforth, The Infamous Stringdusters, The Howard Hughes Suite and Sarah Borges.
The big ones from Finland are albums from Rosita Luu and Sumuhai and an EP from V.Härkönen. Then there's also a run of singles from Lone Deer Laredo, Muuan Mies, Tapani Rinne & Juha Mäki-Patola, Wasted and Hot Heros.
The list of international (should be) hits is almost never ending. Brennen Leigh's album announcement and wonderful lead single is a big deal. That can share the single of the week with the latest Darren Hanlon tune. Of course there's a whole lot more. BMX Bandits released a lovely Valentine's Day single and Leche Malo & Jeremy Ferrara released a great split single. Long time faves Steven Lambke, Katie Spencer, Sylvia Rose Novak and Frontperson all made album announcements accompanied with a mighty good first single. We also got further single gold from the forthcoming albums by MJ Lenderman, VanWyck, Jerry Leger, Georgia Harmer, Renata Zeiguer, Carla Geneve and so forth. Some new to me artists also impressed me. For example Mitch Davis, Kitty Perrin, Erika Lewis and Evan Barber. Just to name a few.
That's it for this week. Like, share, follow and all the usual promotional nonsense. It all matters in the lonely blogosphere. Love from a distance.
1. MAITA – Where Do You Go? (I Just Want to Be Wild For You, Kill Rock Stars, 2022)
2. Sarah Shook & The Disarmers – Been Lovin' You Too Long (Nightroamer, Abeyance Records / Thirty Tigers, 2022)
3. Hurray for the Riff Raff – Saga (Life on Earth, Nonesuch Records, 2022)
4. Brennen Leigh & Asleep at the Wheel – If Tommy Duncan's Voice Was Booze, Signature Sounds Recordings, 2022)
5. Dylan Rodrigue – (Hall) [The] (The Birds Are Still Singing, Kid Vommit, 2022)
6. BMX Bandits – Hello Young Lovers (single, Shambotic, 2022)
7. Darren Hanlon – The Spin (single, Flippin' Yeah Records, 2022)
8. Leche Malo & Jeremy Ferrara – T2U (single, Ur Mom Records / American Standard Time Records, 2022)
9. Kendra Morris – Dry (Nine Lives, Colemine Records, 2022)
10. Khruangbin & Leon Bridges – Mariella (Texas Moon EP, Dead Oceans, 2022)
11. MJ Lenderman – You Have Bough Yourself a Boat (single, Dear Life Records, 2022)
12. Steven Lambke – Every Lover Knows (single, You've Changed Records, 2022)
13. Jerry Leger – Underground Blues (single, Latent Recordings, 2022)
14. Katie Spencer – The Edge of the Land (single, Lightship Records, 2022)
15. VanWyck – Maybe, Maybe Not (single, Excelsior Recordigns, 2022)
16. Renata Zeiguer – Evergreen (single, Northern Spy Records, 2022)
17. Georgia Harmer – All In My Mind (single, Arts & Crafts, 2022)
18. Sylvia Rose Novak – Man I Used to Be (single, World Lies Waiting, 2022)
19. Carla Geneve – Brighter Than Blue (single, Dot Dash Recordings, 2022)
20. Big Nothing – Accents (Dog Hours, Lame-O Records, 2022)
21. V. Härkönen – Hyvää seuraa (Tarralappuja EP, Soit Se Silti, 2022)
22. Rosita Luu – Klaudia (Maaginen elävä, Playground, 2022)
23. Muuan Mies – Timppa (single, Helmi Levyt, 2022)
24. Sumuhai – Sinetti (Sae, 2022)
24. Lone Deer Laredo – Somewhere Down the Last Road (single, 2022)
25. Ryan Dugre – Ten Ten Win (Look See EP, Ruination Record Co, 2022)
26. Abigail Lapell – Ships (single, Outside Music, 2022)
27. Megg Farrell – Midnight Train (single, 2022)
28. Taco Tapes – Westwind (single, American Standard Time Records, 2022)
29. Dean Owens – New Mexico (Sinner's Shrine, CRS, 2022)
30. Eric Bolander feat Abby Hamilton – Smooth Finish (Can't Get There From Here, 2022)
31. Lavender Country – Don't Buy Her No More Roses (Blackberry Rose, Don Giovanni Records, 2022)
32. The Jazz Butcher – The Highest in the Land (The Highest in the Land, Tapete Records, 2022)
33. Cinder Well & Jim Ghedi – I Am a Youth That's Inclided to Ramble (I Am a Youth That's Inclided to Ramble EP/single, Free Dirt Records, 2022)
34. Jacksonport feat Rachael Price – What I'm Doing (Trying To Be Me) (single, Tularosa Records, 2022)
35. Straigth White Teeth – Intimacy Coordinator (Intimacy Coordinator, Hunny Hawk Records, 2022)
36. Michael Feuerstack – Don't Let Me Be Misunderstood (single, Forward Music Group, 2022)
37. Mitch Davis – Let It Die (single, Arbutus Records, 2022)
38. TW Walsh – Postmodern Science (Daylight EP, Tower of Song, 2022)
39. Frontperson – Parade (single, Oscar Street Records, 2022)
40. Tristen – Dance Me To the End of Love (single, Mama Bird Recording Co, 2022)
41. Stars – Pretenders (single, Last Gang Records, 2022)
42. Modern Studies – Comfort Me (We Are There, Fire Records, 2022)
43. nudista – inasmuch (single, Sad Club Records, 2022)
44. Kitty Perrin – The Escapist (single, 2022)
45. Bailey Bigger – You, Somehow (single, Madjack Records, 2022)
46. Mike Clark & The Sugar Sounds – Warm Me Up (single, 2022)
47. Jackie Mendez & Joey Quinones – Tell It To Me (single, Blackbird Records, 2022)
48. M Ross Perkins – Mr Marble Eyes (single, Karma Chief Records, 2022)
49. Margaret Glasby – Love Is Real (single, ATO Records, 2022)
50. Michaela Anne – Who You Are (single, Yep Roc, 2022)
51. Erika Lewis – Loser (single, 2022)
52. Evan Barber – Tape (single, Commit Records, 2022)
53. Shovels & Rope – Bleed Me (Manticore, Dualtone, 2022)
54. Steve Poltz – Let's Stay Together (Stardust and Satellites, Compass Records, 2022)
55. Jon Danforth – End of the Line (Pinkman's Song) (Beginning and End, 2022)
56. Kate Ellis – Scars (Spirals, River Rose Records, 2022)
57. Sarah Borges – Lucky Day (Together Alone, Blue Corn Music, 2022)
58. Rhyan Sinclair – Where I'll Be Found (single, 2022)
59. The Infamous Stringdusters – Hard Line (Toward the Fray, Americana Vibes, 2022)
60. 49 Winchester – Annabel (single, New West Records, 2022)
61. Have Gun, Will Travel – Buyer's Remorse (single, 2022)
62. The Lowest Pair – Holy Ground (single, Delicata Records, 2022)
63. Dan Reeder – One Of You (single, Oh Boy Records, 2022)
64. Ross Jenkins – Free All Day (single, 2022)
65. Good Looks – Vision Boards (single, Keeled Scales, 2022)
66. Mountain Party – Hell, I Don't Know (single, 2022)
67. Wasted – Break You (single, Combat Rock Industry, 2022)
68. Pretty Matty – Silver (single, 2022)
69. Oceanator – Bad Brain Daze (single, Big Scary Monsters, 2022)
70. Tomberlin – Happy Accidents (single, Saddle Creek, 2022)
71. Madi Diaz feat Courtney Marie Andrews – New Person, Old Place (single, Anti, 2022)
72. The Howard Hughes Suite – Flow State (High & Lonesome, The Slow Music Movement, 2022)
73. Tapani Rinne & Juha Mäki-Patola – Brevity (single, Hush Hush Records, 2022)
74. Hot Heros – Karjalan poikia (single, Karkia Mistika Records, 2022)
75. The Delines – Hold Me Slow (The Sea Drift, Decor Record, 2022)
Oh and do buy the vinyl/cd/download. Spotify and other streaming services are perfect for these introductory purposes, but try to buy at least the music that matter the most to you
If you are looking this after a week has gone, the embedded Spotify will show the latest playlist. I'll just update the same playlist because a) if someone wants to follow it, they can just follow that one list and will get a new set of songs each Sunday b) so that I don't have a trillion of different playlists on my Spotify account. If you want to find the older ones I've moved them to the weekly playlist archive. So hit that link above and I'm sure you'll find this playlist too.