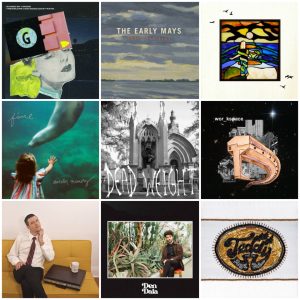 Another week, another new music weekly.
This weekend around 4th of July is typically a slow one on the US release schedule. Therefore not a whole lot of album releases. A couple of the bigger ones Matthew Bailey and Wor_kspace seem to be also Bandcamp only at least for now. Which is totally fine, because buying music is a good thing. My album of the week is the new Frank Meadows. Been listening to it a lot during the weekend. There's also new ones from Den Dala, The Early Mays (EP), Teddy & The Rough Riders, Guided By Voices and Fime.
There's no new Finnish albums or EPs on the list, but there is a great run of singles from Torrances, The Southgates, Henna Emilia Hietamäki, Tanssiva Karhu, Isse, Tulio and Lätsä. I really like all of them. The Southgates one is a couple of weeks old, but I missed it until I got an email from Jukka Takalo some days ago. So great to hear young guys playing guitar pop and doing it really well. Oh yeah and Isse, Tulio and Lätsä don't seem to be playable at least on my Spotify at the moment. I see them on the release radar, but they are greyed out. Don't know what's the issue there, but I included them, because the songs should be out and do work on the Tidal version. Maybe it's just a temporary hiccup and will be sorted out soon.
The international song of the week is Black Umbrella by Anna Tivel. Quite a heavy-hitter and one of my favorite songs of the year so far. Other big faves this week came from Ian Daniel Kehoe, Wilder Maker, Will Stewart, Rachel Angel, Rod Smoth and Amythyst Kiah. Again just to name a few.
That's all for this week. Like, share, follow and all the usual promotional nonsense. It all matters while I ponder the essence of life and music blogging. Love from a distance.
1. Frank Meadows – Light In My Room (Dead Weight, Ruination Record Co, 2022)
2. Matthew Bailey – Full-Time Hobby (Peachfruit, 2022) – only single is streaming
3. Den Dala – I Am the Changer (Fake Trees, Nice Guys, 2022)
4. The Early Mays – The Ballad of Johnny Fall (Prettiest Blue EP, 2022)
5. Teddy & The Rough Riders – Bad Spot (Teddy & The Rough Riders, Appalachia Record Co, 2022)
6. Jay Gavin – North of Tennessee (single, 2022)
7. Will Stewart – Nothing's Right (single, Cornelius Chapel Records, 2022)
8. Anna Tivel – Black Umbrella (single, Mama Bird Recording Co, 2022)
9. Rod Smoth – I Wouldn't Trust (single, 2022)
10. Wor_kspace – Transfer (workspace, 2022) – only single is streaming
11. Ian Daniel Kehoe – Yes Very So (single, Tin Angel Records, 2022)
12. Rachel Angel – I Can't Win (single, Ruzafa Records, 2022)
13. Amythyst Kiah – Hitchin a Ride (single, Rounder Records, 2022)
14. Nick Nace – Someday is Too Far Away (single, 2022)
15. Wilder Maker feat Felicia Douglass – A Professional (single, Western Vinyl, 2022)
16. Fime – White Collar Gold (Sweeter Memory, Forged Artifacts, 2022)
17. Guided By Voices – Boomerang (Tremblers and Goggles By Rank, GBV Inc, 2022)
18. Torrances – Replacements (single, 2022)
19. The Southgates – When the Light Did Fade (single, Valassaaret, 2022)
20. Henna Emilia Hietamäki – Kulkuri (single, Soliti, 2022)
21. Tanssiva Karhu – Pariisiin, Oui Oui (single, 2022)
22. Isse – Havaianas (single, Helmi Levyt, 2022)
23. Tulio – Ikkuna (single, Solina Records, 2022)
24. Lätsä – Hikinen iltapäivä (single, Helmi Levyt 2022)
25. Dogwood Tales – 25 (single, 2022)
26. Color Green – Ruby (single, Org Music, 2022)
27. The Frowning Clouds – Stream Two (single, Anti Fade Records, 2022)
28. The A's – Wedding Dress (single, Psychic Hotline, 2022)
29. The Gabbard Brothers – Pockets of Your Mind (single, Karma Chief Records, 2022)
30. Burn the Louvre – Hey Stacey (single, Broken Glass Records, 2022)
31. Tim Knol – You Don't Wanna Miss the Show (single, Excelsior, 2022)
32. Deli Kings – Foolin (In July) (single, 2022)
33. Carsie Blanton – When Somebody's Gone (single, 2022)
34. Naima Block – Toll (Giant Palm, Sub Pop Records, 2022)
35. Susie Merry – Weatherman (single, 2022)
36. Maya Hawke – Therese (single, Mom + Pop, 2022)
37. Batts – Call It What It Is (single, I Feel Fine Records, 2022)
38. Dungen – Nattens sista strimma ljus (single, Arketyp, 2022)
39. Steven Denmark – Crazy Over You (single, El Dorado Records, 2022)
40. Shelby Lee Lowe – Loving You Is Killing Me (single, LWM Records, 2022)
41. Nick Dittmeier & The Sawdusters – Things Are Getting Strange (single, SonaBlast Records, 2022)
42. Sierra Ferrell – Years (single, Easy Eye Sound, 2022)
43. Andrea & Mud – Mama He's Crazy (single, Guest Wifi Records, 2022)
44. Avi Jacob – Tears Like River (single, 2022)
45. Nora Brown – Little Satchel (single, Jalopy Records, 2022)
46. Martha Spencer – Enchantress (single, Gingham Rose, 2022)
47. Joe Pug – Hymn #35 (Revisited) (single, Loose Music, 2022)
48. Blue Cactus – The Golden Age (single, Sleepy Cat Records, 2022)
49. The Burning Hell – All I Need (Garbage Island, BB*Island, 2022)
50. Field Guides – The City is a Painting (Ginkgo, 2022)
51. Jukka Nousiainen & Kumpp – Yhteensulautuneet sydämet (Matkalla kotiin, Jukan Musiikki, 2022)
52. Joan Shelley – Forever Blues (The Spur, No Quarter, 2022)
Oh and do buy the vinyl/cd/download. Spotify and other streaming services are perfect for these introductory purposes, but try to buy at least the music that matter the most to you
I'll make the playlist on Spotify and then transfer it to Tidal. This means a few tracks might be missing from the Tidal version, if they are not available on that platform. Usually it's 1-3 tracks that are not on Tidal. There's a bunch of older episodes on my Spotify profile, if you miss an episode or want to revisit.
If you are looking this after a week has gone, the embedded Spotify will show the latest playlist. I'll just update the same playlist because if someone wants to follow it, they can just follow that one list and will get a new set of songs each weekend.