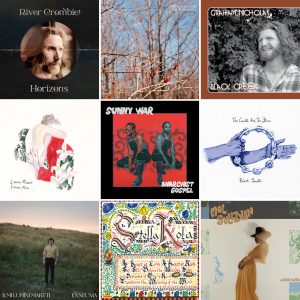 Another week, another new music weekly.
Let's start with the Finnish ones this time around, because there's a new Laura Moisio album in this world. And a mighty good one too, but of course I knew that even before listening to it. I'm gonna love that album so much (btw, the whole album was not on Apple (at least not yet), so there's one of the singles on the Apple playlist). There's other Finnish gems too. I really like that Ilmi Lupiini Martti EP. That's a new artist to me, but instantly liked the debut EP. From long time faves there's a great new Janne Laurila single which is always special. Other Finnish releases this week are album from Pastis and singles from Rock Siltanen Group, Sepä juuri, Vino Puu and Waver (Mia Keurulainen solo).
Moving on to the international releases. Stella Kola and River Crombie have been on heavy rotation early on. Both are very beautiful and moving folk albums in their own way. Stella Kola with a sort of dreamy psych folk type while River Crombie delivers some beautiful man and a acoustic guitar home recordings (River Crombie was not available on Tidal). A long time fave Simon Linsteadt dropped a new one too, so there's a really soft folk beginning to the playlist. Another big one this week is the new Sunny War album. Other great releases of the week came from Mol Sullivan, Daily Worker, KiDD, Robert Forster, Thorsten Nesch (EP), Jarrod Dickenson, Graham Nicholas, Kayla Von Der Heide (not on Tidal), Mark Erelli, Jonas Friddle (Not on Tidal), Hamish Hawk, Tiny Microhphone, Scott Ballew (EP), Brit Taylor, Lily Monaghan (EP) and Dina Ögon.
And finally the international singles. I love that new one from CARLENE and I can't wait to hear the new album later this year (This was not on Tidal). Same can be said about The Reds, Pinks and Purples. There's also more greatness from the forthcoming Iris DeMent album. Other early favorites came from Rose City Band (not on Tidal), Sam Burton, Peg, Wila Frank, Ducks Ltd, Ellie Turner, The Altons, Dillon Warnek, Shana Cleveland and Jana Horn. Again just to name a few and something I didn't mention here might end up being the one I love the most.
That's all for this week. Like, share, follow and all the usual promotional nonsense. Love from a distance.
1. Stella Kola – Free Afternoon (Stella Kola, 2023)
2. River Crombie – Finally Clear (Horizons, 2023)
3. Simon Linsteadt – Seahaven (Mud Season, Stormy Deep Records, 2023)
4. CARLENE – When Will You Put That Boat in the Water (single, 2023)
5. Sunny War feat David Rawlings – Shelter and Storm (Anarchist Gospel, New West Records, 2023)
6. Mol Sullivan – A Little Hello (A Little Hello, Ruination Record Co, 2023)
7. KiDD – Cloudy With a Chance (Hang On To Your Cloud, Zenzerino Records, 2023)
8. Daily Worker – Autofiction (Autofiction, Bobo Integral, 2023)
9. Robert Forster – The Roads (The Candle and the Flame, Tapete Records, 2023)
10. Thorsten Nesch – Hey Jazz (Nothing misses you (Nothing misses you EP, Polterzeitgeist Records, 2023)
11. Jarrod Dickenson – Born to Wonder (BIG TALK, Hooked Records, 2023)
12. Graham Nicholas – Side of the Road (Black Creek, 2023)
13. Mark Erelli – Break in the Clouds (Lay Your Darkness Down, Soundly, 2023)
14. Kayla Von Der Heide – Waiting (Where It Feels Like Home, 2023)
15. Jonas Friddle – You May Leave, But This Will Bring You Back (Jug Band Happy Hour, 2023)
16. Iris DeMent – How Long (single, Songs of Iris, 2023)
17. Hamish Hawk feat Samantha Crain – Rest & Veneers (Angel Numbers, Post Electic, 2023)
18. The Reds, Pinks and Purples – Too Late For an Early Grace (single, Tough Love, 2023)
19. Ducks Ltd feat Ratboys and Mo Troper – Invitation (single, Carpark Records, 2023)
20. Rose City Band – Chasing Rainbows (single, Thrill Jockey Records, 2023)
21. Sam Burton – Maria (single, Partisan Records, 2023)
22. Ilmi Lupiini Martti – Enneunia (Enneunia EP, 2023)
23. Janne Laurila – Maantie (single, Soit Se Silti, 2023)
24. Sepä juuri – Yö kutsuu (single, 2023)
25. Rock Siltanen Group – Conan Barbaari (single, Rockia ja Sporttia, 2023)
26. Vino Puu – Ihmeellinen ilta (single, 2023)
27. Laura Moisio – Päätös (Vieras maa, Texicalli Records, 2023)
28. Pastis – Hoover Street (Pastis, Stupido Records, 2023)
29. Waver – Girl (single, Soft Monsters, 2023)
30. Peg – Bind Me With Believing (single, Ruination Record Co, 2023)
31. Wila Frank – Ghosts & Guitars (single, 2023)
32. Tiny Microphone – Back Then (Other Cities, Littlemusic, 2023)
33. The High Water Marks – Trouble from the East (single, Minty Fresh, 2023)
34. Bec Stevens – James Song (single, Damaged Records, 2023)
35. Ryan Allen and His Extra Arms – Start a Band (single, 2023)
36. Mike Viola – Paul McCarthy (single, Lojinx, 2023)
37. Dolour – Have I Finally Gone Insane (single, 2023)
38. Jeff Tweedy – Union Maid (single, A24 Music, 2023)
39. Scott Ballew – Middle Age Crazy (Middle Age Crazy EP, Leisure Rodeo, 2023)
40. Dillon Warnek feat Lindsay Tomlinson and Luke Pelletier – Arkansas Divorces (single, Soggy Anvil Records, 2023)
41. Brit Taylor – Love's Never Been That Good to Me (Kentucky Blue, Cut a Shine Records / Thirty Tigers, 2023)
42. Lily Monaghan – Let Me Kiss You (Introspection EP, 2023)
43. Karly Driftwood – Great Day to Fly (single, Rat Records, 2023)
44. Ellie Turner – One More Day (single, Muhly Grass Records, 2023)
45. The Panhandlers feat Kaitlin Butts – Valentine, For Valentines (single, 2023)
46. The Shootouts feat Ray Benson and Asleep at the Wheel– One Step Forward (single, Soundly, 2023)
47. The Ferdy Mayne / Turner Porter – Diver (single, Greater Peaks, 2023)
48. Bonny Light Horseman – Once on Another Day (single, 37d03d, 2023)
49. Ben de la Cour – Appalachian Book of the Dead (single, Jullian Records, 2023)
50. The Altons – Float (single, Penrose Records / Daptone Records, 2023)
51. Dina Ögon – Bakom Glaset (Oas, Playground Music, 2023)
52. Jana Horn – After All This Time (single, No Quarter Records, 2023)
53. Shana Cleveland – A Ghost (single, Hardly Art, 2023)
54. Black Belt Eagle Scout – Spaces (single, 2023)
55. Dana Gavanski – My Thoughts (single, Full Time Hobby, 2023)
56. Jen Cloher – My Witch (single, Marathon Artists, 2023)
57. Good Good Blood – When Your Wings Get Light (single, Fox Food Records, 2023)
58. William Harries Graham – Henry (single, Redstart Records, 2023)
59. Poiny Bradshaw – A Duffel, A Grip, And My D35 (North Georgia Rounder, Black Mountain Music / Soundly, 2023)
60. H.C. McEntire – Gospel of a Certain Kind (Every Acre, Merge Records, 2023)
Oh and do buy the vinyl/cd/download. Spotify and other streaming services are perfect for these introductory purposes, but try to buy at least the music that matter the most to you
I'll make the playlist on Spotify and then transfer it to Tidal. This means a few tracks might be missing from the Tidal version, if they are not available on that platform. Usually it's 1-3 tracks that are not on Tidal. There's a bunch of older episodes on my Spotify profile, if you miss an episode or want to revisit.
If you are looking this after a week has gone, the embedded Spotify will show the latest playlist. I'll just update the same playlist because if someone wants to follow it, they can just follow that one list and will get a new set of songs each weekend.