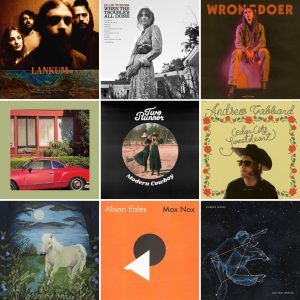 A lot of music this week and not a whole lot of time. Here's a quick round up of things I managed to find.
The Reds, Pinks and Purples and Andrew Gabbard are my albums of the week. Big fan of both and the new albums sound marvellous on quick listen. This week we also got new releases from Jake Paleschic, Two Runner, Ellie Turner, Dom Flemons, Lankum, Stephen Wilson Jr, Jerry Leger (cover EP), The Wynntown Marshals (EP), EP's Trailer Park, Darren Jessee, Pelvis Wrestley, DAZY (EP), Chris Picco, The Sprouts, Alison Eales, Oscar Lush, Yours Are the Only Ears, Kyle Chason (EP) and Steve Dawson.
Not a whole lot on the Finnish release calendar or I didn't get the memo. I don't have any albums on the list, but there's great singles from Tams, Of Wild, Rami Vierula and Rakkaudella Janne (this last one is a week old). Also revisiting last week's big album releases from Otto Mikkola and Maustetytöt.
The song of the week is the first single from the forthcoming Dean Johnson album that will be released by Mama Bird Recording Co in May. I love this song and can't wait to hear the full album in a couple of months. Other early single faves came from Josienne Clarke, Kyle Cox, Wednesday, Michael Cormier-O'Leary and Durand Jones. Again just to name a few.
That's all for now. Like, share, follow and all the usual promotional nonsense. It all matters. See you tomorrow in Helsinki. Courtney Marie Andrews will playing at On the Rocks. Love from a distance.
1. The Reds, Pinks and Purples – Leave It All Behind (The Town That Cursed Your Name, Tough Love / Slumberland, 2023)
2. Andrew Gabbard – Take Me Away From You (Cedar City Sweetheart, Karma Chief Records / Colemine Records, 2023)
3. Jake Paleschic – Painting in Ashes (Wrongdoer, Niles City Records, 2023)
4. Two Runner – Modern Cowboy (Modern Cowboy, 2023)
5. Ellie Turner – Holyoke (When The Trouble's All Done, Muhly Grass Records, 2023)
6. Dom Flemons – If You Truly Love Me (Traveling Wildfire, Smithsonian Folkways Recordings, 2023)
7. Stephen Wilson Jr. feat Hailey Whitters – American Gothic (bon aqua EP, Big Loud Records, 2023)
8. Jerry Leger – The Law (Latent Uncovers EP, Latent Recordings, 2023)
9. The Wynntown Marshals – The End of the Golden Age (Through the Hurricane EP, 2023)
10. EP's Trailer Park – Once When We Were Birds (Once When We Were Birds, Ella Ruth Institutet, 2023)
11. Dean Johnson – Faraway Skies (single, Mama Bird Recording Co, 2023)
12. Josienne Clarke – Words Were Never the Answer (single, Corduroy Punk, 2023)
13. Kyle Cox – Who Cares (single, 2023)
14. Darren Jessee – Getting Close (Central Bridge, Bar None Records, 2023)
15. Chris Picco – Split Down the Middle (Split Down the Middle, LDR Music, 2023)
16. The Sprouts – Go Back Again (Eat Your Greens, Tenth Court, 2023)*
17. DAZY – Every Little Thing (OTHERBODY, Lame-O Records, 2023)
18. Pelvis Wrestley – Laurels (Vortexas Forever, Earth Libraries, 2023)
19. Alison Eales – Negligence (Mox Nox, Fika Recordings, 2023)
20. Wednesday – TV in the Gas Pump (single, Dead Oceans, 2023)
21. Michael Cormier-O'Leary – Letter From Alan (single, Dear Life Records, 2023)
22. Triptides – Thought Collector (single, Curation Records, 2023)
23. Mya Byrne & Paisley Fields – Burn This Statehouse Down (single, Kill Rock Stars, 2023)
24. Durand Jones – That Feeling (single, Dead Oceans, 2023)
25. Thee Sacred Souls – Running Away (single, Penrose Records, 2023)
26. Ironsides – The Web (single, Colemine Records, 2023)
27. Of Wild – Illusions (single, Bianca-Pop Music, 2023)
28. Tams – Kittilä (single, 2023)
29. Rami Vierula – Lennokki (single, 2023)
30. Rakkaudella Janne – Kirjailtua angoravillaa (single, Jämädiili Records, 2023)
31. Teenage Tom Petties – Posters (single, Safe Suburban Home / Repeating Cloud, 2023)
32. Pia Fraus – French Exit (single, Seksound Record Label, 2023)
33. Lankum – Newcastle (False Lankum, Rough Trade, 2023)
34. Oscar Lush – Best Be Warned (Time Away From Life, Restless Srping Records, 2023)
35. Yours Are the Only Ears – Dreamer (We Know the Sky, Lame-O Records, 2023)
36. L Con – The Isolator (single, Idee Fixe Records, 2023)
37. Dave Scanlon – Why Do You Ask? (single, 2023)
38. Dominic Billett – Teach (single, Perpetual Doom, 2023)
39. Ken Yates – Ordinary Life (single, Soundly, 2023)
40. Opal Eskar – And Yet Love Rules (single, Spiral Valley, 2023)
41. Eilen Jewell – Lethal Love (single, Signature Sounds Recordings, 2023)
42. Caleb Elliott – Sister (single, Single Lock Records, 2023)
43. The Teskey Brothers – Take My Heart (single, Decca, 2023)
44. Rissi Palmer & Miko Marks – Still Here (single, 2023)
45. Raye Zeragoza – Who Do You Think You Are (single, Rebel River Records, 2023)
46. Roseanne Reid – Call It Love (single, Last Man Music, 2023)
47. Vilma Flood feat Loney Dear – All Nighter (single, Startracks, 2023)
48. Starpainter – Low-Hanging Fruit (single, Neon Moon Records, 2023)
49. Tomten – Ursula (single, Plume Records, 2023)
50. Fruit Bats – We Used to Live Here (single, Merge Records, 2023)
51. Maya Elise and The Good Dream – Chamomile (single, 2023)
52. Lyndsay Stone – A Couple Seeds (single, 2023)
53. Will Fox – Longing For You (single, Twosyllable Records, 2023)
54. The Hackles – Angela (single, Jealous Butcher Records, 2023)
55. The High Water Marks – Let's Hang Out Forever (single, Minty Fresh, 2023)
56. The Speedways – Tell Me I'm Wrong (single, 20239
57. Country Westerns – Grapefruit (single, Fat Possum Records, 2023)
58. Nathan Seeckts – The Wildest Thing (single, Checked Label Services, 2023)
59. Ags Connolly – Headed South for a While (single, Finstock / At The Helm, 2023)
60. Luke Callen – Lake Street Hustle (single, Milkweed Records, 2023)
61. Kyle Chason – No More Bloodshed (Kyle Chason & The High Desert Sons, 2023)
62. Steve Dawson – Let Him Go On Mama (Eyes Closed, Dreaming, Black Hen Music, 2023)
63. Jim Ghebi & Toby Hay – Swale Song (single, Proper Records, 2023)
64. Otto Mikkola – Terveiset kotiin (Otto Mikkola, Harava Records, 2023)
65. Maustetytöt – Pidä hyvänäs multasi kotimaa (Maailman onnellisin kansa, Is This Art! 2023)
Oh and do buy the vinyl/cd/download. Spotify and other streaming services are perfect for these introductory purposes, but try to buy at least the music that matter the most to you
I'll make the playlist on Spotify and then transfer it to Tidal. This means a few tracks might be missing from the Tidal version, if they are not available on that platform. Usually it's 1-3 tracks that are not on Tidal. There's a bunch of older episodes on my Spotify profile, if you miss an episode or want to revisit.
If you are looking this after a week has gone, the embedded Spotify will show the latest playlist. I'll just update the same playlist because if someone wants to follow it, they can just follow that one list and will get a new set of songs each weekend.