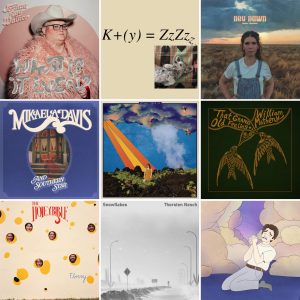 Another very quick summer edition of the new music weekly. After this it's (unfortunately for me) back to normal routine, because the vacation is over and day job waits. I'm sure there's a lot missing, because live music took my time again.
Beth Bombara and William Matheny can share the album of the week title. We also got new albums from Mikaela Davis, Fanny Lumsden, Joshua Ray Walker (covers), Chris Farren, Florry, Thorsten Nesch (EP), Crossed Wires (EP), Josienne Clarke (acoustic EP).
From Finland there's albums from Kuningas Yrjö and Lettoman plus singles from Modem, Amuri, Kari Tapiiri and Tanssiva Karhu.
Some early favorite international singles came from Amber Rae Slade, Will Johnson, Charles Wesley Godwin, Vanity Mirror, Hurry, Maybel, Carla Geneve and Diners. Just to name a few. I've barely listened what I included this time around, so I'll need to listen this thoroughly myself too.
That's all for now. Like, share, follow and all the usual promotional nonsense. It all matters. Hopefully better job (well hobby) next week, because I will have more time to listen to new music. Unless I find myself on some festival again. Who knows. But yeah, business as usual at least until 250 episodes. Love love love.
1. William Matheny – Every Way to Lose (That Grand, Old Feeling, Hickman Holler Records / Thirty Tigers, 2023)
2. Beth Bombara – Carry the Weight (It All Goes Up, Black Mesa Records, 2023)
3. Mikaela Davis – The Pearl (And Southern Star, Kill Rock Stars, 2023)
4. Fanny Lumsden – Great Divide (Hey Dawn, Cooking Vinyl Australia, 2023)
5. Joshua Ray Walker – Nothing Compares 2 U (What Is It Even? Soundly, 2023)
6. Florry – ILYILY (The Holey Bible, Dear Life Records, 2023)
7. Will Johnson – Sinker, Sinking (single, Keeled Scales, 2023)
8. Charles Wesley Godwin – Family Ties (Family Ties Sampler, Big Loud Records, 2023)
9. Amber Rae Slade – Everything More Beautiful Because We're Doomed (single, Heartland Music Australia / Checked Label Services, 2023)
10. Jaime Wyatt – World Worth Keeping (single, New West Records, 2023)
11. Chris Farren – First Place (Doom Singer, Polyvinyl, 2023)
12. Diners – Someday I'll Go Surfing (single, Bar None Records, 2023)
13. Vanity Mirror – Through the Wood, Across the Snow (single, Puff Musique, 2023)
14. Hurry – Something More (single, Lame-O Records, 2023)
15. Uni Boys – I Want it Too (single, Curation Records, 2023)
16. Drew Beskin – Revenge Body (single, Super Canoe / We Bought a Zoo, 2023)
17. Carla Geneve – Bills (single, Dot Dash Recordings, 2023)
18. Maybel – Long Road Ahead (single, Idee Fixe Records, 2023)
19. Leah Senior – The Music That I Make (single, Poison City Records, 2023)
20. Thorsten Nesch – Snowflakes (Snowflakes EP, Polterzeitgeist Records, 2023)
21. Jerry David DeCicca – Manzanita Bay (single, 2023)
22. Kuningas Yrjö – Stålarminkadulla (K+(y)=ZzZz, Äänetön, 2023)
23. Markus Krunegård – Maybe / Mayday (single, All That Plazz, 2023)
24. Modem – Un Chant d'amour (single, 2023)
25. Amuri – Patakakkonen (single, Helmi Levyt, 2023)
26. Tanssiva Karhu – 5.45 (single, Alakulttuuritalo, 2023)
27. Kari Tapiiri – Elämä (single, Helmi Levyt, 2023)
28. Lettoman – Asemalta asemalle (Amerikka, Lettoman Records, 2023)
29. Jacksonport – Ash to Ash (single, Ay Caramba Records, 2023)
30. Jacob Furr – Not that Bad (single, 2023)
31. Corinne Sharlet – Birds Flying Free (single, 2023)
32. Jobi Riccio – Lonely Tonight (single, Yep Roc, 2023)
33. Josienne Clarke – Bells Ring Acoustic (Only Me Onliness EP, 2023)
34. Dolly Valentine – Romantic Fool (single, Holy Golden Music, 2023)
35. Nat Vazer – Rumours (single, Perpetual Doom, 2023)
36. Ratboys – Crossed that Line (single, Topshelf Records, 2023)
37. Crossed Wires – Rain (Ellipsis EP, Noyes Records, 2023)
38. Roger Joseph Manning Jr. – Rockin' It Our Way (single, Omnivore Recordings, 2023)
39. Bewilder – Breaking (single, Tiny Engines, 2023)
40. Superviolet – Waver (single, Lame-O Records, 2023)
41. Colin Miller – Don't Love You No More (single, Ruination Record Co, 2023)
42. Wilco – Evicted (single, dBpm Records, 2023)
43. Dream Sitch – Guessing While it Goes Around (single, Airloom 2023)
44. Nina de Vitry – Wrong Thing (single, 2023)
45. Hiss Golden Messenger – 20 Years and a Nickel (single, Merge Records, 2023)
46. Jacob Aranda – Strangers in a Field (single, Speakeasy Studios SF, 2023)
47. Malena Cadiz – Easy (single, 2023)
48. Mark Fredson – Change for Me (single, 2023)
49. Logan Ledger – All the Wine in California (single, Rounder Records, 2023)
50. Turnpike Troubarous – Brought Me (single, Bossier City Records / Thirty Tigers, 2023)
Oh and do buy the vinyl/cd/download. Spotify and other streaming services are perfect for these introductory purposes, but try to buy at least the music that matter the most to you
I'll make the playlist on Spotify and then transfer it to Tidal. This means a few tracks might be missing from the Tidal version, if they are not available on that platform. Usually it's 1-3 tracks that are not on Tidal. There's a bunch of older episodes on my Spotify profile, if you miss an episode or want to revisit.
If you are looking this after a week has gone, the embedded Spotify will show the latest playlist. I'll just update the same playlist because if someone wants to follow it, they can just follow that one list and will get a new set of songs each weekend.