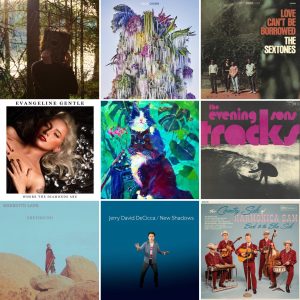 Another very crowded release week. No chance for one man to cover all that during one weekend, but here's my best effort.
My album of the week is the new from The Evening Sons. What a wonderful power pop blast right there. New Evangeline Gentle and Jerry David DeCicca albums were also high on my list. Wilco is obviously the big one, but I don't usually start with the household names and therefore I have barely scratched the surface there. I will get to it eventually and most likely will really like it. We also got albums from Colin Miller, Omar Velasco, Maria Elana Silva, Meredith Lane, The Country Side of Harmonica Sam, Lindsay Lou, Ross Cooper, Jack Browning, Jerry Joseph, Mojohand, Casey Neill & The Norway Rats, No-No Boy, Roberta Lea, Thorsten Nesch (EP), The Small Intestines, Jim Rioux (EP), John P. Strohm, CJ Stranger, Kurt Baker, The Sextones and Say She She. Oh yeah and then there's that Setting album. Probably great, but didn't include it here because I'm not sure does that really work on a playlist. But check it out for sure.
Finnish sections starts with the gorgeous new album releases from Tinyhawk & Bizzarro and Ahti Kulo. Then we have some awesome singles too like the return of Kaspar and a debut from new band called Oho! Other great Finnish singles came from Pambikallio, Antti Autio, Suudelmat and Kaino Kim Vieno.
International singles are again buried on the second half of the playlist due to the sheer amount of album releases. Steven van Betten's new song can be the song of the week, because it's just a lovely and I love that. Other early faves came from Bry Webb, BenBen, Kacey Johansing, Jerry Leger, Dylan LeBlanc, Kelly Hunt and Duff Thompson. Again just to name a few. I haven't really had a lot of time to listen yet, so who knows what become the biggest faves.
That's all for now. Like, share, follow and all the usual promotional nonsense. It all matters. Next up Jason Ringenberg live here in Turku. See you local folks there. Back here next week with another episode of this new music project. Love and empathy.
1. The Evening Sons – Morning Serenade (Tracks, Curation Records, 2023)
2. Colin Miller – Fallin (Haw creek, Ruination Record Co, 2023)
3. Evangeline Gentle – Bad Kids (Where the Diamonds Are, 2023)
4. Jerry David DeCicca feat Aquilles Navarro – Angelina (New Shadows, 2023)
5. Omar Velasco – Well Dressed (Like the Fruit Falls from the Tree, Inner Cult Records, 2023)
6. Maria Elena Silva – Narrowed (Dulce, Astral Spirits Records & Big Ego Records, 2023)
7. The Country Side of Harmonica Sam – More Habit than Desire (Back to the Blue Side, Sleazy Records, 2023)
8. Meredith Lane – Gas Station Baby (Greyhound, American Standard Time Records, 2023)
9. Ross Cooper – Love Like the Old Days (Lightning Heart, 2023)
10. Roberta Lea – Dinner, Sunset, Nina Simone (Too Much of a Woman, Heaven Lea Records, 2023)
11. Jack Browning – Dog Tired (Red Eye Radio, R&D Productions, 2023)
12. Lindsay Lou feat Billy Strings – Nothing's Working (Queen of Time, Kill Rock Stars Nashville, 2023)
13. No-No Boy – Nashville (Empire Electric, Smithsonia Folkways Recordings, 2023)
14. Jerry Joseph – Loving Kindness (Baby, YOu're the Man Who Would Be King, Cosmo Sex School Records, 2023)
15. Mojohand – The Town I'm From (Moving On, Mojohand Records, 2023)
16. Casey Neill & The Norway Rats – The Ones You Ride With (Sending Up Flares, Fluff & Gravy Records, 2023)
17. Wilco – Levee (Cousin, dBpm Records, 2023)
18. John P. Strohm – Ready for Nothing (Something to Look Forward To, Propller Sound Recordings, 2023)
19. CJ Stranger – Coming Up for Air (Coming Up For Air, 2023)
20. The Small Intestines – Chimes of Love (Hide in Time, Lost and Lonesome / Meritorio, 2023)
21. Kurt Baker – Not Right (Rock'n'Roll Club, Wicked Cool Records, 2023)
22. Jim Rioux – Bridges (Mercury EP, Forest Route, 2023)
23. Thorsten Nesch – Let Me Have One Dream (Let Me Have One Dream, Polterzeitgeist Records, 2023)
24. The Sextones – This Could Last Forever (Love Can't Be Borrowes, Record Kicks, 2023)
25. Say She She – Passing TIme (Silver, Karma Chief Records / Colemine Records, 2023)
26. Tinyhawk & Bizzarro – Manuru (Nekorok, Humu Records, 2023)
27. Ahti Kulo – Polte (Ja niin mekin katoamme, Need Money for Records, 2023)
28. Oho! – Patetia (single, Oho! Music, 2023)
29. Pambikallio – Kukkaniityllä (single, Helmi Levyt, 2023)
30. Antti Autio – Norja (single, Soit Se Silti, 2023)
31. Suudelmat – Kun kuolen mitä tapahtuu (single, Suru Records, 2023)
32. Kaino Kim Vieno feat Karin Mäkiranta – Suez (single, Minna Records, 2023)
33. Kaspar – Who Am I (single, Inspiration Recordings, 2023)
34. BenBen – Color Clouds (single, Perpetual Doom, 2023)
35. Jonas Lundvall – Coming Up for Air (single, Wallpaper, 2023)
36. Kacey Johansing – Old Friend (single, Night Bloom Records, 2023)
37. Steven van Betten – Surrounded By All These Beautiful People I Love (single, Future Gods, 2023)
38. Bry Webb – Modern Mind (single, Idee Fixe Records, 2023)
39. Jerry Leger – Slow Night in Nowhere Town (single, Latent Recordings, 2023)
40. Dylan LeBlanc – Coyote (single, ATO Records, 2023)
41. The Bones of J.R. Jones – Animals (single, Tone Tree Music, 2023)
42. Duff Thompson – Up and Go (single, Mashed Potato Records, 2023)
43. Bonnie Montgomery – River (single, Gar Hole Records, 2023)
44. Kelly Hunt – Lost Highway (single, Compass Records, 2023)
45. Jaime Wyatt – Althea (single, New West Records, 202)
46. Elijah Ocean – Sober October (single, 2023)
47. Ken Pomeroy – Pareidolia (single, 2023)
48. Dylan Smucker – Angel in My Dreams (single, 2023)
49. David Garnham and the Reasons to Live – Bury Me in Darwin (single, 2023)
50. Goodnight, Texas feat Kirk Hammett – Runaways (single, 2 Cent Bank Check, 2023)
51. Leslie Stevens – Secrets (single, Soundly, 2023)
52. Tedo Stone – COV Blues (single, Super Canoe, 2023)
53. Heffner – Tommy (single, 2023)
54. Elijah Johnston – 8am (single, Strolling Bones Records, 2023)
55. Sun June – Mixed Bag (single, Run for Cover Records, 2023)
56. Carla Geneve – Drive Carefully (single, Dot Dash Recordings, 2023)
57. Jacob Miller – I Want You Back (single, 2023)
58. Louie Short – Good to Me (single, 2023)
59. Chris Brain – Please (single, Big Sun Records, 2023)
60. Wila Frank – Falling Hours (single, Tone Tree Music, 2023)
61. Kacie Hill – Slow Moving (single, 2023)
62. Farmer Dave & The Wizards of the West – Flesh and Blood (single, Curation Records, 2023)
63. Brown Horse – Stealing Horses (single, Loose Music, 2023)
64. Sammy Kay – California (single, 2023)
65. Brian Sumner – Losing You (single, 2023)
66. Katsy Pline – Lost and Lonesome Too (Incandescent Fire, Take a Turn Records, 2023)
67. Lydia Loveless – Summerlong (Nothing's Gonna Stand My Way, Bloodshot Records, 2023)
68. Jeff Moller feat Indianna Hale – Garden (Sigh Baby, Royal Oakie Records, 2023)
69. Hulda Huima – Hurjat tuulet (Muurahaiset nukkuu, Minna Records, 2023)
70. Teenage Fanclub – I Will Love You (Nothing Lasts Forever, PeMa, 2023)
Oh and do buy the vinyl/cd/download. Spotify and other streaming services are perfect for these introductory purposes, but try to buy at least the music that matter the most to you
I'll make the playlist on Spotify and then transfer it to Tidal. This means a few tracks might be missing from the Tidal version, if they are not available on that platform. Usually it's 1-3 tracks that are not on Tidal. There's a bunch of older episodes on my Spotify profile, if you miss an episode or want to revisit.
If you are looking this after a week has gone, the embedded Spotify will show the latest playlist. I'll just update the same playlist because if someone wants to follow it, they can just follow that one list and will get a new set of songs each weekend.