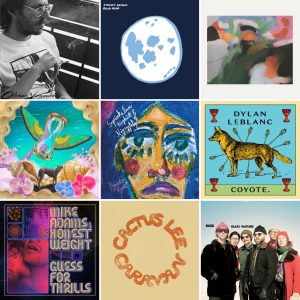 The album of the week is the new Dylan LeBlanc album for two great reasons. First and foremost, it's a damn good album. Secondly, he will actually starts his European tour here in Finland next week. He will play in Tampere, Telakka on the 28th and in Helsinki, On the Rocks on the 29th. Extremely highly recommended. Both the record and the upcoming concerts.
There's plenty of other great releases too. Maybe Sun June and Stanley Brinks are at the top of my list, but we also great new ones from Matt Moran (EP), Dusk, Mike Adams at His Honest Weight, Tedo Stone, Cactus Lee, Ha Ha Tonka, Steph Green, Dylan Rodrigue, Katie Von Schleicher, Maya De Vitry (EP), Israel Nash, Malena Cadiz, Gracie Lane, Dylan Lancaster and Malin Pettersen.
Awesome Finnish release week as well led by the new Sepänkadun Köyhät ja Nöyryytetyt album. We also got excellent albums from Pambikallio and Jarkko Martikainen plus an EP from Suonio & Taskinen. A few gorgeous singles from Aavikko feat Nicole Willis and Karlo Haapiainen & Varaslähtö. Oh and I missed a couple of things last week. These are album from Vimma and single from Tyynyt. That Tyynyt single was a really bad miss, because it's such a wonderful song.
The international single of the week is obviously the first single from the next Willi Carlisle album. Love that guy. Other early faves came from Zach Russell, Andrew Bryant, Vincent Neil Emerson, Charley Crockett, Evan Cheadle, Thomas Walsh, Michael Nau and Bastards of Soul. Again just to name a few.
That's all for now. Like, share, follow and all the usual promotional nonsense. Maybe we'll see in Helsinki next Sunday at the Dylan LeBlanc concert. But most likely another episode of this new music weekly before that. Until then. Love and empathy.
1. Dylan LeBlanc – Dust (Coyote, ATO Records, 2023)
2. Matt Moran – The Boy Who Looked Like Elvis (Oklahoma Vernacular EP, Broken Tenor Records, 2023)
3. Dusk – Be Nice To Me All Day Long (Glass Pastures, Don Giovanni Records, 2023)
4. Sun June – Sage (Bad Dream Jaguar, Run For Cover Records, 2023)
5. Stanley Brinks – Good Moon (Good Moon, Fika Recordings, 2023)
6. Mike Adams at His Honest Weight – Pyramid Schemes (Guess For Thrills, Joyful Noise, 2023)
7. Tedo Stone – Hard Rock Cruise (Back 9 of Life, Super Canoe, 2023)
8. Dylan Rodrigue – 30 on 2 (Entropy, kid vommit, 2023)
9. Ha Ha Tonka – Tired and Stuck (BloodRedMoon, 2023)
10. Cactus Lee – River Rhone (Caravan, 2023)
11. Steph Green – Last Seance (Lore, 2023)
12. Katie Von Schleicher – Bottle It? (A Little Touch of Schleicher in the Night, Sipsman, 2023)
13. Maya De Vitry – Baby Elephants (Infinite EP, Mad Maker Studio, 2023)
14. Malena Cadiz – Whatever You Need (Hellbent & Moonbound, 2023)
15. Israel Nash – Pieces (Ozarker, Loose Music, 2023)
16. Dylan Lancaster – Kathy & Linda (Stressful Fantasy, 2023)
17. Gracie Lane – Watch it Fall Apart (Doing My Time, 2023)
18. Willi Carlisle – Critterland (single, Signature Sounds, 2023)
19. Sierra Ferrell – Fox Hunt (single, Rounder Records, 2023)
20. Charley Crockett – Killers of the Flower Moon (single, Son of Davy, 2023)
21. Zach Russell – Milk & Honey (single, Carlboro Records / Thirty Tigers, 2023)
22. Vincent Neil Emerson – The Golden Crystal Kindgom (single, La Honda Records / RCA Records, 2023)
23. Andrew Bryant – Shiloh (single, Sentimental Noises, 2023)
24. Suonio & Taskinen – Huijaat vieläkin (Selväpiirteinen EP, Ya Ya Records, 2023)
25. Jarkko Martikainen – Tahdon saada sen verran kuin antaa voit (Itse tehty elämä, Sakara Records, 2023)
26. Sepänkadun Köyhät ja Nöyryytetyt – Hyvästit pojille (Hyvästit pojille, Panama-levyt, 2023)
27. Pambikallio – Sydämenhaikeus (Parc de Pambi, Helmi Levyt, 2023)
28. Vimma – Kielot (Tornadon silmässä, Nordic Notes, 2023)
29. Aavikko feat Nicole Willis – Space Disco Muysic (single, Soit Se Silti, 2023)
30. Tyynyt – Taivaalla kaupungin kangastus (single, Nefer Maglev, 2023)
31. Karlo Haapiainen & Varaslähtö – Lex Amor (single, Helmi Levyt, 2023)
32. Bastards of Soul – You Let Me Down Again (single, Eastwood Music Group, 2023)
33. Wesley Bright – Six Minute Mile (single, Palmetto Street Recording Co, 2023)
34. Pale Jay & Chris Keys – Share a Dream (single, Mello Music Group, 2023)
35. Michael Nau – Shiftshaping (single, Karma Chief Records, 2023)
36. Evan Cheadle – I've Been Fooling You (single, Victory Pool, 2023)
37. Bry Webb – Outbound Only, No Return (single, Idee Fixe Records, 2023)
38. Pheribee – Placate the Atmosphere (single, 2023)
39. Wojtek the Bear – Second Place on Purpose (single, Last Night From Glasgow, 2023)
40. Thomas Walsh – We Knew (single, Curation Records, 2023)
41. Summer Set – Center of Attention (single, Fort Lowell Records, 2023)
42. Ducks Ltd – The Main Thing (single, Carpark, 2023)
43. Emmett Morris – Take You Down to Vegas (single, 2023)
44. Skyway Man – Winds (single, Mama Bird Recording Co, 2023)
45. The Maureens – Rainy Day (single, Meritorio Records, 2023)
46. Mightmare – Killer Killer (single, Kill Rock Stars, 2023)
47. Wila Frank – The Returning Dream (single, Tone Tree Music, 2023)
48. Malin Pettersen – Trouble Finding Words (Trouble Finding Words, Die With Your Boots On, 2023)
49. Emma Geiger – All Your Words (single, 2023)
50. Ana Egge – Last Day of Our Acquaintance (single, StorySound Records, 2023)
51. Chelsea Rose – Bittersweet Relief (single, Paul is Dead Records, 2023)
52. Jeremy Squires – Vampires (single, Blackbird Record Label, 2023)
53. Sinai Vessel – Birthday (single, 2023)
54. Fever Feel – Polish the Plastic (single, 2023)
55. John Blek & The Broken Strings – The City Sleeps (single, Bigger River Recording Co, 2023)
56. Dusty Stray – Happiness Strikes (single, Great Waters, 2023)
57. Blue Stoplights – Fistful (single, 2023)
58. Charlie Hill – Hackensack (single, 2023)
59. Melissa Erin – He'll Love Me Tomorrow (single, 2023)
60. Sean Burns – Before She Made Me Crawl (single, Department Store Records, 2023)
61. Bonnie Montgomery – I'll Know (single, Gar Hole Records, 2023)
62. Jaime Wyatt – Back to the Country (single, 2023)
63. Janne Tapion Sisäinen Avaruus – Kuori (Jättiläisen tasku, Eclipse, 2023)
64. Anna Hillburg – It Certainly Feels / Little Sister (Tired Girls, Speakeasy Studios SF, 2023)
65. Kacey Johansing – Watch It Like A Snow (Year Away, Night Bloom Records, 2023)
Oh and do buy the vinyl/cd/download. Spotify and other streaming services are perfect for these introductory purposes, but try to buy at least the music that matter the most to you
I'll make the playlist on Spotify and then transfer it to Tidal. This means a few tracks might be missing from the Tidal version, if they are not available on that platform. Usually it's 1-3 tracks that are not on Tidal. There's a bunch of older episodes on my Spotify profile, if you miss an episode or want to revisit.
If you are looking this after a week has gone, the embedded Spotify will show the latest playlist. I'll just update the same playlist because if someone wants to follow it, they can just follow that one list and will get a new set of songs each weekend.