Part one 40-31, Part two 30-21, Part three 20-11
10. The Posies: Blood/Candy
The greatest band in the world according to One Chord To Another made a most welcome return with this wonderful album. Sure I wished there would have been a little bit more distortion & grit on the record, but it doesn't change the fact that the album contains a huge amount of magnificent pop songs like The Glitter Prize and Take Care Of Yourself.
.
9. Sweatmaster: Dig Up The Knife
The finest Finnish rock band Sweatmaster was once again in top form. Dig Up The Knife introduced a little darker and heavier side of Sweatmaster. That might sound a little scary for a pop fan (well based on this list I probably should start calling myself country fan and not pop fan), but there was no need to be worried. I trusted them and they didn't let me down. Dig Up The Knife is awesome.
8. The Genuine Fakes: The Striped Album
Swedish The Genuine Fakes are a power pop band that hasn't forgotten the first word of the term. Power chords, catchy melodies, killer choruses and a lot of fantastic pop songs. Sure it might too typical power pop for some, but I don't mind at all. This is the kind of music I love the most and The Striped Album is a brilliant album. If you love 90's swedish power pop, you will love this one as well.
7. Elvyn: The Decline
I instantly fell in love with Canadian pop group Elvyn and it wasn't just a little crush. Our relationship has only gotten stronger during the year and The Decline is definitely one of the greatest pop albums of the year. Kind of like Teenage Fanclub with a little country influences. What a lovely, harmonic and extremely beautiful  pop album.
.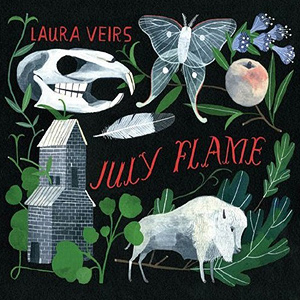 6. Laura Veirs: July Flame
This one came out already in january, but such a fabulous and magical album like July Flame can't and won't be forgotten. Laura Veirs made the finest album of her amazing career. She's such a wonderful songwriter and this time the production and arrangements also work perfectly. The album just sounds warm, rich, unique and colourful.  Intriguing music.
.
5. Teenage Fanclub: Shadows
Teenage Fanclub once again made a magnificent pop album. Especially Norman Blake really hit the jackpot. Baby Lee and When I Still Have Thee are future classics. Not that there was anything wrong with Gerald's or Raymond's output either. Songs like Shock and Awe and Past were almost equally perfect slices of pop heaven. Pretty much perfect pop music from start to finish. I also loved their concert at Nosturi, Helsinki.
4. Two Cow Garage: Sweet Saint Me
Probably the band I've listened to the most during the year. I bought the whole back catalog early in the year and in the autumn it was time for a brand new Two Cow Garage album. Sweet Saint Me turned out to be just as great as I had hoped. It's a fantastic rock album that causes a beautiful havoc in your heart. There's some acoustic beauties and power pop choruses as well. Micah Schnabel is a brilliant songwriter and a fabulous vocalist. Lydia is one of the songs of the year.
3. Penniless: A Cab To The City
A Cab To The City is the best finnish album of the year and should have gotten five hearts when I reviewed it. I don't know why I was such an ass back then and only gave four and a half. Penniless have always been fantastic, but this is their finest album so far. Extremely convincing stuff and full of stunning songs like The Missing and Hail Of Bullets. It definitely would be about time to make that pilgrimage to Nakkila.
[youtube=http://www.youtube.com/watch?v=7wIBlGviglI]
2. Micah Schnabel: When The Stage Lights Go Dim
The top two albums were in their own league. Of course someone could say that this #2 pick isn't eligible, because Micah Schnabel self-released this back in 2009. However, Suburban Home Records re-released it in 2010 to wider audiences and therefore it easily qualifies. If it's possible, I love this solo album When The Stage Lights Go Dim even more than I love Micah Schnabel's band Two Cow Garage. Micah is a real hardcore troubadour and he just sings his heart out. He is passionate, honest and truly convincing. Brutal views about the glory of touring life delivered with emotion-filled vocals. Marvellous stuff.
[youtube=http://www.youtube.com/watch?v=OnLlUozpWqc]
1. The Fox Hunt: Long Way To Go
And the album of the year award goes to… The Fox Hunt. In the end it was an easy decision. I'm just totally addicted to Long Way To Go and I love every second of it. It just feels so damn good to listen to it. Even during the times when the lyrics are heartbreaking. A string band playing old-time country music. Fiddle, mandolin, upright bass, banjo and guitar. That's what I love to hear. The best part is still the singing. Vocals and harmony vocals are amazing throughout the record. It just doesn't getting any better than this. Long Way To Go is a perfect album.
Listen to Troublemakin' Woman:
[audio:http://www.onechord.net/wp-content/uploads/2010/03/02-trouble-makin-woman.mp3]
Listen to Lower Than I Should Be:
[audio:http://www.onechord.net/wp-content/uploads/2010/03/10-lower-than-i-should-be.mp3]
Mountain Stage Interview:
[youtube=http://www.youtube.com/watch?v=VFUX8n23CQA]
That's it. Thanks for reading. If anyone actually red the whole long list. Hopefully someone did, because it took hours to make it. A lot of good records are missing from the list. I'm especially a little bit sad that I had to leave out lots of good Finnish albums. Maybe I should do separate top 20 lists for foreign and finnish albums instead, but somehow I prefer this method even though there won't be enough places for all good finnish albums. Anyway, that's all for now. I didn't buy enough EPs to make even a top 10, but I'll write something about the ones that I loved (=Nopat & Heartjet) before christmas. Best of Retro/reissue list will be coming after christmas. I will get a few of those for christmas present (I know because I bought them myself, heh) so I can't do it before that. Take care.