Part one 40-31, Part three 20-11, Part four 10-1
30. Justin Townes Earle: Harlem River Blues
Justin Townes Earle didn't totally amaze this time around, but Harlem River Blues was still a strong country album.  I suppose the only issue was that while like everything on the record, there's only a few things I really love. There's nothing that I love as much as I love some of his earlier songs like Lone Pine Hill for example. Nevertheless, Justin Townes Earle is still one of the best country troubadours.
29. Le Futur Pompiste: Le Futur Pompiste
It's true that I've lost touch with the indie pop world during the last couple of years. Maybe not completely, but time and money is limited and country music addiction has taken its toll. Listening to the new album by Le Futur Pompiste is a welcome reminder that I still have the need, hunger and love for beautiful indie pop. I still enjoy Le Futur Pompiste as much as I did back then in 2004 (?) when the debut album came out and I was completely addicted to all things Indiepages and Think Small recommended.
28. The .357 String Band: Lightning From The North
I gave this 4 and a half hearts in a review. At the moment, it feels that it was a little too much, but I'm still enjoying this a lot. Especially the song trio Oh, Adilene, Rags To Rags and The Days Engrave is magnificent and actually worth all five hearts. However, some of the high tempo "bluegrass meets punk" songs leave me exhausted. Perfect in small doses though.
27. Dylan LeBlanc: Paupers Field
New country singer-songwriter Dylan LeBlanc sound like Ryan Adams and made almost faultless debut album. Actually the only reason why I haven't completely fallen in love with the album is that somehow it sounds too faultless. If it had been an EP, I would be shouting his name from the rooftops. But a whole album full of slow, beautiful and carefully crafted country balladry starts to get a little boring at some point. A little bit of rock and a couple of rougher corners would have been refreshing. It doesn't change the fact that there's plenty of great songs like Emma Hartley and Paupers Field is a very convincing debut album.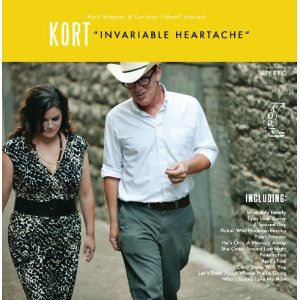 26. Kort: Invariable Heartache
One Chord To Another (well me) don't care much about cover albums, but this one is an exception to the imaginary rule. Kurt Wagner & Cortney Tidwell have dived into Chart Records' vaults and have given a new lifeline to some wonderful country songs. A really lovely album.
.
25. Turnpike Troubadours: Diamonds & Gasoline
It says 2009 now on the back cover of the album, but Turnpike Troubadours' website states that it was released on august 31st, 2010. I suppose that means I can add this wonderful country album called Diamonds & Gasoline to this list. This is pretty basic country stuff. Nothing I haven't heard  before. But damn, I just don't mind at all. Not when it's done as perfectly as this. 7 and 7 is one of the songs of the year.
24. Bookends: Proud Of My Stereo
Bookends' second album Proud Of My Stereo is a really delightful pop album. It's often piano/keys-driven pop music. It's full of details and clever arrangements. But always in the sake of the song. And the songs are of course mostly wonderful. Well done.
.
23. Ben's Diapers: Up In The Mountains, Deep In The Sea
The new Ben's Diapers album Up In The Mountains, Deep In The Sea was again a great reminder that they are one of the best alt.country / power pop bands in the country. Some great country rockers and some beautiful 70's influenced ballads. I just enjoy everything on the record.
.
22. Jim Bryson & The Weakerthans: The Falcon Lake Incident
Jim Bryson is one lucky fellow, because he has one of the best bands in the world as his backing band. Good for him. Good for us that Jim is also a really good songwriter. Together Jim and The Weakerthans have created a warm folk / folk rock album that also contains some beautiful pop moments.
.
21. Otis Gibbs: Joe Hill's Ashes
It took a while to get used to Otis Gibbs' rough voice, but after that I got addicted to his music. Otis is a wonderful folk & country singer-songwriter. The music is down-to-earth, honest and very convincing. You just sit & listen and believe every word that comes out. Let's close this chapter on the albums of the year list with Otis Gibbs's Kansas City.
[youtube=http://www.youtube.com/watch?v=mxSdvinf2ME]