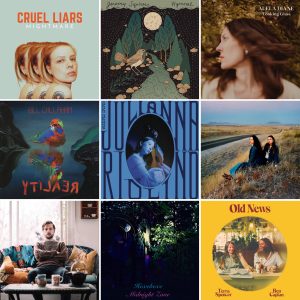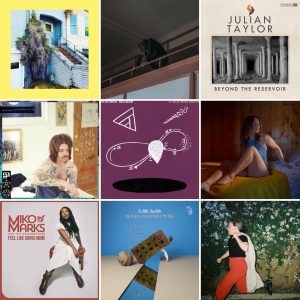 Another week, another new music weekly.
Still very much under the weather, so I'll keep this short. Not sure is this the same flu or did I caught something else, but I don't feel good at all.
Album of the week is the new one from Julianna Riolino. It could be the Sylvie album too, but it's mostly an expanded edition of the 2021 EP. And that was one of my favorite things last year and therefore I already knew the songs by heart. A big release week otherwise too and we got new greatness from Mightmare (Sarah Shook's other band), Plains, Bill Callahan, Jeremy Squires, M. Lockwoord Porter, Field Medic, Harmony Index (EP), Eliza Edens, Terra Spencer & Ben Caplan, Alela Diane, Stephen Becker, Julian Taylor, Miko Marks, Nicholas Mudd (EP), Logan Farmer, A.O. Gerber, The Lowest Pair & Small Town Therapy, Edith Judith, The Reds, Pinks and Purples, Wild Pink, Matthew J. Rolin, Ben Varian (EP), BATTS, Skullcrusher, Witch's Wall (EP), Rachael Dadd and Cory Branan.
Finnish hit of the week is the new Hexehexe album. That works as a Halloween soundtrack too, if you celebrate such a thing. We also got a great run of singles from Eden Prairie, Astrid Swan, Joose Keskitalo, Folkjykä & Kuntoutujat, Markus Perttula & Aini, Jere Ijäs & Monacon Työväen Palloilijat and Pastis. Oh and also included the other side of that Heta Narkaus double single I featured last week too.
The international single of the week is the new Bart single. Again a slice of melodic pop heaven from them. Some other early favorites came from Tommy Alexander, David Miner, Wild Earp, Joan Kelsey, Moriah Bailey and Model Shop. Again just to name a few.
That's it for this week. Like, share, follow and all the usual promotional nonsense. Sorry if I messed up or forgot something. My brain is full of fog. Now I'll crawl into some corner and try to heal myself. Hopefully I feel a bit better next week. Love from a distance.
1. Julianna Riolino – Isn't It a Pity (All Blue, You've Changed Records, 2022)
2. Mightmare – Red (Cruel Liars, Kill Rock Stars, 2022)
3. Plains – I Walked With You a Ways (I Walekd With You a Ways, ANTI, 2022)
4. Bill Callahan – The Horse (YTILAER, Drag City, 2022)
5. Jeremy Squires – Don't You Cry (Hymnal, Blackbird Record Label, 2022)
6. M. Lockwood Porter – First Reformed (Sisyphus Happy, Black Mesa Records, 2022)
7. Field Medic – Weekends (Grow Your Hair Long…. Run For Cover, 2022)
8. Sylvie – Falls On Me (Sylvie, Full Time Hobby, 2022)
9. Bart – Into (single, Idee Fixe Records, 2022)
10. Harmony Index – Remain (EP, 2022)
11. Eliza Edens – North to South (We'll Become the Flowers, Edens Sound, 2022)
12. Terra Spencer & Ben Caplan – Brick and Mortar (Old Friends,
13. Alela Diane – Of Love (Looking Glass, 2022)
14. Stephen Becker – Focus (A Calm That Shifts, 2022)
15. A.O. Gerber – Walk in the Dark (Meet Me at the Gloaming, Hand In Hive & Father/Daughter, 2022)
16. Logan Farmer – Cue Sunday Bells (A Mold For the Bell, Western Vinyl, 2022)
17. Julian Taylor – Moving (Beyond the Reservoir, Howling Turtle, 2022)
18. Tommy Prine – Turning Stones (single, Nameless Knight, 2022)
19. Nicholas Mudd – Lord Won't You Make a Bottle of Gin, Living and Dying EP, 2022)
20. Wild Earp – That Old Moth-Eaten Suit (single, Western Myth Records, 2022)
21. David Miner – Don't Turn Out the Lights (single, Potholes Records, 2022)
22. The Lowest Pair & Small Town Therapy – It Wished it was a Song (Horse Camp, Delicata Records, 2022)
23. Tommy Alexander – Feelings (single, Fluff & Gravy Records, 2022)
24. Eden Prairie – Misaligned (single, Coal Mountain Records, 2022)
25. Astrid Swan – In the Woods – Radio Edit (single, Soliti, 2022)
26. Hexehexe – Lizard Brain (Mdnight Zone, 2022)
27. Joose Keskitalo – Viestintuoja II (single, Helmi Levyt, 2022)
28. Folkjykä & Kuntoutujat – Lentäjä (single, 2022)
29. Markus Perttula & Aini – Vaahtopää (single, Soit Se Silti, 2022)
30. Jere Ijäs & Monacon Työväen Palloilijat – Aika haikein (single, Texicalli, 2022)
31. Pastis – Waiting On My Girl (single, Stupido, 2022)
32. The Reds, Pinks and Purples – I Shoul Have Helped You (They Only Wanted Your Soul, Slumberland, 2022)
33. Model Shop – Compilation Tape (single, Meritorio Records, 2022)
34. Wild Pink – See You Better Now (ILYSM, Royal Mountain Records, 2022)
35. Miko Marks & The Resurrectors – This Time (Feel Like Going Home, Redtone Records, 2022)
36. Lee Fields – Two Jobs (single, Daptone Records, 2022)
37. Drugdealer feat Kate Bollinger – Pictures of You (single, Mexican Summer, 2022)
38. Witch's Wall – Ever Enough (Selected Stories EP, Mind Blow, 2022)
39. Rachael Dadd – Moon Sails (Kaleidoscope, Memphis Industries, 2022)
40. Jenny O. – The Natural World (single, Mama Bird Recording Co, 2022)
41. Weyes Blood – Grapevine (single, Sub Pop Records, 2022)
42. Joan Kelsey – Alone (single, Dear Life Records, 2022)
43. Edith Judith – Bridge (Bones and Structure, Ruination Record Co, 2022)
44. Skullcrusher – They Quiet the Room (Quiet the Room, Secretly Canadian, 2022)
45. Emma Frank – Steady (single, Justin Time Records, 2022)
46. Moriah Bailey – Not Staying (single, Keeled Scales, 2022)
47. BATTS feat Deep Sea Diver – Linger (The Nightline, I Feel Fine Records, 2022)
48. Bella White – Rhododendron (single, Rounder Records, 2022)
49. Sarah King – Always an Almost (single, Ringleader Records, 2022)
50. Sarah Lee Langford & Will Stewart – Gunpowder (single, Cornelius Chapel Records, 2022)
51. Dougie Poole – The Rainbow Wheel of Death (single, Wharf Cat Records, 2022)
52. Nathan Seeckts – I Get to See My Baby (single, 2022)
53. Cory Branan – O Charlene (When I Go Ghost, Blue Eland Records, 2022)
54. Jarrod Dickenson – Long Hard Look (single, Hooked Records, 2022)
55. This Lonesome Paradise – Into the Sun (single, American Standard Time Records, 2022)
56. Nicholas Jamerson – Lexington (single, The Bingo Shack, 2022)
57. Adeem the Artist – Middle of a Heart (single, Four Quarters Records / Thirty Tigers, 2022)
58. Delving – Something Wrong (single, American Standard Time Records, 2022)
59. Trevor Beld Jimenez – Living in Between (single, 2022)
60. Meg Baird – Will You Follow Me Home? (single, Drag City, 2022)
61. Matthew J. Rolin – Plaster (Passing, American Dreams Records, 2022)
62. Wesley – Not Sure That Was Me (single, Earth Libraries, 2022)
63. Way Dynamic – Not a Fan (single, Earth Libraries, 2022)
64. Ben Varian – The Band Shell (Riddle Rock EP, 2022)
65. Small Sur – Sun (Attic Room, Worried Songs, 2022)
66. Heta Narkaus – Liian ohutta ilmaa (single, 2022)
67. Courtney Marie Andrews – Change My Mind (Loose Future, Fat Possum, 2022)
68. Caleb Caudle – Whirligigs (Forsythia, Soundly, 2022)
69. Tobias Berblinger – Heartaches, Hard Times, Hard Drinking (The Luckiest Hippie Alive, Ten Dollar Recording Co, 2022)
70. Jimmy Jay Swinn – One Last Dance (Lady Driver EP, 2022)
Oh and do buy the vinyl/cd/download. Spotify and other streaming services are perfect for these introductory purposes, but try to buy at least the music that matter the most to you
I'll make the playlist on Spotify and then transfer it to Tidal. This means a few tracks might be missing from the Tidal version, if they are not available on that platform. Usually it's 1-3 tracks that are not on Tidal. There's a bunch of older episodes on my Spotify profile, if you miss an episode or want to revisit.
If you are looking this after a week has gone, the embedded Spotify will show the latest playlist. I'll just update the same playlist because if someone wants to follow it, they can just follow that one list and will get a new set of songs each weekend.