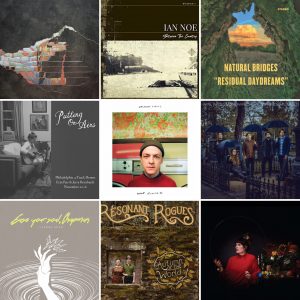 Another week, another weekly playlist.
Hurray, I'm on summer vacation part 1. I try to use part of it to catch up on the emails and write some blog posts. Of course I need some rest from absolutely everything too, so there will be quiet days too.
The biggest release of the week for me was the new solo album from Shane Leonard. I've said it many times, but I'm a big fan of his work. Besides making this marvel of an album, he has produced some of my favorites of the year (Anna Tivel, Clara Baker, Her Crooked Heart). Ian Noe, Natural Bridges and Her Crooked Heart were others in my big four this week, but there were also lots more. The list contains songs from the new albums by The Resonant Rogues, red steppes, Rose Hotel, Kitty Kat Fan Club, Wayne Graham, Charlie Collins, LeAnna Eden, Jenn Grant and Doug Seegers. A couple of older ones too from Irish Mythen, The Infinites, Vilma Flood and Alanna Eileen (Don't know how I managed to miss the Alanna Eileen a couple of weeks ago, because I had checked it at least dozen of times since February whether it's available). A couple of gorgeous EPs too from Erin Rae, Carl Anderson and Nico Hedley (ok, not sure does two songs count as an EP, but it says so on Spotify. Well whether it's a single or EP doesn't really matter. What matters is that it's brilliant. Thanks to Dan for this one).
The Finnish release week was pretty strong too, because there's full-length albums from Janne Tapion Sisäinen Avaruus and Matti Sakari, an EP from Local Al and new singles from Havut, Maustetytöt and The Flaming Sideburns. I'm very fond of that Janne Tapion Sisäinen Avaruus album. It's so great.
On the singles front, there's a new awesome RF Shannon song. Gabi Hartmann is a completely new one for me, but I really like the song. Further proof that going through giant vault of promo emails is sometimes worth it. Megan Palmer, Nathan K., Espanola were some other personal favorites, but every song would again be worthy of a namedrop in this text too. Molly Parden gets some bonus points for covering The Gin Blossoms classic.
There's definitely some sad songs here, but like Matthew Ryan sang in one of the finest songs of the year. Hope is not absent from these songs. Love yourself and others. That's all for now. Several blog posts should appear next week and as usual the playlist on Sunday. Take care.
1. Shane Leonard – Maybe Next Year (Strange Forms, Wayward Chicken, 2019)
2. Her Crooked Heart – Pleasant Valley Reservoir (To Love to Leave To Live, 2019)
3. Natural Bridges – Clouds (Residual Daydreams, Royal Oakie, 2019)
4. Ian Noe – If Today Doesn't Do Me In (Between the Country, National Treasury Recordings, 2019)
5. The Resonant Rogues – Autumn Of The World (Autumn of the World, 2019)
6. Hideout – I Won't Give Up (single, 2019)
7. Erin Rae – Can't Cut Loose (Putting On Airs 4 Track Demos EP, Single Lock Records, 2019)
8. RF Shannon – Wild Rose Pass (single, Keeled Scales, 2019)
9. Alanna Eileen – April (Artifice, 2019)
10. red steppes – High Growth (Arcs, Native Cat Recordings, 2019)
11. Gabi Hartmann – Always Seem To Get Thing Wrong (single, Secret Sun Recordings, 2019)
12. Rose Hotel – Would You Believe Me (I Will Only Come When It's a Yes, 2019)
13. The Infinites – Miriam Stein (The Infinites, First Humans Records, 2019)
14. Kitty Kat Fan Club – Send Me a Message For the Holidays (Dreamy Little You, Asian Man Records, 2019)
15. Stanley Brinks & The Wave Pictures – Sober In Barcelona (single, Fika Recordings, 2019)
16. Nico Hedley – Hydrangeas (Late Bloomer / Hydrangeas EP, Whateve's Clever, 2019)
17. Janne Tapion Sisäinen Avaruus – Hiljaisuus (Maapallon Hautajaiset, Lumpeela Julkaisut, 2019)
18. Havut – Unessa (single, Lumpeela Julkaisut, 2019)
19. Matti Sakari – Laulu kaislikosta (Valoraitoja, 2019)
20. Maustetytöt – Se oli SOS (single, Is This Art? 2019)
21. Local Al – Selkään puukottaja (EP 1, Soliti, 2019)
22. The Flaming Sideburns – Soulshaking (single, Bad Afro Records, 2019)
23. Megan Palmer – I'm Doin' Fine (single, 2019)
24. Carl Anderson – Bottom Of the Bottle (You Can Call Me Carl EP, 2019)
25. Wayne Graham – If Thought Could Kill (Songs Only a Mother Could Love, Celebration Records, 2019)
26. Jacob Faurholt – The Dark Isn't Right (single, Raw Onion Records, 2019)
27. Nathan K. – Brightly (single, 2019)
27. Matthew Milia – Puncture (Alone at St. Hugo, Sitcom Universe, 2019)
29. Molly Parden – Found Out About You (single, 2019)
30. Charlie Collins – Mexico (Snowpine, Mirror Records, 2019)
31. Jenn Grant – Our Love (Love, Inevitable, Leovela, 2019)
32. LeAnna Eden – Ease Your Soul (Ease Your Soul, Chapman, 2019)
33. Irish Mythen – Deep Dark Woods (Little Bones, 2019)
34. B. Knox – Deep Dark Love (single, Three Mast Records, 2019)
35. Shawn Hess – Picture From a Magazine (World Away, 2019)
36. Doug Seegers – Out on the Street (A Story I Got To Tell, 2019)
37. Reece Sullivan – Lamentations (single, 2019)
38. TK & The Holy Know-Nothings – Hard Times (Arguably Ok, Mama Bird Recording Co, 2019)
39. Espanola – A Lesson (single, Surly Young Records, 2019)
40. Sean W Spellman – Baby Blue (single, 2019)
41. Kirby Brown – Little Miss (single, 2019)
42. Signe Marie Rustad – Die With Your Boots On (single, Die With Your Boots On Records, 2019)
43. David Smalt – On The Mountain (single, Palo Sante Parade, 2019)
44. About You – Boundless Angel (single, 2019)
45. Cross Record – PYSOL My Castle (single, Melodic Records, 2019)
46. Palehound – Black Friday (single, 2019)
47. Florist – Shadow Bloom (single, Double Double Whammy, 2019)
48. Vilma Flood – Fan Of You (Moodswinger, Rusty Music, 2019)
49. Faye Webster – Hurts Me Too (Atlanta Millionaires Club, Secretly Canadian, 2019)
50. Sufjan Stevens – Love Yourself (single, Asthmatic Kitty, 2019)
Oh and do buy the vinyl/cd/download. Spotify and other streaming services are perfect for these introductory purposes, but try to buy at least the music that matter the most to you
If you are looking this after a week has gone, the embedded Spotify will show the latest playlist. I'll just update the same playlist because a) if someone wants to follow it, they can just follow that one list and will get a new set of songs each Sunday b) so that I don't have a trillion of different playlists on my Spotify account.