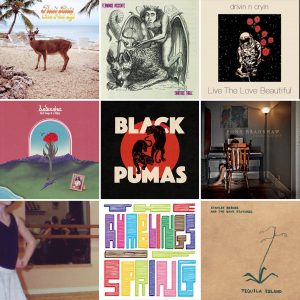 Another week, another weekly playlist.
It sort of looks like there's even less point to do this during these summer months. Apparently people have other things to do in the summer than listen to an hours long weekly playlist. Who would have thought? I suppose I still keep on doing this through the summer too, because I'm sort of stubborn plus I'm so close to 50 episodes. And the release schedule is still very strong and the week brought lots of great new records. I had been eagerly waiting for the Pony Bradshaw and Bedouine albums. The release date changed for both, but now they are finally here and are totally worth the wait. That just a tip of the record mountain though. There's new full-length albums from Fernando Viciconte, Merival, Stanley Brinks & The Wave Pictures, Black Pumas, Drivin N Cryin, Mannequin Pussy, The Raconteurs, Guidon Bear, Fruit Bats, Willie Nelson, Jim Lauderdale, Chuck Mead, Bruce Robison & Kelly Willis and Fell Runner. Peter Bruntnell has been out a while, don't know how I managed to miss that one, because I've been fan a couple of decades. On the EP front there's new ones The Rumblins of Spring (new project by Matt Paxton) and Hackensaw Boys.
The small Finland section contains a new EP from Tams, a new single from Since November and the White Jackets single that I missed a week ago. I'm sure there had to be more.
And as usual a ton of brilliant new singles. Some personal faves were the new songs from Tyler Childers, Leslie Stevens, Matt Woods, Jason Hawk Harris, The Hold Steady, Beth Bombara, Joanna Sternberg, Rue Snider, Andrew Combs, Joseph Robert Krauss and Zachary Lucky.
That's all for now. I know I missed a lot of stuff again, because NHL Draft and midsummer took a lot of time from my weekend. Back next Sunday with a new playlist and before that one of those silly Four Arms to Hold You post in the middle of the week. Love love love.
OCTA Weekly Playlist Episode #47
1. Pony Bradshaw – Josephine (Sudden Opera, Rounder Records, 2019)
2. Bedouine – Sunshine Sometimes (Bird Songs of a Killjoy, Spacebomb Records, 2019)
3. Fernando Viciconte – Thirsty Man (Traitors Table, Fluff & Gravy Records, 2019)
4. The Rumblings of Spring – Tidal Waves (The Rumbling Of Spring EP, 2019)
5. Merival – Planting a Garden (Lesson, 2019)
6. Stanley Brinks & The Wave Pictures – Gin in Me (Tequila Island, Fika Recordings, 2019)
7. Black Pumas – OCT 33 (Black Pumas, ATO Records, 2019)
8. Tyler Childers – All Your'n (single, Hickman Holler / RCA, 2019)
9. Leslie Stevens – 12 Feet High (single, 2019)
10. Matt Woods – Blue-Eyed Wanderer (single, 2019)
11. Jason Hawk Harris – Cussing at the Light (single, Bloodshot Records, 2019)
12. Drivin N Cryin – What's Wrong with Being Happy (Live the Love Beautiful, Drivin N Cryin Records, 2019)
13. Beth Bombara – Upside Down (single, 2019)
14. The Hold Steady – Denver Haircut (single, Frenchkiss Records, 2019)
15. Joseph Robert Krauss – Around Here (single, 2019)
16. Joanna Sternberg – Step Away (single, Team Love Records, 2019)
17. Andrew Combs – Stars of Longing (single, New West Records, 2019)
18. Peter Bruntnell – King Of Madrid (King Of Madrid, Blue Rose Records, 2019)
19. Zachary Lucky – Helsinki (single, Nordvis, 2019)
20. Dalton Domino – Daddy's Mud (single, Lightning Rod Records, 2019)
21. Molly Burch – Only One (single, Captured Tracks, 2019)
22. Angie McMachon – And I Am a Woman (single, AWAL Recordings, 2019)
23. Bad Heaven Ltd. – 100 (single, 2019)
24. White Jackets – Fumes (single, Pinetree Music, 2019)
25. Jade Imagine – Remote Control (single, Marathon Artists, 2019)
26. Rue Snider – Make Me Feel (single, 2019)
27. Mannequin Pussy – Drunk II (Patience, Epitaph, 2019)
28. The Raconteurs – Somedays (I Don't Feel Like Trying) (Help Us Stranger, Third Man Records, 2019)
29. Guidon Bear – Magellanic Cloud (Downward Mobile: Steel Accelerator, Antiquated Future Record / Yoyo Recordings, 2019)
30. Fruit Bats – Gold Past Life (Gold Past Life, Merge Records, 2019)
31. Pete Molinari – Waiting For a Train (single, We Are Hear, 2019)
32. Kyle Cox – No Matter How Far (single, 2019)
33. Willie Nelson – My Favorite Picture Of You (Ride Me Back Home, 2019)
34. Jim Lauderdale – I'll Forgive You If You Don't (From Another World, Yep Roc Records, 2019)
35. Chuck Mead – I'm Not The Man For The Job (Close to Home, Plowboy Records, 2019)
36. Bruce Robison & Kelly Willis – Heartache to Houston (Beautiful Lie, Motel Time Music, 2019)
37. Hackensaw Boys – Factory Blues (A Fireproof House of Sunshine, Free Dirt Records, 2019)
38. Daughter of Swords – Fields of Gold (single, Bella Union, 2019)
39. Anna Vogelzang – Beacon (single, Paper Anchor Music, 2019)
40. I Am Oak – Swells (single, Snowstar Records, 2019)
41. Leif Vollebekk – Hot Tears (single, Secret City Records, 2019)
42. Steve Gunn – Be Still Moon (single, Matador Records, 2019)
43. Fell Runner – Come Home (Talking, Yes Plz, 2019)
44. Tams – Vaeltava Aave (Aikahyppy 1 EP, 2019)
45. Since November – Airplane Astronauts (single, Recording Robots Records, 2019)
46. Bill Callahan – 747 (Shepherd in a Sheepskin Vest, Drag City, 2019)
47. Nev Cottee – Local Hero (single, Wonderfulsound, 2019)
48. Tim Bluhm – The Cape (single, 2019)
49. Chris Gantry – Wasted (single, Drag City, 2019)
50. Courtney Hartman – Here's to The Ones (Ready Reckoner, Reckoner Records, 2019)
Oh and do buy the vinyl/cd/download. Spotify and other streaming services are perfect for these introductory purposes, but try to buy at least the music that matter the most to you
If you are looking this after a week has gone, the embedded Spotify will show the latest playlist. I'll just update the same playlist because a) if someone wants to follow it, they can just follow that one list and will get a new set of songs each Sunday b) so that I don't have a trillion of different playlists on my Spotify account