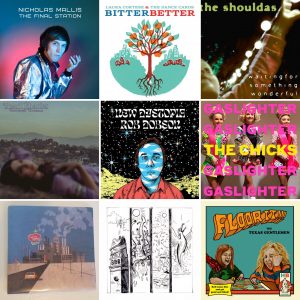 Another week, another weekly playlist.
I spent the week vacationing on the countryside, so not a whole lot of blog action during the past week. Back in the city again and back to work on Monday.
Some big album releases this week. S.G. Goodman, Samantha Crain and Dogwood Tales were the big three for me and all are wonderful albums. Or you could make it a quartet by adding the new Tom Brosseau (although this has an official release date of 19th of August, but seems to be already available). The week also gave us excellent new albums from Lianne La Havas, Rob Dobson, Nicholas Mallis, David Ramirez, Drew Danburry (B-sides from forthcoming cassette-only album), Illuminati Hotties, The Chicks, The Texas Gentlemen, Sojourn Suspect, Laura Cortese & The Dance Cards and Ora Cogan . Oh and Joan Shelley's beautiful live album is now on Spotify too. A couple of EPs too from Pearl Charles and Brooke Bentham.
The Finnish section is rather small, but quality is high. There's the new Matti Jasu album and a new Helmi treasure from Metsäheikki. Then there's also The Shouldas EP. They are a band from Lewisburg, PA led by Evan Dresser, but Finnish superhero Thomas Lilley (Daisy, Liljankukka) also plays a major part. The new EP was also recorded in Finland and came out on the wonderful Karhuvaltio Records.
Plenty of singles to love as well. One of my favourite Swedish artists I'm Kingfisher announced a new country album due in October and released the lead single. Juliet McConkey, Victoria Bailey and Emilee Emiko are some new finds for me and all released great singles. New Zephaniah OHora, LadyCouch, Stephen Simmons and Charlie Whitten singles are of course fabulous. Love the Kath Bloom song too that I somehow missed a week or two ago. The War and Treaty single is gorgeous and well I might well name check everything. My favorite song of the week is the opening song Red Bird Morning by S.G. Goodman. I somehow missed the single, so I just heard it for the first time and it absolute floored me. What a song.
That's it for this week. Love from a distance.
1. S.G. Goodman – Red Bird Morning (Old Time Feeling, Verve Forecast, 2020)
2. Samantha Crain – Joey (A Small Death, Real Kind Records, 2020)
3. Dogwood Tales – Easy on Your Mind (Closest Thing to Heaven, WarHen Recordsd, 2020)
4. I'm Kingfisher – Pocket Soul (single, Fading Trails Records, 2020)
5. Tom Brosseau – Dusty Tears (The Prairie, 2020)
6. Gillian Welch -Strange Isabella (single, Acony Records, 2020)
7. Juliet McConkey – Hung the Moon (single, 2020)
8. Zephaniah OHora – Black & Blue (single, Last Roundup Records, 2020)
9. Brent Cobb – Keep 'Em on They Toes (single, Ol' Buddy Records, 2020)
10. Victoria Bailey – Skid Row (single, 2020)
11. LadyCouch – Heartache (single, Cafe Rooster Records, 2020)
12. Metsäheikki – Savilintuja (single, Helmi Levyt, 2020)
13. Kath Bloom – Blinded (single, Dear Life Records, 2020)
14. Bill Callahan – 35 (single, Drag City, 2020)
15. Emilee Emiko – Quiet (single, 2020)
16. Joan Shelley – Jenny Come In – Live (Live at The Bombard, Absolute Anthem Music, 2020)
17. Drew Danburry – To Complain is to Be Happy, For Brooke (Icarus Phoenix B-Sides), 2020)
18. Lianne La Havas – Paper Thin (Lianne La Havas, Warner, 2020)
19. The War and Treaty – Five More Minutes (single, Rounder Records, 2020)
20. Charlie Whitten – A Long Time (single, 2020)
21. David Ramirez – My Love Is a Hurricane (My Love is a Hurricane, Sweetworld Music, 2020)
22. Matti Jasu – A Love Story (Up and Running, 2020)
23. Nicholas Mallis – The Final Station (The Final Station, Laser Brains, 2020)
24. Young Gun Silver Fox – Baby Girl (single, Colemine Records, 2020)
25. Pearl Charles – Mind's a Mystery (Between Dreams EP, Kanine Records, 2020)
26. Rob Dobson – It Takes all Kinds (New Dystopia, Hear Garden, 2020)
27. Evangeline Gentle – Sundays (single, Sonic Unyon Records, 2020)
28. MAITA – Coming Up Roses (single, Kill Rock Stars, 2020)
29. Sojourn Suspect – Real Allies (Sojourn Suspect, Repeating Cloud, 2020)
30. Goodwolf – Selfie (single, 2020)
31. The Shouldas – Waiting For Something Wonderful (Waiting For Something Wonderful EP, Karhuvaltio Records, 2020)
32. Illuminati Hotties – Freequent Letdown (Free I.H, Big Scary Monsters, 2020)
33. Dana Gavanski – At Last I Am Free (single, Full Time Hobby, 2020)
34. Buck Meek – Roll Back Your Clocks (single, Keeled Scales, 2020)
35. Lori McKenna – The Balladeer (single, CN Records, 2020)
36. The Chicks – Young Man (Gaslighter, Columbia Records, 2020)
37. The Texas Gentlemen – Hard Rd. (Floor It!! New West Records, 2020)
38. Stephen Simmons – When It Rains (single, 2020)
39. Albert and His Dreamboats – I Feel Like a Dog (single, Dreamgoat America, 2020)
40. Dojo Cuts feat Karl S. Williams – Hold On (single, DCR, 2020)
41. She Keeps Bees feat Tim Carr – Star Stone Skin (single, Future Gods, 2020)
42. Ora Cogan – Tell (Bells in the Ruins, Prism Tongue Records, 2020)
43. Brooke Bentham – People (Nowhere Near EP, Allpoints, 2020)
44. Lauren O'Connell – Kola (single, Sugar Glider, 2020)
45. Blitzen Trapper – Dead Billie Jean (single, Yep Roc, 2020)
46. Laura Cortese & The Dance Cards – Corduroy Jacket (Bitter Better, Compass Records, 2020)
47. Daniel Donato – Justice (single, Cosmic Country Music, 2020)
48. Joshua Ray Walker – Bronco Billy's (Glad You Made it, State Fair Records, 2020)
49. Margo Price – Prisoner of the Highway (That's How Rumors Get Started, Loma Vista, 2020)
50. Mary Lattimore – Sometimes He's In My Dreams (single, Ghostly International, 2020)
Oh and do buy the vinyl/cd/download. Spotify and other streaming services are perfect for these introductory purposes, but try to buy at least the music that matter the most to you
If you are looking this after a week has gone, the embedded Spotify will show the latest playlist. I'll just update the same playlist because a) if someone wants to follow it, they can just follow that one list and will get a new set of songs each Sunday b) so that I don't have a trillion of different playlists on my Spotify account.