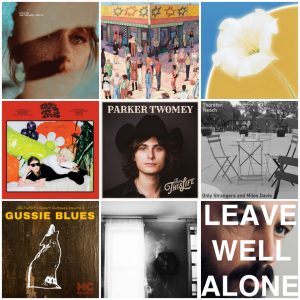 Another week, another new music weekly.
Slightly delayed again. This time because I spent the weekend at a rainy outdoor indie music festival. This was quite a heavy release weekend and there was not a chance my tired mind could cover everything on one sunday. So additions might appear during the coming weeks.
The album of the week is the new Willi Carlisle album. I've loved all advance singles and this whole album is equally amazing. One of the early AOTY candidates. There's plenty of other treasures too. We have new albums from The Local Honeys, Arlo McKinley, Ac Sapphire, Hutchie, Lawn, The Gabbard Brothers, Alex Dupree, Thorsten Nesch (EP), Wharfer, The Great Park, Lera Lynn, The A's, Tami Neilson, Nick Dittmeier & The Sawdusters, Joe Purdy (more outtakes), Greta Morgan (EP) and Parker Twomey.
The Finnish section has a great run of singles from Tuomo & Markus, Tender Lakes, Mikael H and Pambikallio. I'm sure there had to be more.
And then there's a giant amount of wonderful international singles. There's new greatness from Daniel Romano, Sloan, Nikki Lane, Caleb Caudle, Rhett Miller, Mightmare (new project from Sarah Shook), Hallelujah the Hills, Courtney Marie Andrews, Greta Morgan, Charley Crockett, Wilder Maker… just to name a few. You'll find them all below.
That all for this week. Like, share, follow and all the usual promotional nonsense. Back next weekend with another episode. At least six more to go. Might go until Sunday again, if I end up spending a lot of time at Ilmiö festival. Live music beats streaming every time. Love from a distance.
1. Willi Carlisle – Your Heart's a Big Tent (Peculiar, Missouri, Free Dirt Records, 2022)
2. The Local Honeys – The Ballad of Frank & Billy (The Local Honeys, La Honda Records, 2022)
3. Arlo McKinley – City Lights (This Mess We're in, Oh Boy Records, 2022)
4. Ac Sapphire – Thrift Store Score (Desert Car, American Standard Time Records, 2022)
5. Hutchie – Unanticipated Grays (Some Other Way, 2022)
6. Lawn – Running My Luck (Bigger Sprout, Born Yesterday Records, 2022)
7. The Gabbard Brothers – Yer a Rockstar (The Gabbard Brothers, Karma Chief Records / Colemine Records, 2022)
8. Alex Dupree – Wish You Had Got To Me First (Thieves, Keeled Scales, 2022)
9. Thorsten Nesch – The One I Tried to Love (Only Strangers EP, 2022)
10. Wharfer – Godspeed (In Due Haze, Georgia Records, 2022)
11. The Great Park – Leave Well Alone (Leave Well Alone, Woodland Recordings, 2022)
12. Lera Lynn – Black River (Something More Than Love, Icons Creating Evil Art, 2022)
13. The A's – Swing and Turn Jubilee (Fruit, Psychic Hotline, 2022)
14. Tami Neilson – Green Peaches (Kingmaker, Outside Music, 2022)
15. Daniel Romano – Genuine Light (La Luna excerpt) (single, You've Changed Records, 2022)
16. Nick Dittmeier & The Sawdusters – Tonya Jo (Heavy Denim, SonaBlast! Records, 2022)
17. Parker Twomey – All This Life (All This Life, 2022)
18. Joe Purdy – Reason or Rhyme (Desert Outtakes Vol 2, Mudtown Crier Records, 2022)
19. Caleb Caudle – Crazy Wayne (single, Soundly, 2022)
20. Nikki Lane – Black Widow (single, New West Records, 2022)
21. Courtney Marie Andrews – Loose Future (single, Fat Possum Records, 2022)
22. Tuomo & Markus – Highest Mountain (single, Grandpop Records, 2022)
23. Mikael H – Tie (single, 2022)
24. Tender Lakes – Soft in the Centre (single, 2022)
25. Pambikallio – Eden (single, Helmi Levyt, 2022)
26. Julia, Julia – Fever in My Heart (single, Suicide Squeeze Records, 2022)
27. Greta Morgan – Bitter/Better (single, 2022)
28. Wilder Maker – Against Numbers (single, Western Vinyl, 2022)
29. Sloan – Spend the Day (single, Yep Roc, 2022)
30. Rhett Miller – Follow You Home (single, ATO Records, 2022)
31. The Boys With the Perpetual Nervousness – In the Right (single, Bobo Integral, 2022)
32. Hallelujah the Hills – Superglued to You (single, Discreate Pageantry Records, 2022)
33. Mightmare – Saturn Turns (single, Kill Rock Stars, 2022)
34. Friendship – Chomp Chomp (single, Merge Records, 2022)
35. Ever More Nest – What's Gone is Gone (single, 2022)
36. Wade Sapp feat Colter Wall – The Boys We Were (single, 117 Music, 2022)
37. Charley Crockett – I'm Just a Clown (single, Son of Davy / Thirty Tigers, 2022)
38. Nick Garza's Get Along – Ol' Tejano (single, 2022)
39. Vandoliers – Bless Your Drunken Heart (single, Amerikinda Records / Soundly, 2022)
40. The Western Express – Honky Tonk Saints (single, 2022)
41. Early James – Racing to a Red Light (single, Easy Eye Sound, 2022)
42. Lizzie No & Ben Pirani – Sweeter Than Strychnine (single, Colemine Records, 2022)
43. Thee Sacred Souls – Overflowing (single, Daptone Records, 2022)
44. Say She She – Trouble (single, Karma Chief Records / Colemine Records, 2022)
45. Cinema Hearts – Your Ideal (single, Burnished Records, 2022)
46. Martha – Beat, Perpetual (single, Dirtnap Records, 2022)
47. Alien Boy – Wondering Still (single, Get Better Records, 2022)
48. Sylvia Rose Novak – Evermore (single, World Lies Waiting, 2022)
49. Let's Whisper – The Year of Getting High (single, 2022)
50. The Explorers Club – Gimme Little Sign (single, Goldstar Recordings, 2022)
51. Lilly Winwood – Brighter Days (single, 2022)
52. Amanda Shires – Empty Cups (single, ATO Records, 2022)
53. Lauren Balthrop – What of the Days (single, Olivia Recods, 2022)
54. Anna Ash – I Wonder (single, 2022)
55. Parker Ryan – Stop Calling His Phone (single, Lightning Rod Records, 2022)
56. Will Hoge – The Last One to Go (single, Edlo Records / Soundly, 2022)
57. Driskill feat Kate Rhudy – Wandering Fool (single, 2022)
58. Jake La Botz – Hope the Sunshine (single, 2022)
59. Bonny Light Horseman – Summer Dream (single, 2022)
60. Maya Lane – When You Need Me (single, 7 Sister Records, 2022)
61. Nora Brown – Cumberland Gap (single, Jalopy Records, 2022)
62. Damn Tall Buildings – Cold Rain (single, 2022)
63. Stripmall Ballads – Nine One One (Laundromat, 2022)
64. Fiver – Rosemary & Rue (Soundtrack to A More Radiant Sphere, You've Changed Records, 2022)
65. Stanley Brinks & Freschard – Stay Where You Are (Lion Heart, Fika Recorings, 2022)
Oh and do buy the vinyl/cd/download. Spotify and other streaming services are perfect for these introductory purposes, but try to buy at least the music that matter the most to you
I'll make the playlist on Spotify and then transfer it to Tidal. This means a few tracks might be missing from the Tidal version, if they are not available on that platform. Usually it's 1-3 tracks that are not on Tidal. There's a bunch of older episodes on my Spotify profile, if you miss an episode or want to revisit.
If you are looking this after a week has gone, the embedded Spotify will show the latest playlist. I'll just update the same playlist because if someone wants to follow it, they can just follow that one list and will get a new set of songs each weekend.