What a year it has been. I really struggled putting this list together, because there's just so much great music. I get that you think picking 60 might be a little bit silly, but I feel like it could have been twice as long without any drop in quality. I had to leave out so many great albums and every cut broke my heart. Making of the weekly playlist sure changed my listening habits, because I tried to at least quickly listen all interesting albums every week to find songs for the list. That's why I also fell for even more albums than during previous years. I will have even bigger struggles next year, if I keep it up for a full year. Now I started it in the summer. Let's see if I manage to do it every week for a full year. At the moment, it still feels fun to do it every week, even though I'm not really sure does anyone actually listen to it (other than myself on my work commute).
That's enough of pointless rambling and it's time to get on with the list. It almost feels like I should make another pop list, because this will be pretty heavy on folk/americana/country. Again the order is pretty insignificant. It's just 60 great albums that mattered to me during the year 2018. Music is life, not a competition.
Note: Twain's masterwork Rare Feeling was my #3 last year, so it's not included this year even though BB*Island released it in Europe during 2018.
Top 60 Albums of the Year 2018:
60. Scott Hirsch – Lost Time Behind the Moon (Scissor Tail Records)
We shall begin our year end journey with the absolute latest entry to the list. This Scott Hirsch album came out a week ago and therefore I haven't spent a whole lot of time with it yet. Nevertheless, it's already clear that it has to be on the list and could also be way up, if I had listened to it more. The numbering isn't all that important, so I just drop this here on the last spot. Scott Hirsch is a former Hiss Golden Messenger member, but is nowadays making his own music. Add a little cosmic american groove to your life and introduce your heart to this album. I already love this song so much.
59. Mariel Buckley – Driving in the Dark
One of the new finds of the year was Canadian songwriter Mariel Buckley. Her album Driving in the Dark is full of beautiful country songs delivered with grit and honesty.
58. Jerry David DeCicca – Time The Teacher (Impossible Ark)
Jerry David DeCicca from Bulverde, TX delivered two really good albums this year. It's pretty much a coin flip, which one makes the list. Tonight the light, gentle charm of Time the Teacher takes slight edge over its classic rock brother Burning Daylight. I fully recommend investigating both of these fine albums.
57. Jake Nicoll – Stone Arch
This album lives in a land unknown to everyday stress. Listening to it is almost meditative and resting on its shoulders is a perfect way to ease into the night. Jake Nicoll and Kira Sheppard created a really beautiful stripped-down album. Just two lovely voices with a guitar and a harp, but sometimes that's everything I need.
56. Riley Pinkerton – Nothing Ever Is
Next up is Riley Pinkerton from New York and her captivating debut full-length Nothing Ever Is. Maybe some more consistently great albums didn't make the cut, but there's 4-5 songs on this album that I love madly and therefore this has to be on the list.
55. John Cathal O'Brien – These Borders
Staying in NY for the next selection. John Cathal O'Brien is Irish-born, but he currently lives in New York. His latest album These Borders is mesmerizing collection of haunting and melancholic folk songs.
54. Anna Burch – Quit the Curse (Polyvinyl)
Moving on to Detroit to meet up with Anna Burch and her magnificent debut album Quit the Curse. It reminds me a bit of Rose Melberg, The Softies and all that greatness. This is something that I maybe don't listen to that much these days, but thankfully sometimes I still see the light.
53. T. Hardy Morris – Dude, The Obscure (New West Records)
Even though I liked it, I wasn't a super fan of the previous T.Hardy Morris album. This new album Dude, The Obscure is right up my alley. I really dig the sort of hauntingly beautiful side of his music and there's a lot of that here. So damn good.
52. The Other Years – The Other Years (No Quarter)
The Other Years are Anna Krippenstapel and Heather Summers from Louisville, Kentucky. Their self-titled debut album has beautiful lead vocals, surrounded by lovely harmonies and accompanied by fiddle, banjo and guitar. Old-timey vibe, brand new love. The song Talkeetna is incredible.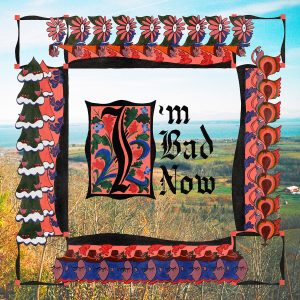 51. Nap Eyes – I'm Bad Now (Paradise of Bachelors / You've Changed Records)
Canadian Nap Eyes continues to write unique, literate and blissfully weird indie rock songs. Not always the catchiest and might need a few spins, but eventually these songs will find a home in your heart.
50. Aaron Lee Tasjan – Karma For Cheap (New West Records)
Aaron Lee Tasjan delivers again. This time he has written a damn enjoyable rock album. A bit of 70s, glam, psych and Petty and a whole lot of greatness.
49. Harrison Whitford – Afraid of Everything
Harrison Whitford has played a lot with Phoebe Bridgers, but he also quietly released a remarkable album called Afraid of Everything. I actually found him thanks to that guy above him, Aaron Lee Tasjan. The album is definitely sad and almost devastating, but it's never an issue for me. My moderate happiness is built on devastatingly sad songs.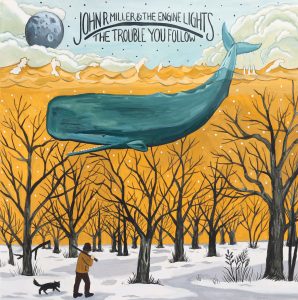 48. John R. Miller & The Engine Lights – The Trouble You Follow (Emperor)
Next one comes from West Virginia where John R. Miller & The Engine Lights gave birth to a beautiful country folk album The Trouble You Follow. Red Eyes is such a magnificent song. Well they all are.
47. I'm Kingfisher – Transit (Fading Trails)
The lone Nordic selection on this list comes from Swedish I'm Kingfisher. I caught a small part of his set at STHLM Americana and loved it so much that I knew I had to buy this album. The opening song What Good Would Loving Do Me Now? is one of the songs of the year. If you dig the Molina and Jurado songbooks for example, give this album a spin. Of course nobody is that good, but this guy is still pretty damn good.
46. Philippe Bronchtein – Me and the Moon
Closing the first chapter of this year end list is Philippe Bronchtein. If the name doesn't bring a bell, he used to operate under the moniker Hip Hatchet. Philippe relocated from Portland to Nashville and self-released a beautiful new folk album Me and the Moon. The highlight of the new album for me is this beautiful title song about the road-weary life of a musician.