The way too long albums of the year 2009 list goes on. Here are the places 40-21. Now let's continue to the top 20:
20. Daisy: Daydream (Elements, 2009)
Whenever I listen to Daisy, I'm thinking of whether I should tell them they are pop geniuses or slap them in the face and tell them to get a grip. Their sound palette is just so fucking awful and absolutely wonderful at the same time. Eventhough I do generally prefer more "stripped down" pop music, there's no way of denying that Daisy has again created  a mighty fine pop fantasy.
Daisy Website
Daisy at myspace
19. Carolyn Mark & NQ Arbuckle: Let's Just Stay Here (Mint Records, 2009)
Little over a year ago I became a huge NQ Arbuckle fan and bought all of his/their records. Now NQ Arbuckle has teamed up with another canadian folk artist Carolyn Mark to create this marvellous album. Carolyn Mark is such a great singer and songwriter that I might end up buying her earlier material as well, but there's still no way of denying that my favourite songs are the ones where mister NQ takes the lead role. Especially Officer Down, Saskatoon Tonight and Downtime are just stunning.
Carolyn Mark at myspace
NQ Arbuckle at myspace
18. Dawes: North Hills (Ato, 2009)
This is the real last minute entry. I just bought it three days ago and thought I don't include it at all no matter how good it will be. But then I started to listening to it and started to like it more and more and in the end I just didn't have the heart to leave it out. Part of me would like to lift this even higher on the list, but I suppose it's hard to tell is this just the early excitement or a long lasting love affair. I'm fairly confident that the magic will remain. Think of The Band, Laurel Canyon. Well think of good music with great vocals and amazing harmonies.
Dawes Website
Dawes at myspace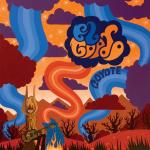 17. El Goodo: Coyote (Grease, 2009)
Just like The Higher State, also El Goodo is a bit stuck in the past. But also in a very good way. This second album Coyote from these Welch masters of psychedelic pop has gotten a lot of "air time" in this household. It's just so extremely enjoyable stuff that ranges from psychedelic delights to the oh so gorgeous garage pop of Be My Girl. The debut already had some great moments, but now things work wonderfully throughout the record.
El Goodo Website
El Goodo at myspace
16. M. Ward: Hold Time (Merge, 2009)
Despite some fabulous songs, I was little dissapointed with Post-War as a whole (well at least at the time when it came out, I might need to give it another go), but on Hold Time M.Ward returns back to greatness. End Of Amnesia probably still remains as my favourite album, but this is certainly the kind of M.Ward that I love.
M. Ward Website
M. Ward at myspace
15. Wilco: Wilco (The Album) (Nonesuch, 2009)
The finest Wilco album since Yankee Hotel Foxtrot. I didn't really like Ghost Is Born, Sky Blue Sky was already a big step back to right direction and now Wilco (The Album) sends them back where they started and they are again one of the finest bands in the world. Hopefully that more experimental phase that already started on Yankee Hotel Foxtrot and went too far (for me) on Ghost Is Born don't take control anymore. I don't mind if that side stays on as a flavour as long as things remain song-orientated. One Wing is such a perfect song.
Wilco Website
Wilco at myspace
14. Cheap Star: Speaking Like an Elephant (Z&Zoe Records, 2009)
I got interested because half of it was produced by Jon Auer and the other half by Ken Stringfellow and I remain interested because the songs are wonderful. Cheap Star is a french (power) pop group and their debut album Speaking Like an Elephant became one of my favourite pop albums of the year. It's influenced by the things that I love the most, so it's no wonder that the end result is also something that I love.
13. Janne Laurila: Kultaisia pisteitä (Ranka, 2009)
Janne Laurila changed the language to finnish and released his solo debut. I admit that I was a little bit worried about my own reactions. Was I going to love this as much as his earlier work? Thankfully I worried for nothing and Kultaisia pisteitä was and is a marvellous album. "Why would just changing the singing language take away all that talent, you stupid fool", I probably should shout to myself. The song material is wonderful throughout the record and it's definitely the best set of lyrics he has so far written. Of course there's this silly and extremely minor problem that it almost sounds too good to my ears. But it's not like people should record albums through a telephone line just in order to completely satisfy indie pricks like yours truly.
Janne Laurila Website
Janne Laurila at myspace
12. Deer Tick: Born On a Flag Day (Partisan, 2009)
I finally believed 8raita staff (the finest record store in the city/country) who have been recommending this band for a long while. Wise decision on my part because I badly fell for Deer Tick's second album Born On a Flag Day (and also bought the debut earlier this week, the debut might be even better btw). One of the reasons why it took me so much time to check them out was that I wasn't sure about the vocals. It seems ludicrous now, because it didn't took me much time to fall for that a bit rough and unique voice and nowadays the vocals are a big part of the charm. Deer Tick is certainly one of the better americana/country bands out there at the moment. Especially if your sick of overpolished country sounds and want to hear something that has character and some rough corners and still holds a lot of beauty inside, Deer Tick is a perfect choice.
Deer Tick Website
Deer Tick at myspace
11. Richmond Fontaine: We Used To Think The Freeway Sounded Like a River (Decor, 2009)
Richmond Fontaine's latest isn't the easiest album, but it's a very rewarding one. The song Maybe We Were Both Born Blue is a huge favourite of mine and definitely in the top 10 if I decide to make a top songs of the year list. The lyrics here are again brilliant.  It's no wonder because the frontman Willy Vlautin is also an author and have written two wonderful novels (I especially recommend Northline.. oh and new novel Lean On Pete is out in the shops in february).
Richmond Fontaine Website
Richmond Fontaine at myspace
10. The Micragirls: Wild Girl Walk (Bone Voyage, 2009)
I've always liked them, but I certainly didn't expect to fall for their new album as badly as I did. The reason why I did fell in love with it is that  The Micragirls have become much more versatile and have added a lot of pop sensibility to their high energy garage rock. Wild Girl Walk is a marvellous record and contains some of my favourite songs of the year (like Summer's Gone).
The Micragirls Website
The Micragirls at myspace
9. Justin Townes Earle: Midnight at the Movies (Bloodshot, 2009)
Justin Townes Earle outclassed his father this time around. Steve Earle's Townes Van Zandt cover album wasn't that inspiring, but his son created a wonderful record. Justin Townes Earle is great at mixing traditional country and modern americana and has become one of the finest country/americana/folk singer-songwriters at the moment. I don't think any of of the songs would rise to my imaginary top 20 songs of the year list, but it is a very strong, enjoyable and convincing album as a whole.
Justin Townes Earle at myspace
Justin Townes Earle Website
8. The Rollstons: Gauguin's Trunk (Brunamosse IF, 2009)
The Rollstons made another great album. I listened to this one an awful lot last spring and it almost became a good luck charm to me back then. If you want to know more, JYP's playoffs started poorly and then when I drove to the next home game I just happened to listen to this one while driving. Well JYP won and because I'm extremely superstitious (or just fucking stupid.. as if my own actions would anyway change the result of the game) I listened to this album everytime I drove to the following games and after a lot of games and over 4000 km of driving a car, JYP won the championship.  However, the reason why Gauguin's Trunk is in the top ten isn't because I relate it to some of the best memories I have. It's here because it's a fantastic album. The finest stuff they've done since the early days.
The Rollstons Website
The Rollstons at myspace
7. Austin Lucas: Somebody Loves You (Suburban Home, 2009)
This was a really late entry to this list. Two weeks ago I didn't even know the name, but this was an instant love affair. Austin Lucas has a punk background, but nowadays he is also into rootsier stuff and have created such a magnificent album in Somebody Loves You that most country singer-songwriters should be jealous. Sometimes the vocals remind me of Richard Buckner, sometimes they don't. Always it sounds like an amazing album.
Austin Lucas at myspace
Austin Lucas Website
6. Brendan Benson: My Old, Familiar Friend (2009)
I do like The Raconteurs, but Brendan Benson as a solo artist is at least twentythree times better. Therefore it was really great to get a new solo album. Especially because it turned out to be so awesome. Not that I doubt it at all. One Missisippi and Lapalco were almost perfect and Alternative To Love at least really good. Hopefully we don't need to wait for the next solo album as long, because Brendan is certainly a future hall of famer when it comes to power pop singer-songwriters.
Brendan Benson at myspace
Brendan Benson Website
5. Haruko: Wild Geese (Bracken Records, 2009)
Haruko is Susanne Stanglow, a young german folk singer-songwriter. Wild Geese is her debut album and what a beautiful album it is. She didn't have the luxury of spending hours in a big studio, but she was more than capable of creating something magical and moving with these home recordings. I've spent a huge amount of time listening to this and I still find it thrilling. I'm  just completely addicted to the  overall feel of the record and all the songs are either marvellous or at least really really good.
4. Cats on Fire: Our Temperance Movement (Johanna Kustannus, 2009)
The best finnish album of the year didn't make it to the podium, but Cats on Fire certainly made a fantastic record.  It's been so wonderful to see Cats On Fire become so widely adored and respected all around the world (..in the indie pop community). Kudos to them for all the hard work. Our Temperance Movement is a second pretty much perfect "five hearts" album in a row. Well actually they haven't taken one wrong step after The Seelonce Mayday demo. It's been all gorgeous and long may it continue. What a band!
Cats on Fire at myspace
Cats on Fire at website
3. The Duke & The King: Nothing Gold Can Stay (Loose, 2009)
The latest The Felice Brothers album didn't make the list, because I didn't love it as much as their previous work. This new project by ex-Felice Brother Simone Felice on the other hand is absolutely wonderful. Nothing Gold Can Stay is lyrically strong and contains heartbreaking storytelling wrapped into beautiful americana, folk and even country-soul songs. Nothing Gold Can Stay contains 10 songs and about 6-7 of them are either perfect or near-perfect. This one would probably have most songs on my imaginary best songs of the year list, but because there's a few "only good" tunes as well, The Duke & The King has to settle for the bronze medal this time around.
The Duke & The King at myspace
2. The Avett Brothers: I and Love and You (American, 2009)
The Avett Brothers have been my favourite band for the past two years and therefore it almost hurts to drop this to the second place.  It took me quite some time  to make that decision, but in the end some serious soul searching revealed that if I'm honest I have to admit there is one album that I enjoyed even more than I and Love and You. This doesn't mean that The Avett Brothers' major label debut isn't a brilliant record. It most certainly is. I do miss the banjo, but the new piano-driven direction suit me fine as well because they are still the finest songwriters out there. Maybe the ideal The Avett Brothers album would be half of this new material and half of the older rootsier material. Hopefully that will be the case on their live set at Debaser Slussen, Stockholm on 28th of march. I've got the tickets and I'm really looking forward to see my favourite band live.
The Avett Brothers Website
The Avett Brothers at myspace
1. Bobby Emmett: Learning Love (Self-released, 2009)
And the album of the year award goes to…  Bobby Emmett. He is a Detroit-based musician who used to play in a great band called The Sights. After The Sights, he was bored and decided to make a solo record. And what a record it turn out to be. Hooray for boredom! Bobby Emmett's debut album Learning Love is the real surprise of the year. A stunning power pop album. Perfect from start to finish.  I just love every song on the album. He recorded Learning Love in his home studio with vintage equipment because  "if you want to sound like the Beatles, Badfinger or Big Star you need to use the same mics and mixing boards they did" (a quote from this Metro Times article). Therefore it has a lot of that 70's feel going on, but the closest comparison that I can think of is still Sloan.  However, also those 70's power pop bands like Cheap Trick, The Raspberries and Big Star do come to mind occasionally. But let's stop that pointless namedropping for now. The reason why this is my album of the year, isn't the fact that it was influenced by bands that I love. Thankfully a lot of bands still are influenced by 70's power pop, but only a few of them can create such an amazing album as this. Learning Love is highly melodic, incredibly catchy and Bobby sings like an angel.  The material ranges from straightforward melodic rock'n'roll to beautiful pop ballads and every song is a winner.  It's probably one of the finest power pop albums of the whole decade and I'm totally in love with it. Heck, I should even buy second copy for myself, because the postal journey from USA to Finland had been a little rough for the beautiful digipack case last time. Learning Love is extremely and monstrously highly recommended album if you have any interest in power pop and Bobby Emmett fully deserves  the album of the year 2009 award.