10. Tyler Childers – Purgatory
Tyler Childers released a stunning album that was co-produced by Sturgill Simpson. Hopefully Sturgill's name there gave him a little bit more exposure and a sale boost, but it's still just an interesting sidenote. Tyler's stunning song material and passionate delivery should take all the spotlight. I was hooked the moment I heard Lady May and my affection towards the album is still continuously rising. An incredible run of songs.
9. Leah Senior – Pretty Faces
I was somewhat familiar with Australian folk singer-songwriter Leah Senior even before Pretty Faces, but I sure didn't expect to fall so badly in love with her music. However, I was completely addicted to the moment I heard the title track Pretty Faces. She also released my favourite music video of the year. I've watched the video of All My Friends dozens of times, because both the song and the video are a work of art. Pretty Faces is such a beautiful album. Perhaps in some purely objective list it shouldn't be quite as high, but that's all nonsense. I love this dearly.
8. Frontier Ruckus – Enter The Kingdom
Frontier Ruckus has taken the first place a couple of times, but this time they have to settle for a place in the top 10. Nothing really to complain about though and I still love them as much as you can love a band. There just were a song or two that didn't felt that special at least on the Frontier Ruckus standards. However, most of it is utterly wonderful. Especially Gauche, Gerunds, Enter The Kingdom and Our Flowers Are Still Burning are all perfect songs. Bonus points for the Sick of Myself reference in Gerunds, because it's one of my favourite songs ever and using a Big Star T-shirt on this video below, because it's one of the best bands ever.
7. J.E. Sunde – Now I Feel Adored
J.E. Sunde is a huge personal favourite and he didn't disappoint with his new album Now I Feel Adored. Maybe there wasn't a song that would match the brilliance of A Blinding Flash Of Light, but overall this is probably even better than the first solo album. J.E. Sunde isn't just another singer-songwriter. He is a special talent whose music always sound unique and enchanting.
6. Joan Shelley – Joan Shelley
This was the year of the Shelley family. Joan Shelley released an incredible self-titled album full of beautiful and quietly mesmerizing folk songs and Dwight Lightning won the instagram. I'm not even sure which one of them brought more joy to my life. A huge thank you to both for being awesome and brightening up my life. We'd Be Home and Where I'll Find You are so brilliant. Maybe not as brilliant as that photo of Dwight running on the beach, but hey nothing is.
5. John Moreland – Big Bad Luv
John Moreland is a magnificent songwriter and big favourite of mine. I can pretty much guarantee his record will be one of the finest of the year even before actually hearing it. There's a giant cloud of guilt hanging over me, because I haven't really praised Big Bad Luv here at all. Thankfully my few readers are probably already well aware how much I love the music he writes. Old Wounds, Lies I Chose To Believe and No Glory in Regret. Oh dear how great.
4. Craig Finn – We All Want The Same Things
Craig Finn released a remarkable solo album album We All Want The Same Things and it contains some of the finest storytelling I heard this year. God In Chicago, Be Honest and Rescue Blues are absolute magnificent. "Ain't it funny how we all get by? / But not the way that makes us laugh" is one of my favorite lines. Maybe I'm a bit of sad case, but damn how I love that line and the way it hurts and heals at the same time.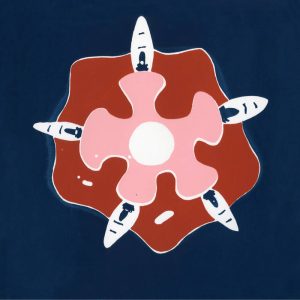 3. Twain – Rare Feeling
Twain's new album Rare Feeling is a little masterpiece full of heart and human warmth. I think his songs are just magical and there are some heartfelt purity in them that I just can't properly describe with words. But I suppose music is meant to be felt and not described anyway and I sure feel every moment. Mt Davidson is an exceptional songwriter and Rare Feeling is an exceptional album.
2. Mount Eerie – A Crow Looked at Me
I'm not really sure is this an album that should be even reviewed or especially ranked on some worthless year-end list. I never even wrote about it during the year, because I didn't find the words to make justice to the fragile, devastating honesty of this Mount Eerie album. It might be barely music as Phil said himself, but it's definitely a powerful work of art and despite all the painfully real grief and hurt, the unconditional love he has for his late wife Geneviève shines through the dark leaving a lasting impression.
1. The Weather Station – The Weather Station
The album of the year 2017 is the self-produced and self-titled The Weather Station album. I think there was never any doubt after I listened to this album with headphones for the first time. I was immediately hooked and amazed how incredibly powerful it was all way through. There's not a weak song on it and it's as close to perfect as humanly possible. It's a beautiful, courageous, mesmerizing and captivating work that demands to be heard. I've been fan of The Weather Station aka Toronto-based songwriter Tamara Lindeman for a long time and first wrote about her music back in 2011. I still admit that I wasn't expecting to fall so completely in love with her album. I really like all the earlier work as well, but this new one is still on a whole another level. It's an outstanding and phenomenal album and easily the best release I heard this year. The Weather Station by The Weather Station is available on Paradise of Bachelors (USA/Europe) and Outside Music (Canada)