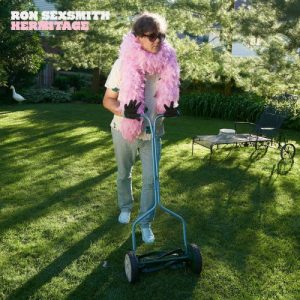 The blog was pretty much on hold for a while, because I was sick for eight weeks and just did the playlist during that time. I'll never catch up completely, but I'm gonna make a few quick round of posts of the albums that carried me through the past few months. Starting things with the new wonderful Ron Sexsmith album Hermitage, which is probably my favourite album of 2020 so far. I loved him in the late nineties and 00s, but somewhere along the way I lost track and a there's a record or two I haven't even heard. Something that I need to rectify, because my love for Ron is now as strong as ever. Hermitage is full of gorgeous songs like Glow In the Dark Stars, Think of You Fondly, Morning Town and Whatever Shape Your Heart Is In. I might just as well list them all, because these beautiful, kind-hearted songs and that warm and familiar voice formed the shoulder I needed during a few long nights.
Ron Sexsmith at Facebook
Ron Sexsmith Website
While Ron Sexsmith is a long time favourite, Canadian folk-country songwriter Joey O'Neil is a new one and her music has been one of my favorite new finds of the year. Her sophomore album Ever Ahead came out on the 10th of April and it has been on heavy rotation ever since. Here's Joey O'Neil singing wonderful Badlands for her copilot and trusty companion Oblio. Listen to / buy the whole beautiful album by hitting the links on that Bandcamp player.
Joey O'Neil at Facebook
Joey O'Neil Website
Another big new favorite has been Jeremy Ferrara and his debut full-length With Every Change. I'm kinda ashamed really, because after falling in love with the advance singles I searched my inbox and saw an old email from him that I had missed. I need to be better at that email game so such treasures don't slip through my fingers. Anyway, this is a very heartfelt, captivating and beautiful folk album and I love it to bits. Here's one of the personal favourites Ourselves. Listen to / buy all the other equally amazing songs by hitting the links on the Bandcamp player.
Jeremy Ferrara at Facebook
Jeremy Ferrara Website
Let's wrap this first round-up post with a song from the magnificent new Maybel album. I found them, because I love the songs I've heard from Lauren Spear aka Le Ren and she formed Maybel with Ali Hendra, Loris Kecaj and Fez Gielen. Their debut album Gathering came out on Vain Mina Records on the 10th of April. Check out the whole album over at Bandcamp after listening this brilliant song called Can't Abandon My Love.