I've been either really lazy or really busy, because my blogging activity has again been next to none. So it's time do a few quick round-up posts, because the situation probably isn't going to get any better in the coming weeks and a lot of stuff that mean a great deal to me has been released during the last month or so. I hope to return to these with more time, but I just thought it's better to at least mention that these amazing albums are out and available than just neglect them in hope that one day I find the time to feature the albums the way they deserve to be featured.
Daniel Markham is a lovely metalhead, R.E.M. enthusiast and a great songwriter from Denton, TX. Also one of my big personal favorites. His latest album Hyperspeed came out on the 25th of May and it's an awesome 80s and 90s influenced alternative rock record. I shared the music video for Velvet Elvis earlier so here's Silver from the new Daniel Markham album.
Just like Daniel Markham, John Calvin Abney from Tulsa, OK is also a big favourite of mine. The two have also toured together around the states. John Calvin Abney's latest album Coyote came out on the 18th of May on Black Mesa Records. This one is quite mellow, heartfelt and everlastingly beautiful. I so wish STHLM Americana festival would have also booked a John Calvin Abney concert, because I'm going and he will be there as John Moreland's sideman. Well I suppose the line-up is already so great, that I would have passed out of happiness, if they would have added him too. Anyway, here's melancholic Sundowner from the new John Calvin Abney album.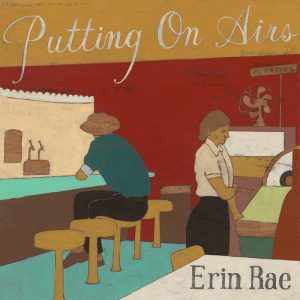 And last but definitely not least, something that is actually brand new. It's the new Erin Rae album Putting On Airs that came out last Friday on the 8th of June on Single Lock Records. This Nashville-based songwriter put out a couple of amazing singles last year and therefore her new album was one of my most anticipated 2018 albums. I've reserved a vinyl copy to the local store that has not yet arrived. However, I've spinned this a couple of times on the Spotify thing-y and it definitely sounds like this can match my sky high expectations. Here's the excellent title track of her new album Putting On Airs.